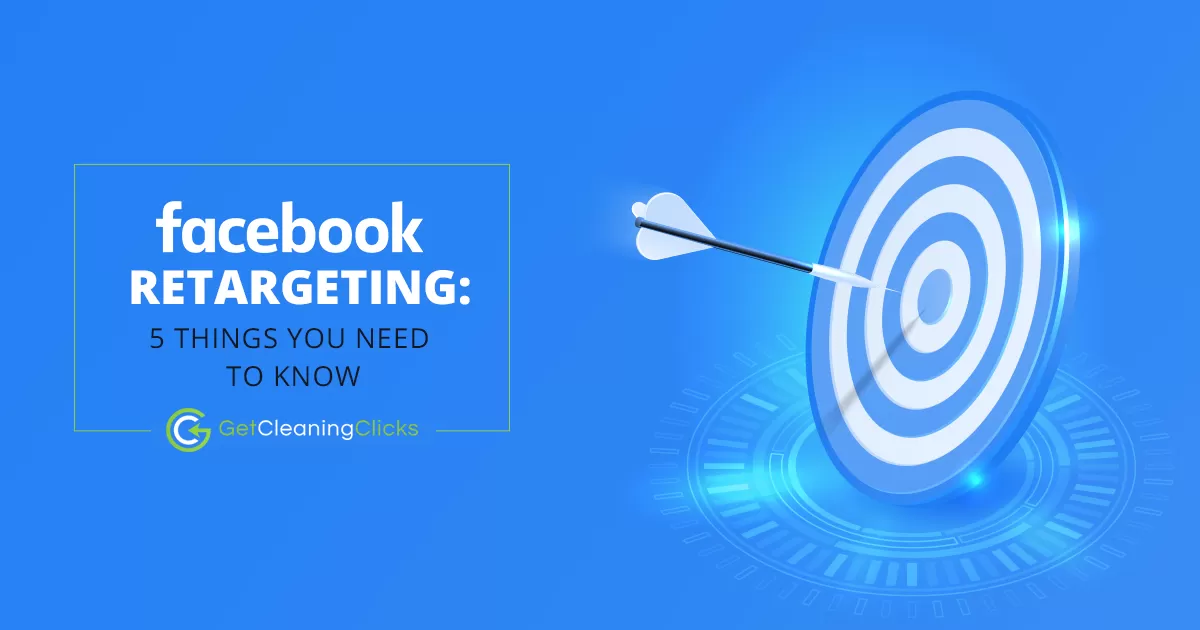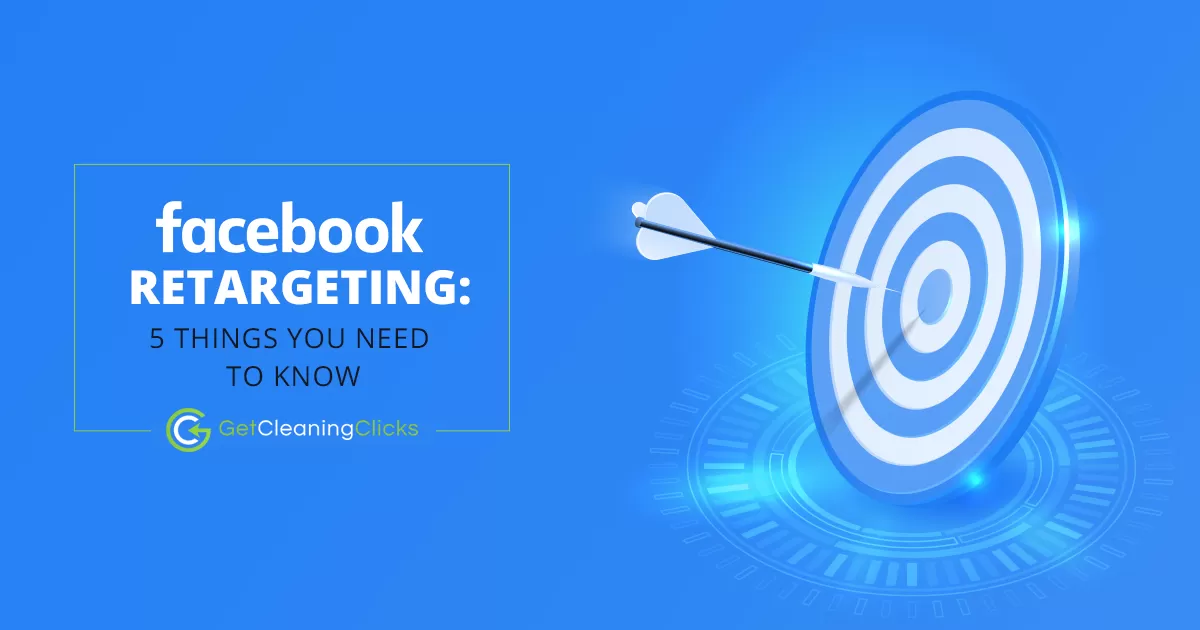 Planning to use Facebook retargeting soon?
With the 2.45 billion Facebook users that your ad campaigns can reach, Facebook retargeting can help you get in front of the right people.
The problem is, you need to know the essential things about Facebook retargeting beforehand. Don't want to end up harming your business, do you?
So, in this post, let's find out the five things you need to know about Facebook retargeting. This way, your cleaning service business can make the most out of its Facebook ad campaigns.
1. Identify goals
Look into the reasons why you turned to Facebook. You could have gone to Google and other venues that can help you with retargeting, too. So, why did you choose Facebook?
67% of marketers consider Facebook as the most important channel mainly because it can help them reach out to lots of people. And here are the other reasons why the majority of marketers including owners of cleaning businesses go to the social network:
Facebook allows them to create a free page for their business. Facebook also helps them dominate the local SEO scene.
The point of learning your reasons is to help you determine whether Facebook is indeed the best platform for your ad campaign. If you're 100% certain that Facebook is the best destination for your ads, you can set realistic goals for your Facebook retargeting ad campaigns.
With a goal, you will know exactly what you want to achieve. More importantly, a goal allows you to use Facebook as an advertising channel easier. Plus, you can turn to this goal to design the best ad for your desired result.
2. Define a marketing objective and create a strategy
To help your cleaning business reach your ad campaign's goal, you need an excellent goal-oriented strategy. This will help keep you focused, especially if it might take time to reach your goal.
And as you create a strategy, be clear about how you plan to accomplish your goal. Be specific.
It's just like in the business. The goal is:
You want to help people clean their homes. But how do you accomplish this goal specifically?
Having a marketing objective is like having a set of instructions to follow.
So, if you don't jot down the specific approaches you need to take, you might end up not knowing what to do. While you want to reach your goal, you just can't because you don't know what to do. And if this is the case, there is also a high chance of you getting discouraged from chasing after your goal.
In the image below, you will see that one of the first things you should do when creating a Facebook ad is to specify your marketing objective.
In the following image are the marketing objectives that you can choose.
And once you specified your marketing objective, you can start setting up your ad account. And off you go to create your ad!
For example, I will go with "Brand awareness" as my marketing objective. As you can see from the image below, once I got this part taken care of, I can start to Set Up Ad Account.
3. Make your ad stand out
Don't let your Facebook ad run without familiarizing yourself with the sizing requirements of the social network. It's a terrible idea. Just imagine that your ad copy's image is of poor quality. It's either that or the majority of the image is cut out.
So, don't be in a hurry to advertise on Facebook. And learn the sizing requirements before you send out your ad copy.
For one, image ads need to be 1,200 x 628 pixels with a ratio of 1.91:1. Link description: 30 characters. Headline: 25 characters. Text: 90 characters.
Apart from knowing the sizing requirements of Facebook ads, here are three ways that can make your ad stand out:
Use relevant, high-quality images – Excellent images can skyrocket conversions
Optimize headlines – Headlines grab people's attention. So, the stronger your headlines are, the better shot you have at getting people to check out the rest of your offer
Write clearly – The texts on your ad copies are limited. So, choose your words wisely and include a call to action
4. Use Facebook pixel
The Facebook pixel is a code that you can place on your cleaning service site to gather data. You can use it to mine for information about your target audience and tailor ad copies based on their preference.
Let's look at an example. As a cleaning service business, your target audience is the people who need cleaning services.
Well, do you know where they eat, shop, and get around to other activities? And do you know how often they go online? If you don't, use the Facebook pixel.
To get the ball rolling, access Events Manager on Facebook. Then under Data Sources, click Get Started.
Then click Create a Pixel.
From this point, you will receive a code that you can install on your site.
(Source)
And to proceed with the code, you are presented with three options. As the image below goes, you can Use an Integration or Tag Manager, Manually Install the Code Yourself, or EmailInstructions to a Developer.
An example of a business that used the Facebook pixel for a retargeting campaign is MyClean, a company that offers cleaning services in New York. Because the cleaners wanted to improve its operations, one of the solutions it came up with was to set a Facebook retargeting campaign in motion.
As a result, the cleaning company achieved its goal. It experienced a 25% increase in bookings and a 31% increase in conversions. It also saw a 20% decrease in CPA!
5. Measure your performance
With the data that the Facebook pixel can provide, you can measure your ad's performance. And with the information you can get your hands on, you can determine if your campaign is going places.
For one and like the image below reveals, you can measure the traffic that your ad gets.
(Source)
To get you started on the right foot, pay attention to specific KPIs (Key Performance Indicators). KPIs are measurable values that can tell you how well you are doing.
For example, there's the ROI (Return on Investment) or return on your ad spend. The return on your ad spend is a KPI worth noting because it details your revenue. Specifically, it tells you how much revenue you have earned from your retargeting campaign compared to how much you are spending.
This specific KPI matters because it allows you to view your Facebook ads as an investment. So, if you're not reeling in more money through sales than ads to generate product purchases, it looks like you won't be in business for long.
On top of the return on your ad spend, here are three more important KPIs that can help you with your Facebook ad:
CPC (Cost Per Click)
This refers to the average amount charged to you every time a person clicks on your ad. Because it represents the cost of a conversion, it indicates the efficiency of your campaign.
The formula:
CPC = Total Ad Spend / Total Clicks
CTR (Click-Through Rate)
This refers to the rate at which people who see your ad are clicking through so they could proceed to the target URL. A higher CTR means your ad is resonating with users who are seeing it.
The formula:
CTR = (Total Clicks / Total Pageviews) x 100
CPP (Cost Per Purchase)
This refers to the average amount it costs you to earn product purchases from your site. It matters because it indicates the efficiency of your ads at driving purchases.
The formula:
CPP = Total Purchases / Total Ad Spend
Conclusion
Picture it like this:
You are offering cleaning services. And you can offer these services all you want. However, if people are not even aware of these services, your effort in offering cleaning services will just go to waste.
That's how it is with Facebook ads, too. Remember, Facebook is one of the social media sites that matter to your business. On the platform, you can let your ads get the attention of billions of people.However, Facebook is only a platform. Only if you use it correctly will you be able to improve your online presence, drive traffic to your site, generate sales, and more!