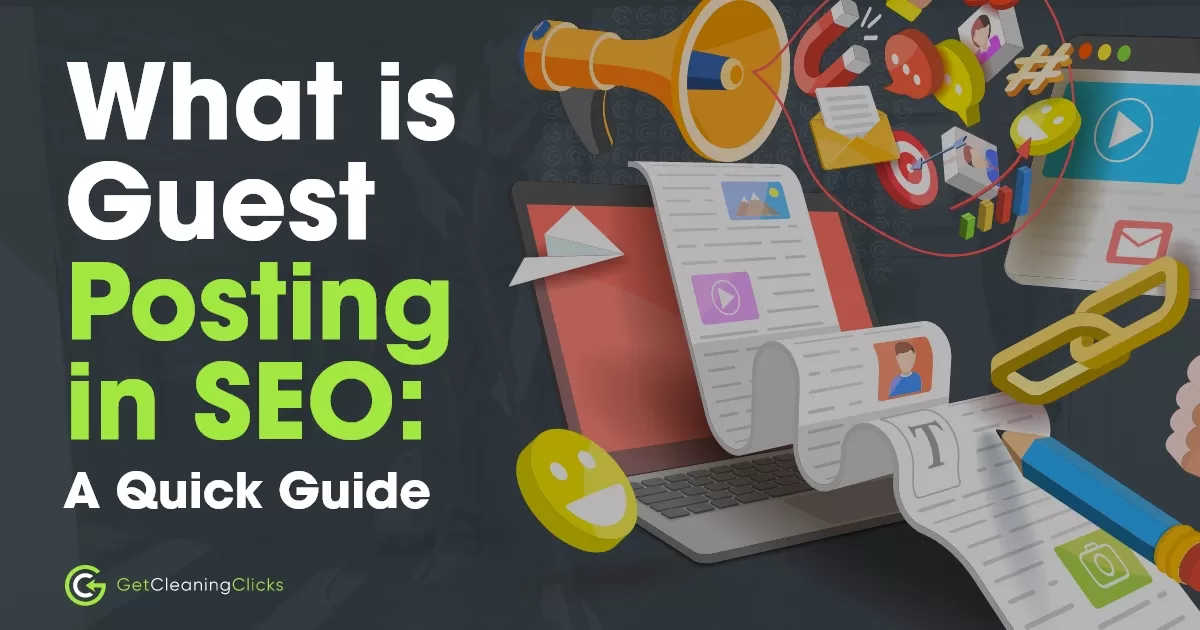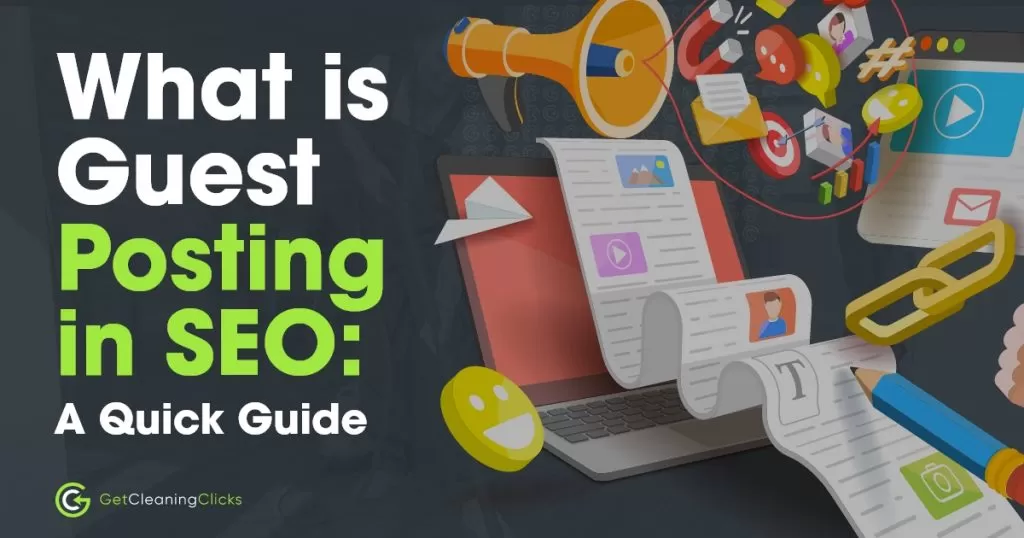 Not satisfied with the amount of traffic you're driving to your cleaning service business?
Then check out guest posting. After all, 60% of blogs produce up to five guest posts every month. If you say you don't know where to start with guest posting, don't worry.
In this post, I will walk you through everything you need to know about guest posting. If you read until the end, you will learn how to start guest posting to drive more traffic to your cleaning service website and more!
What is guest posting?
Guest posting, also referred to as guest blogging, revolves around a simple concept:
Submitting a post to another site as a guest.
Below is an example of a guest post:
It was submitted then published by Maids by Trade, a business that offers cleaning services, on a working mom's blog. The title explicitly reveals that the post is a guest post. And as the site owner shares at the beginning of the article, the guest post came about after the said business approached her.
An example of a business that succeeded with guest posts is a moving and storage company, Aviv Moving & Storage.
When an SEO team is asked for help in driving traffic, increasing online exposure, and more, one of the SEO team's solutions is to submit guest posts.
And in just two months, the results came. It reaped the rewards of a 518,300% increase in traffic!
How guest posting can help you
Fact:
3% of blogs publish over 100 guest posts every month. And considering that there are 500 million blogs worldwide, that's the same as saying 15 million blogs publish guest posts every month.
When you're creating content to be published on other sites, you're tapping into the audience of the host. And introducing your business to a new batch of people gives you the ability to reach out to more people and new leads.
Just think of it this way:
You're a new cleaning company in town. If you just go about your own way, it would be like posting on your own blog. Here, it's more likely that nobody would approach you because they have no idea you exist.
But submitting a guest post, especially to a well-established and popular site, turns your fate around. Because a reputable business endorses your cleaning business' services, people are more likely to check you out.
Is guest posting still good for SEO?
Yes! In terms of SEO, guest posting is a superb way to get a link that redirects people to your site, which results in elevated search rankings.
To be fair, it makes sense to wonder whether guest posting can benefit you.
After all, guest posting's power was questioned back in 2014. That time, Google's former Head of Webspam, Matt Cutts, called guest posting "spammy". He also went as far as discouraging people from doing it.
But he wasn't on the right track. Contrary to his statement, guest posting is effective. And as years go, it emerged as one of the most powerful link-building tactics today.
But he wasn't on the right track. Contrary to his statement, guest posting is effective. And as years go, it emerged as one of the most powerful link building tactics today.
Three reasons:
Improves backlink profile – Your backlink profile goes up each time you submit a guest post that contains a link back to your cleaning service site
Improves search visibility – The links and social media profiles you include in a brief bio on host sites make you more visible. They boost search rankings organically and drive referral traffic.
Drives quality traffic to your website – You're reaching out to an already targeted audience
Where to submit guest posts
Narrow it down to relevant blogs. After all, 72% of marketers consider relevancy a critical factor in improving SEO.
Sure, plenty of sites accept guest posts. But to maximize the perks of guest posting for your cleaning service site, choose wisely.
Here are tips to help you out:
Search for relevant blogs that accept guest posts
Go to Google and search for "top 100 house cleaning blogs", just like in the image below.
Then go through the lists of relevant blogs and find out whether they're asking for guest posts. If you want to contribute to house cleaning blogs, this is how you make it happen. You can also go with "best" "industry" blogs or something like it.
Perform an advanced search
Want something more advanced? Use search strings that are designed to find specific content online.
For one, the string "keyword" "write for us" works. After I ran "cleaning tips" "write for us" on Google, I got relevant results.
Here's proof:
Other than this, below are some example search strings:
inurl: "keyword" "guest submit"
"guest author" "keyword"
intitle: "guest post" "keyword"
Follow people who submit relevant guest posts
Know someone who regularly submits guest posts to reputable blogs that discuss cleaning? Follow their lead!
Then use search strings to find the sites that publish this person's submissions. A search string, in this case, is "name" "keyword" "guest post".
For example, the person who submits guest posts is John Smith. And as you can see from the image below, your search string should be "John Smith" "cleaning" "guest post".
How to write guest posts that will be accepted
Once you find a site to write as a guest, take it as an opportunity to shine as a writer. So check if you have excellent grammar and interesting sentences!
Below are three tips you want to remember, too:
Create quality content
79% of editors think guest content is overly promotional. So make sure your post isn't getting there.
Remember, a guest post submission will get the green light if what you have is quality content. If the site owner believes your post will benefit their readers, you're in. But if your submission is not useful and relatable to a site owner's audience, they are likely to reject what you have for them.
To remedy this problem, write about a topic the audience will care about. If you want people to pay attention to you, make sure what you have to say matters to them.
An example is this:
The target audience is the people who want to go home to clean houses, right? Well, they are likely to appreciate any cleaning-related post. And for an audience that wants to learn more about timesaving natural cleaning tips, this post is going to be a hit.
Plus, be ready with specific content. Generic content may be useful and relatable to many people. The thing is, though, it's probably already out there.
Be mindful of your chosen anchor text
The anchor text is a batch of clickable words that contains a link.
Below is an example of a post containing two anchor texts:
As you can notice from the image, the anchor texts are presented in blue while the rest of the texts in the copy are in black. This way, they would stand out.
That's because the anchor text is important. It informs a search engine and users what a page is about.
When guest posting, you're usually free to use any batch of words as anchor text for a link you want to include. But instead of using random words, use keywords.
Follow guidelines
Because you're going to post content on another site, you have to follow the site owner's rules. This will help ensure that your submission will be accepted by the host.
Often, guest post submission guidelines can be very detailed. And this is a good thing because they have you covered from start to finish.
Let's check out the batch of guidelines from Cleaning Service Tips, a provider of tips about cleaning.
At the beginning of the post, you will get a picture of guest post submissions that the site deems acceptable.
The guidelines also include a list of categories that you can write on.
And it tells you what you should do after your post is published.
Sure, you're doing the work for free. But just because you're free to submit a post doesn't mean your submission is guaranteed a spot on another site.
If your post doesn't meet the standards set by the host, it will get rejected.
Besides, your reputation as a writer is on the line. If you submit irrelevant content lacking in quality, you can say goodbye to the new audience that you're trying to reach.
Conclusion
Where guest posts are concerned, sites that are part of private blog networks, as well as dropped domains, are off-limits.
Sure, sites like these can increase the number of your backlinks. The bad news is that they are going against Google's policy. And if you want to make a name for your cleaning service business in digital marketing, get on Google's good side.
If you don't want Google to penalize you, submit guest posts the right way!