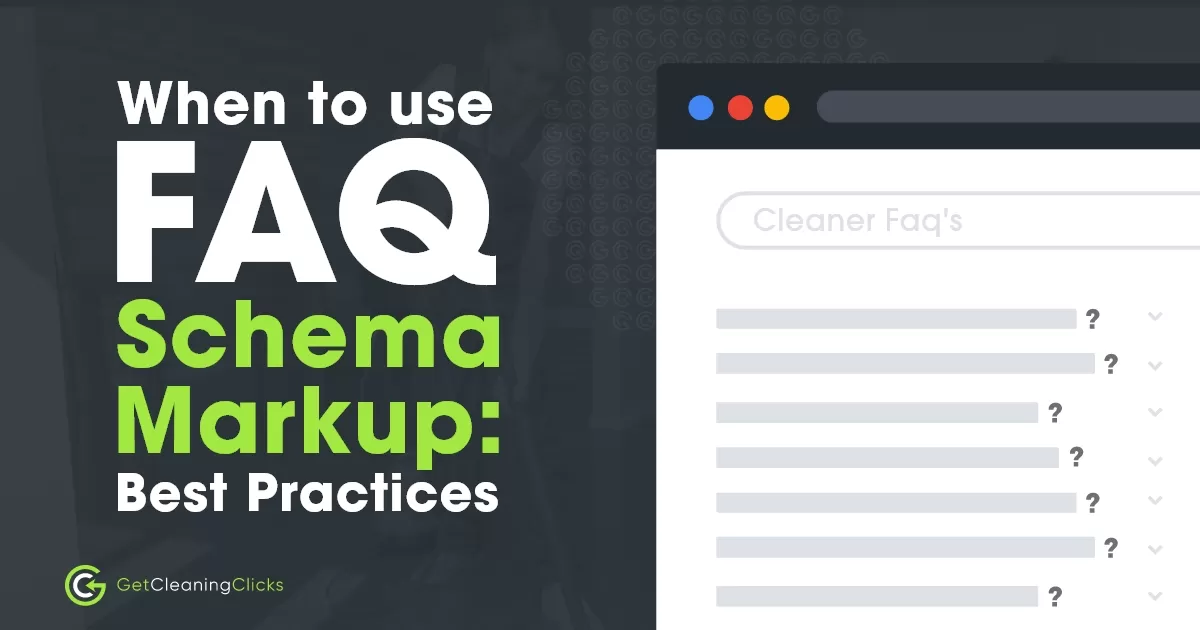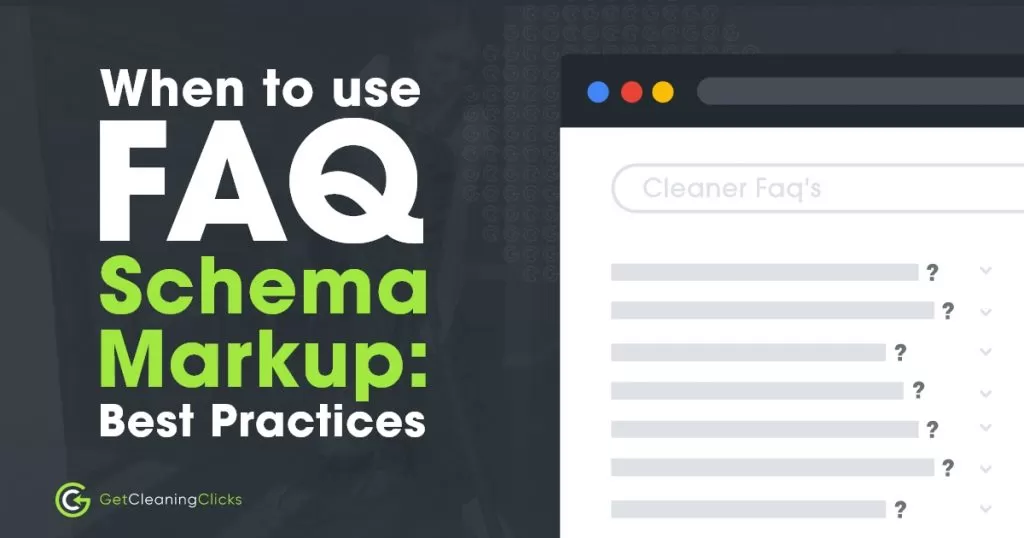 If people are almost ready to be customers of your cleaning service business, it's not uncommon for them to raise questions. And if you answer their questions, the more confident they'll feel about the services you offer.
So in this article, let's improve their confidence in your business.
We'll learn about FAQ schema and when to use FAQ schema markup for your website.
By the end of this article, you'll know when to use FAQ schema markup to improve the online performance of your cleaning service website.
Why knowing when to use FAQ schema markup is important
FAQ schema markup highlights your website's FAQ (Frequently Asked Questions) page.
It increases the number of clicks for your website. And it allows you to feature rich and more relevant results.
In a case study, implementing FAQ schema markup yielded a 50% higher CTR (Click-Through Rate).
Listed below are more reasons knowing when to use FAQ schema markup is important.
Dominate search results
Using FAQ schema markup helps your website stand out on the SERPs (Search Engine Results Pages). This schema markup occupies lots of real estate. And it's hard — if not impossible — to ignore it.
To show you an example, let's look up "cleaner faq" on Google. And one result of a business with FAQ schema markup is this:
Notice how it occupies a large space on Google. Compared to ordinary results — those without FAQ schema markup, it stands out.
Now, notice how the same website would only occupy two lines if not for its extensive FAQs.
Generate qualified leads
Because FAQ schema markup answers questions, people who click on your website are qualified leads. These people already know the answers to common questions about your cleaning business.
And if they visit your website, these may be the reasons:
Find directions to your physical address – Specify your business' location. They're coming to you and they want to know what to do.
Get contact information – Include phone, email, and other contact details. They may reach out for concerns not revealed on the FAQ section of the SERPs.
Become your customer – If they like what they see, they're ready to buy your services.
Leads to video search
Using FAQ schema markup is a progressive approach. It can help connect your cleaning business to voice search, a massive digital marketing trend.
This is because FAQ schema markup highlights questions. And a common way people use voice search is by asking questions.
Refer to the image below. In it, we used voice search to look for the results of: "what are the benefits of hiring a professional cleaning company?"
And the results show relevant questions to it. Thus, if your business features a relevant question, too, it could show up as one of the top results for that search.
Six tips on when to use FAQ schema markup
Using FAQ schema markup is always a great idea, regardless of the industry you belong to. To maximize its effect, know when to use it.
Below are tips:
General tips
1. Know the difference between FAQ schema markup types
You can use two FAQ schema markup types:
FAQPage – According to schema.org, it refers to a webpage that presents one or more frequently asked questions.
QAPage – According to schema.org, it refers to a webpage that focuses on a specific question.
If your site features a list of questions and answers, use FAQPage schema markup. This means there is no way for users to propose alternative answers to questions.
If users can submit alternative answers, use QAPage schema markup.
2. Follow guidelines
Use the URL Inspection Tool to see how search engines view your website.
If it's eligible for rich results, you'll know. The same goes if it's ineligible.
Here are things you need to do to comply with the guidelines:
Review if data is correct – Remove any misleading data.
Check noindex and robots.txt – Unblock pages with structured data. 
Use supported formats – Use one of these supported formats: Microdata, JSON-LD, or RDFa. 
3. Learn invalid use cases
Understand what works, and what doesn't. Invalid use cases of FAQ schema markup can cause your FAQ page to be ineligible for rich results.
Here are some invalid use cases and solutions on how to move forward:
Repetitive questions and/or answers – Tag only one version of a question and/or answer.
Support pages – Don't feature support pages if using FAQPage schema markup. Otherwise, it will encourage users to submit alternative answers.
Incomplete questions – Include the entire version of a question.
Content creation tips for your site's FAQ page
4. Choose the right keywords
Don't set aside the power of keyword optimization. The words you use can make or break your FAQ page.
Here are best practices on how to choose the right keywords:
Think like your customers – Determine what you want to see on a FAQ page.
Perform keyword research – Determine the best words people use when checking out the FAQ pages of cleaning service businesses.
Use trending keywords – Look up specific keywords on Google Trends. That way, you'll know if a term will be a hit.
5. Provide answers to common questions
The image above shows you a section of the FAQ page of No More Chores, a provider of house cleaning services in Toronto.
That said, you could use it or similar businesses that offer cleaning services as references. Check out about five FAQ pages from these businesses.
Then create your FAQ page based on the questions they addressed. Because your businesses belong in a similar industry, your customers will want answers to questions they have already addressed.
6. Design for positive user experience
FAQ schema markup can bolster your search rankings. But if potential customers are unsatisfied once they land on your site, you're still about to lose them.
Here's how you go about it:
Improve loading speed – Enter your URL on PageSpeed Insights to check your site's speed. Then fix problems as you see fit.
Use image SEO – Use relevant images to increase engagement.
Choose a responsive theme – Responsive themes can make your website appear the same regardless of the device a user is on.
Final thoughts about when to use FAQ schema markup
Potential customers will ask questions about your cleaning service business. You can't avoid it.
What you can do, though, is to be a step ahead and address their questions.
A big advantage of knowing when to use FAQ schema markup is that FAQ schema markup can yield results fast.
How fast? Within an hour of the finished implementation!