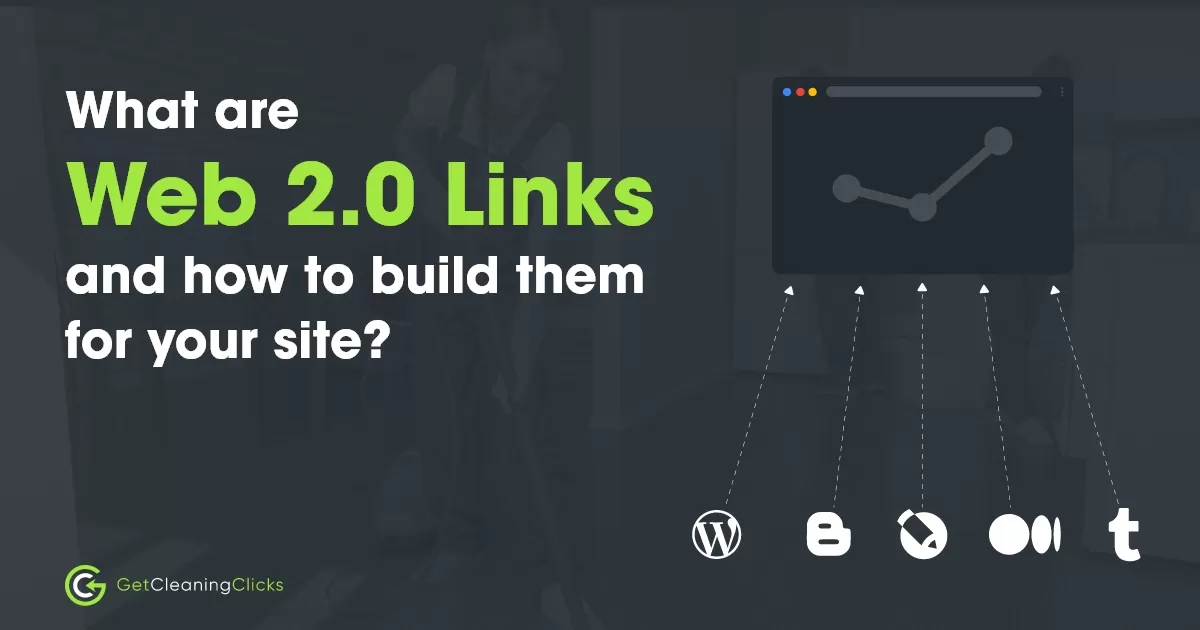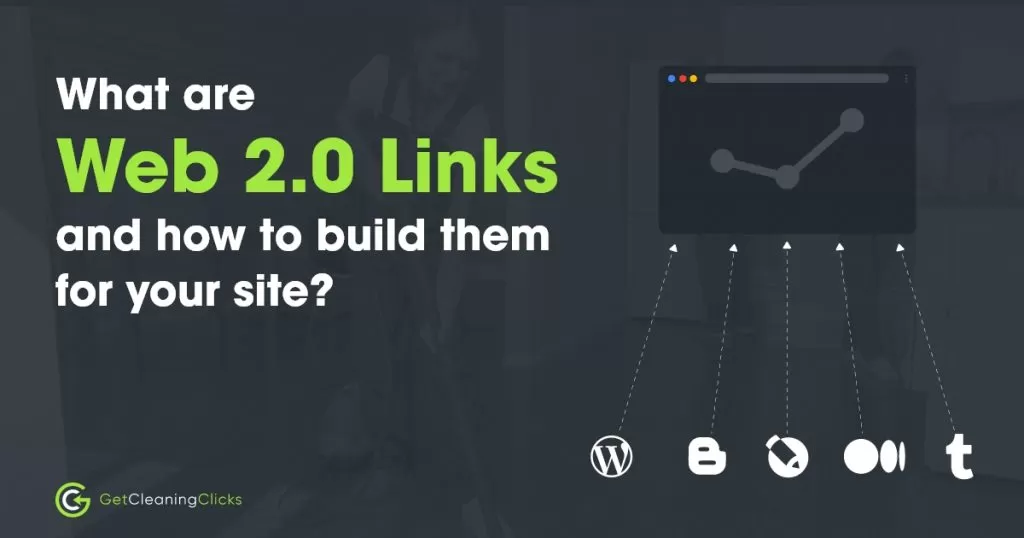 Want another way to drum up your link building efforts?
Then find out what are web 2.0 links and start building them!
In this post, we'll delve into the ins and outs of web 2.0 link building and go over web 2.0 submission sites.
By the end of this article, you'll walk home with the knowledge of how to improve link building and SEO — all for your cleaning service website.
What are web 2.0 links?
Web 2.0 links are links from web 2.0 websites or (often) free content creation platforms. Popular examples of web 2.0 sites are WordPress.com and Blogger.
Want to see an example of a cleaning service business that uses a web 2.0 site?
Then check out the image below. It's from a cleaning service company hosted on a web 2.0 site — WordPress' free platform.
(Source)
What are the characteristics of web 2.0 sites?
So you already know what are web 2.0 links. Now, it's time to identify the characteristics of web 2.0 sites.
And having a web 2.0 site of your own is like having a dedicated space for your cleaning service business — similar to hosting a website or blog.
This time, however, a different platform is hosting this website for you.
Here are more characteristics of web 2.0 sites:
High activity – Web 2.0 sites are more about user-generated content and user participation. And because of these user contributions, you can expect high user activity.
High shareability – With high user activity comes an increase in the content's shareability within the site.
Positive user experience – These sites are user-centric. Therefore, webmasters will work to improve the environment and avoid giving off a bad user experience.
How to create a web 2.0 site
Before you can use web 2.0 links, you need to create — and set up — a web 2.0 site first.
The good news? Creating a web 2.0 site is simple. And it's as simple as entering a few personal details.
Should there be a challenging aspect to the task, it'd be choosing a subdomain.
Here are tips that can help you:
Use easy-to-understand names – Your chosen name will reflect your brand. Don't add unnecessary symbols or numbers.
Use tools – Many automation tools can do a quick search for the availability of usernames and subdomains. KnowEm is one of them.
Choose a matching domain name – getcleaningclicks.com should be getcleaning clicks.wordpress.com. Pick a matching blog design and theme, too.
What are web 2.0 links' benefits for link building?
Now, let's put the subject of using web 2.0 links next to other link building tactics. What makes web 2.0 links superb in link building is that they're easy to create.
For starters, you don't have to reach out to bloggers and site owners to get a web 2.0 link that points to your cleaning service website. If you register for a subdomain from web 2.0 sites, you can do it yourself.
Beyond that, the other benefits of web 2.0 links include:
Build PA (Page Authority) and DA (Domain Authority) for your business fast – Ride along and benefit from a primary domain's authority and trust.
Free or cost-effective – Getting a subdomain on web 2.0 sites rarely requires payment.
Faster crawl rate in web 2.0 sites – Choose a popular web 2.0 site where people post high-quality content often. Tumblr is another example.
What are web 2.0 links: Do they work?
Given the discussions above about what are web 2.0 links, the answer to the question seems obvious already:
Yes, web 2.0 links work. They're effective and you can build powerful web 2.0 links for your cleaning service business website.
Case in point is GotchSEO's Nathan Gotch. He increased organic traffic to a niche site by 141%. And one technique he used was building web 2.0 links.
The result came after 9 months of work — and it was impressive. Below is a chart that shows an overview of the improvement in organic traffic for that site.
However, it's fair to raise this question and bring to light the safety in using web 2.0 link building.
Once, Google's Webmaster Trends Analyst, John Mueller, criticized it. He even discourages anyone from asking what are web 2.0 links. He says:
(Source)
In light of this, common questions and concerns that come up are:
Will you get blacklisted if you use them?
Web 2.0 link building went through a history of abuse in the early 2000s.
Is web 2.0 link building a black hat technique?
And to address those questions and concerns, here's a straightforward statement from the same man who succeeded with web 2.0 links.:
(Source)
To sum up, you can use web 2.0 links for link building as long as you don't abuse the tactic.
Unfortunately, some people sign up for web 2.0 sites for a subdomain — and nothing more. Once they get their free subdomains, they'll stuff it with low-quality blog posts. Then they'll feature web 2.0 links that point to untrustworthy websites.
Don't want to land on Google's unpleasant side? Here's what you should not do:
Don't pay to boost site traffic – Don't promote your web 2.0 site by shelling out cash. Don't offer reciprocal linking deals either.
Don't create empty web 2.0 profiles – Claiming subdomains seems smart. If they don't contain any information, though, it's not.
Don't create many web 2.0 sites at once – This is in relation to creating empty profiles. It's reckless and unnecessary — unless you can maintain every web 2.0 site you start.
How to build web 2.0 links the right way
Fortunately, it's easy to get on Google's good side when finding out what are web 2.0 links and using web 2.0 sites. As long as you play by the rules, the search engine won't call you out. 
And to ensure you're not on the wrong side of the fence, follow these tips:
Create mandatory pages
This can depend on which web 2.0 site you sign up for. An account on Reddit, for example, deprives you of this.
However, if you can create separate web pages in it, don't ignore the importance of setting up mandatory pages. These pages help define your cleaning service business. It lets people and search engines know that you have an active presence on web 2.0 sites.
Here are the mandatory pages you need to make:
About us – Inform people who you are. You should also answer common questions people ask about your cleaning service business website.
Contact – Set up a platform for people to contact you.
Privacy policy – This page will raise people's trust and confidence about your business.
Build it up with quality content (like a real website)
Think of your space on a subdomain as your real website or blog.
Treating your web 2.0 site as if its only purpose is to build backlinks? Not a smart move. It's a "spammy" practice.
What to remember:
Relevance, authority, and trust – Create unique content. And like you would do for your website, load it up with quality.
Offer value – Content that doesn't value is useless. You shouldn't taint your business with it.
Load it up with images – Add photos and charts, and other visuals. They make your content interesting.
Link properly
This goes out to external and internal links. Web 2.0 links are powerful — only if they're used properly, however.
Refer to the image below. It describes how you should use web 2.0 links.
(Source)
When creating links, think about these:
Use the correct anchor text – They should describe the destination site or page.
Link out to helpful resources – Look past poor quality sites. And instead, associate your web 2.0 site with authoritative websites.
Prioritize your best pages – Create an internal linking structure that allows your excellent pages to stand out
Be consistent
Update your web 2.0 site regularly. Loading it up with content for a few days, then leaving it idle for months? Not the way to go and not the way to stack up quality content.
It looks unnatural — something search engines hate. Plus, Google gives less weight to websites that don't have lots of quality content.
So here's what you should do:
Be realistic – Generate topic ideas in advance. Then set how many posts you can make and publish in a week.
Schedule posts – Create content in advance. Use an editorial calendar to help you strategize and maintain posting frequency.
Use automation tools – Need help meeting your schedule? Use scheduling tools like ContentStudio.
Know when to create accounts on certain web 2.0 sites
Wikipedia, for one.
If you insist on creating a Wikipedia page for your business, don't feel bad if the webmaster might remove the page soon. Worse, they might ban you.
That's because you need to meet their requirements first. If not, you'll end up wasting resources that otherwise were better spent creating a page on a different web 2.0 site.
So postpone the creation process when:
You're a new business – Notability is a requirement. If nobody knows about your business, nobody will also search for it.
You can't give correct information – Honesty is also a requirement. If you can't provide information, don't make things up.
You have no valuable content to offer – And even if your business is notable, sites will remove your page if it's full of fillers.
How to succeed with web 2.0 link building
Next to the knowledge of what are web 2.0 links and how to build them the right way, it's time to take matters up a notch.
And a way to make it happen is to popularize your space on these web 2.0 sites.
The more popular they are, the more traffic that comes. And the more traffic that comes, the more valuable your link gets.
Here are tips:
Create branded profiles
Create a separate account — a persona profile — that speaks for your cleaning service business. And disclose your affiliation to help users understand your role.
The aim? Know what people are saying about your business and do something about it.
Use social media listening tools to help you with this. Brand24 is an example.
What can you do with branded profiles:
Salvage negative user experiences – Or at least, explain your side of the story.
Entertain leads – Monitor interested parties and help them connect with you.
Verify information – False business details and fishy rumors? Clarify these matters.
Create connections
And with branded profiles setup, you can build friendships — genuine and lasting relationships — in web 2.0 communities.
So take a step back from your business. What you can do is like posts or contribute to friendly discussions.
Wondering why this is a wonderful idea?
Increases engagement rate – Ask how they're doing, for example. The more you interact with users, the better.
Improves reputation – Online reputation management is important. So leave positive remarks to help you build a positive image for your brand.
Encourages natural links – If you establish rapport with people, there are better chances of them linking to you. And you don't have to ask them to do it.
Use keywords
Confident about what are web 2.0 links now?
Then you're probably tempted to leave your space on those 2.0 sites. And just leave them to hustle for you.
However, don't.
Instead of waiting around, trigger clicks. Conduct keyword research and include them in your bio or in the content you publish in these sites.
Take the image below, for example.
All it took was a visit to a web 2.0 site and using its search function to enter keywords. Specifically, it reflects the results of entering "housekeeping services" on Medium.
Create interactive content
Posting valuable content consistently is a plus. However, are all your content pieces texts?
If so, regular site visitors might soon find them boring. Switch things up by introducing interactive content.
Here are ideas for creating interactive content:
Interactive infographics – People like facts. And they'll enjoy it more when they can get them in unique ways.
Contests – People also like to win — or a chance at it. Offer a brand-related prize to make your brand memorable.
Polls and quizzes – These content pieces increase click-through rates and responsiveness.
Include videos
Did you know you can create instant videos using software like Animoto?
With it, you can whip up brand videos, explainer videos, and customized videos.
A reason content creators don't use videos to promote their business or website is that the task seems difficult and time-consuming. Well, with the software, those are out of the picture now.
What videos can do for you:
Widen your brand's reach – Elevate your marketing by "branching out". With this avenue, you can target new audience groups that focus on video content.
Boost conversion rates – Site visitors who view videos have better chances of turning into customers. That's because video content is more convincing and can create connections.
Amplify your content's effectiveness – With videos, you can explain and better discuss your content.
Web 2.0 sites list
Prioritize signing up to certain web 2.0 sites.
Remember, millions of these sites exist — and they're growing in number. So choose web 2.0 sites that can help you maximize your link building efforts.
Here is a list of 25 web 2.0 sites:
Major social networks
You can find millions of active users on the social sites listed below. This gives you a chance to boost engagement rates and increase traffic for your web 2.0 site on these networks.
Here are the recommendations:
Facebook
LinkedIn
Pinterest
Twitter
Instagram
Business directories
Submit your cleaning service's business information to business directories, too. Not only will it help you elevate your link building efforts. It will also help your business connect with people looking for your business.
Here are the recommendations:
Google My Business
Yelp
TripAdvisor
Foursquare
Zomato
Social bookmarking and discussion networks
Users of these sites elaborate on ideas. That, or read thorough discussions.
So if you want to start discussions or have people do the same, why not sign up for an account at these places?
Here are the recommendations:
Reddit
Disqus
Yahoo Groups
StumbleUpon
Quora
Blogging websites
These are like discussion networks. They let the site-owner elaborate on his thoughts.
The difference? They show more formality. Their focus is on building a personal space or discussing a categorized subject.
Here are the recommendations:
Blogger
Weebly
Wix
Goodreads
LiveJournal
Image and video platforms
Images and videos make your cleaning business' content more appealing. And the more appealing your content is, the more likely people are going to pay attention to you.
So if you're planning to load up on these content types, register for a subdomain in these platforms. They focus on image and video content distribution.
Here are the recommendations:
Dailymotion
YouTube
Snapchat
Twitch
italki
Final thoughts
By now, you should know the answer to "What are web 2.0 links?"
That said, don't push aside the use of web 2.0 links as an effective link building technique. Continue to improve them by raising the quality of your web 2.0 site.
The results you can achieve with them won't be quick.
However, remain patient. Investing time, energy, and effort in an honest practice won't go to waste. Soon, you'll enjoy the benefits of the work you put in.