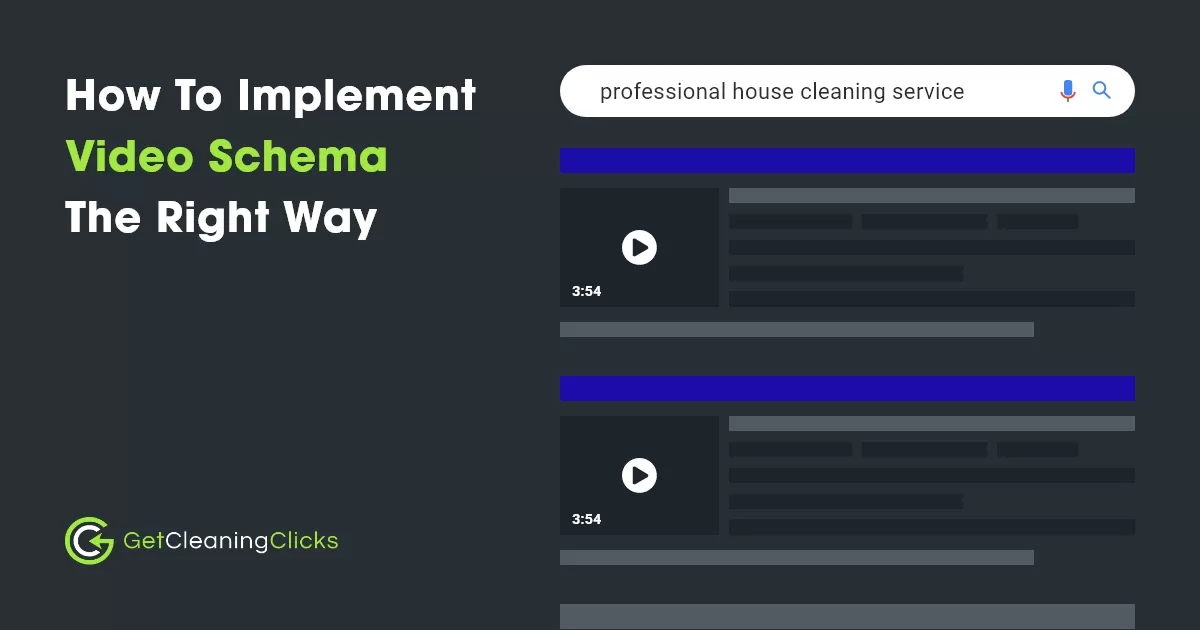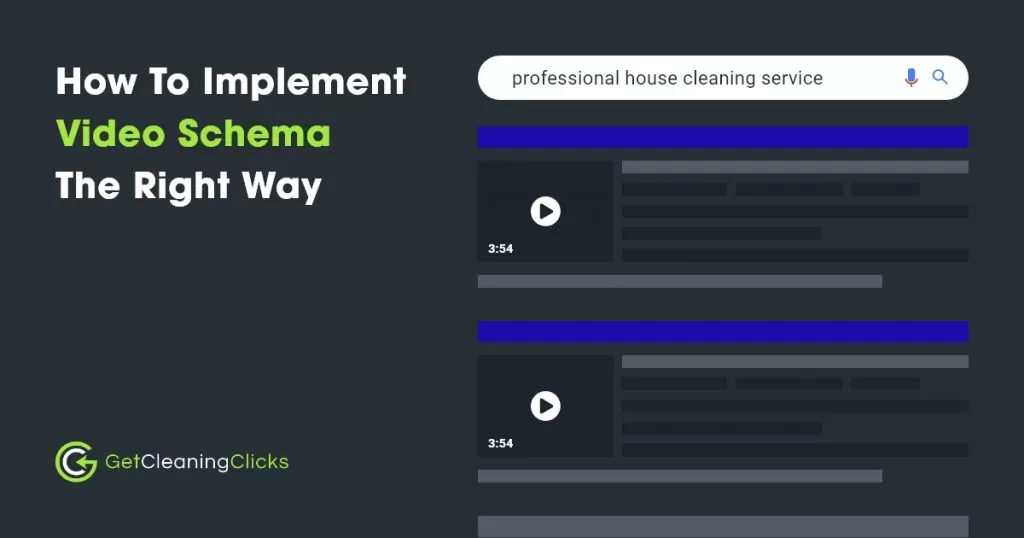 Does your cleaning service website contain video content?
If so, use video schema markup to stand out on search results.
In this post, we'll learn how to implement video schema and maximize what videos can do. The goal is to improve brand awareness, create engagement, and more for your cleaning service website.
Why learn how to implement video schema
The reason to learn how to implement video schema is to amplify the power of your videos.
Video content marketing can dramatically improve your business. So it's only right to make the most out of the videos you already have.
Excellent video ideas to feature:
How-to videos – These videos tell people what to do and show them how to do it.
Explainers – These videos clarify the goal of the services you offer. You can address common concerns and questions on your FAQ page, too.
Brand videos – Show audiences a peek of your cleaning service business' personality.


Benefits of using video schema
Getting your website to stand out on the SERPs (Search Engine Results Pages) is a primary benefit of using video schema. It's good for your SEO efforts.
To get into the specifics, using videos and video schema markup will:
Improve brand awareness – Using schema optimizes your content for search engines. The more these search engines think of you, the higher you'll rank and the more users will see your website.
Create engagement – Using videos keeps people entertained. They'll pay better attention to you with entertaining content.
Attract your target audience – Your target audience will want to click on your content because of its rich details.


How to implement video schema
Google works as a gateway for people to discover video content. For it to present your videos to people, add structured data types, and enable your site to feature rich results. You also need to familiarize yourself with the structured data types related to video features.
Here's a list of data types you need to know:
ItemList – If you mark up a list of videos, it will enable a video carousel.
BroadcastEvent – This rewards you with a LIVE badge. To earn this badge, mark up livestreaming videos.
Clip – Make important segments in your videos stand out with this data type. It helps users access specific points.


Examples of video results
You can't go wrong with quality videos. With them providing rich results for you on the SERPs, more and more people will want to click on your cleaning service website's content.
Here are examples of videos that appear on Google:
Standard video rich result
To get the results for the image below, let's use the search term "professional house cleaning services".
The image only shows four videos as the result. But if you click View all, you can uncover more relevant results. And if you optimized your cleaning website's video for the search term, your video will be among the results.
Live badge
These videos feature a LIVE badge. The purpose of the badge is to reflect the live broadcast of the said video.
Here's a look at the reasons marking up live videos is great for SEO:
High engagement – They draw more people to your brand.
Creates authenticity – These videos provide unedited footage. And this authenticity reflects on your brand.
Growing industry – The worth (estimate) for the industry of live video streaming is $70 billion come 2021.


Clips
The image above reflects a couple of video results after entering "detailed cleaning service videos" on Google.
The first video's length is over 9 minutes. And people who want to skip portions of this video would appreciate having access to specific segments.
Marking up your videos and allowing them to be accessible at specific segments is useful. If people want to view the exact moment in the video, they can jump right into it, instead of watching scenes (that are irrelevant to them) as they wait.
Tips on how to implement video schema
The initiative of implementing video schema will get you far if you accomplish it the right way.
So here are tips to help you out:
Name videos properly
The title you use for your videos is important.
It allows people to get a sense of what they'll be in for. And it's a primary reason they view specific videos.
Here are tips on how to name videos:
Create information-rich titles – Write concise titles filled with information.
Use strong keywords – Perform keyword research and use the power of keyword optimization. Use search-friendly titles, too.
Make them irresistible – Don't give people a reason not to click your videos.


Provide a rich description
Describe what your video is about. Be wise with your words and go with the most useful ones.
Here are other things you need to keep in mind when providing video descriptions:
Use interesting descriptions – Include relevant and engaging words like "you" and "best". The idea is to compel people to read and continue reading.
Insert keywords – As suggested earlier, keyword optimization is powerful.
Use brevity – Provide straightforward descriptions.


Choose the right thumbnails
The thumbnails you choose can engage users. If they don't like what they see, they won't give your video a shot.
Here's how you can choose the right thumbnails:
Use image SEO – Add alt text and descriptions to your images. And optimize them for search engines.
Pick high-quality images – Examples of low-quality are irrelevant and blurry thumbnails. So remove those and use clear images instead.
Show a preview of your video – Choose a thumbnail that gives people a sneak peek. For example, use an image of a green cleaning product if your video is about green cleaners.


Conclusion
Using videos is an adaptive move. And learning how to implement video schema is powerful. With it, you'll make a great impression on search engines and the potential customers of your cleaning service business.
Refer to the tips above on how to implement video schema effectively. As long as the videos you have are of excellent quality, you're going in the right direction!