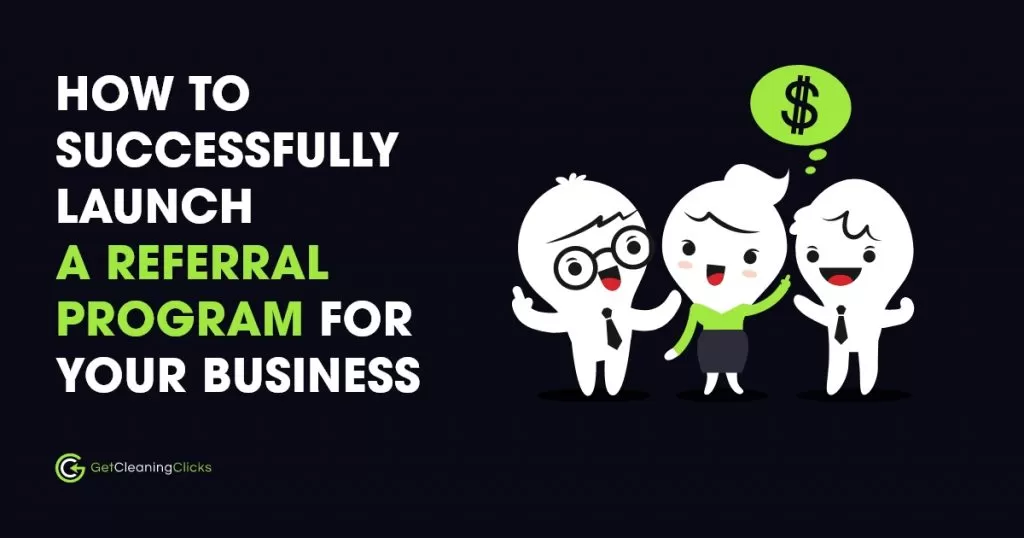 Did you know people are four times more likely to purchase your services when their friends put in a good word for your cleaning service?
That's the power of referrals. And for people to go to you and check out your cleaning services, learn how to launch a referral program.
That's what we'll talk about in this post. Here, let's get a closer look at referral marketing and understand how referral programs work. This way, you will know how to use referral marketing to get a better reputation and, ultimately, generate more sales for your cleaning service website.
What is referral marketing?
Referral marketing is a strategy of promoting your products and services to new customers through different referral methods. It is useful because it puts trust in the equation. Often, referrals are not planned, such as when you recommend a business to a friend who was asking for advice during a random conversation.
"If you need help tidying up your place, you should consider going to this cleaning service business. Not only do the cleaners excel at cleaning my home. But the services they offer represent professionalism and reliability, too!"
A planned referral is when your friend didn't mention anything about needing cleaning services and yet promoted the business to people anyway. If that's the case, and if you are intentionally going out of your way to put the spotlight on a company, it's when a referral process takes place.
How do referral programs work?
As the example situation can show you, referrals are like a piece of advice from a trusted peer. And in this case, it comes naturally because your friend was asking for it.
Here are tips on how to make your referral program effective:
Offer rewards
Incentives can motivate people to do an exceptional job of recommending your business to others. And giving them incentives is a way of acknowledging their hard work.
Besides, if you want more people to come to you, it's the way to go. As the majority or 81% of consumers can tell you, many people will want to engage with brands that have reward programs.
An excellent example is Airbnb's referral program.
When you invite a friend to use the platform, both of you get incentives. As the image below shows, you will get $8 if your friend completes a qualifying experience. That, or you will get $16 if your friend completes a qualifying stay.
The rewards that you put up for grabs are your choice. As long as they are useful rewards, your customers will value them. Like Airbnb's reward, you can also give away cash as a reward.
You can also offer a 100% refund, free cleaning coupons, and a cleaning discount.
Use referral program tools
You can set up a referral program easily because different referral program tools exist. Here are some great contenders:
Referral Rock – Built to help businesses design, monitor, and manage referrals
Ambassador – Creates referral programs then help streamlines the referral process
ReferralCandy – Allows you to add a referral program to your e-commerce site easily
Design your program for conversion
Because it's your referral program, you can design it as you see fit. But creating it without much thought defeats the purpose of referral marketing's power.
For example, your referral program is on a landing page on your site. On that page, your primary conversion goal is to acquire more referrals. So, to achieve this goal, you need to put up a "Refer a friend" button or a similar message that explicitly states this.
And to help you design your referral program for higher conversions, check out these tips:
Use irresistible headlines
Did you know that only two out of 10 people will want to read beyond a headline? This means, eight of those ten people will stop at a headline. And if a headline sucks, they will turn the other direction.
Think of headlines as the windows of a home. With clean windows, you get to preview what's inside. The cleaner these windows are, the better the view they can give you. And this means, the better your chances are of getting convinced to see more of what's inside.
The same is true with headlines. The better they are, the higher the chances you have of convincing the reader to check out your complete message.
So, don't settle for ordinary headlines. Instead, write headlines that are difficult to resist.
Here are examples of good headlines used in a referral program. It's from ABBA House Cleaning, a well-established provider of cleaning services in Seattle and its neighboring areas.
What makes these headlines suitable is that they offer an eye-catching promo. They're also straightforward.
Craft a meaningful message
After stealing their attention with your headline, give them a reason — and elaborate on it — why they should delve further in your business.
Inform your customers about your referral program's goal. You also need to make your message clear. If your customers can't understand what you are trying to convey, you can't expect them to deliver their end of the deal.
Check out this cleaning business' messages about its referral program:
(Source)
It's a referral message worth following because it's informative. It addresses what the referral program wants to do, shows an example, and jots down ways on how a customer can refer.
Plus, its message is clear. The choice of words is easy-to-understand.
But, despite providing a clear message, those who want to participate in your referral program may have questions. So, in this case, offer to help them. Answer their questions and show them your referral message once again.
Feature positive user-generated reviews
User-generated reviews are known to increase conversions. And did you know that they can make your referral program more effective?
So, put them out there!
How you can play this out:
Dedicate a space on your cleaning service site where customers can submit reviews about your business.
Because 88% of consumers find reviews trustworthy, doing this is likely to result in higher trust ratings. And the more people that trust your business, the higher your conversion rates will be.
Wondering why user-generated reviews are a hit when it comes to trustworthiness? That's because they come from real people. They are not fabricated by people who have been paid to promote a business.
Look at how Cleanology, a cleaning service business in San Diego, does it:
(Source)
As you can see from the image above, the cleaning business' customers have said a lot of kind words about its services. So, if a person referred to the site encounters these words, they will be more confident in putting their money on the business.
Displaying user-generated reviews on your site is also a way of sharing social proof. And letting your referral program get around with social proof will work wonders for it. After all, social proof not only validates the existence of a business. But it also proves a customer's decision to invest in its services.
Conclusion
Setting up a referral program can be tedious work, especially at the beginning. If you are not careful about how you play your cards, you may find yourself in a rocky situation.
However, you just have to be willing to invest resources and watch your reputation. Plus, you understand the importance of building your way from the ground up. So as long as all these are taken care of, you can make it through the process unscathed. What's more, is that you will be smiling in the end.
Remember, the beauty of a well-established referral program is the fact that you can sit back and relax right after. Your cleaning service business will continue to reap the benefits of the hard work you invested!