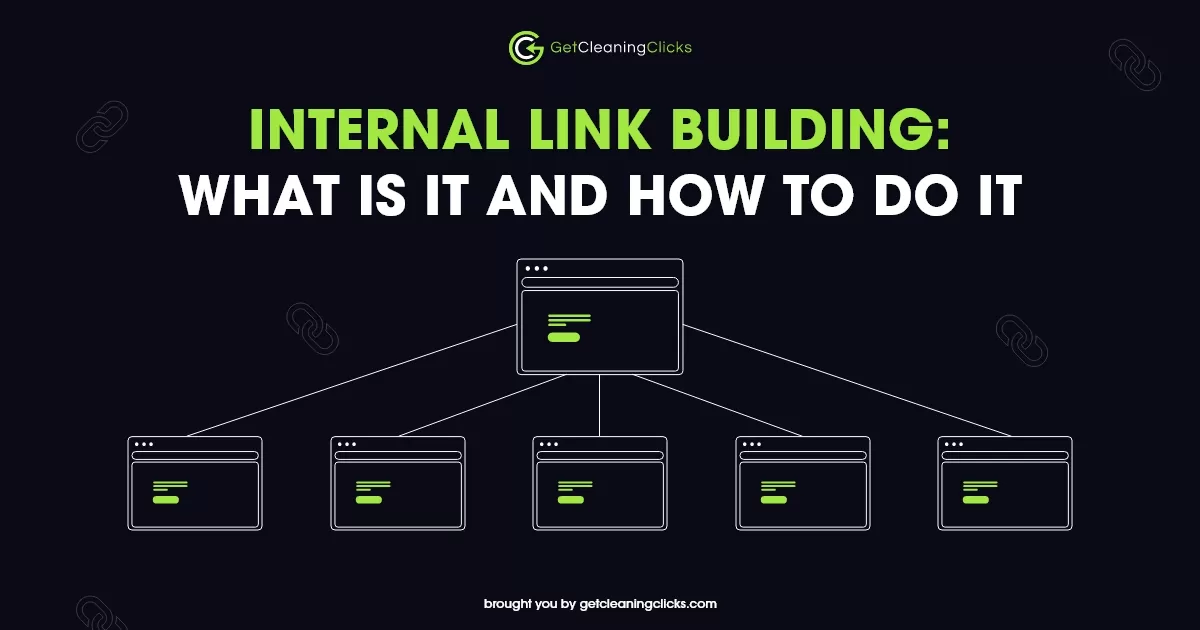 Link building is one of Google's top three ranking factors. And some people think its power lies in the external links that drive traffic from outside of your cleaning service business.
But there's no truth to that. Despite getting overlooked, internal link building is also as powerful.
So in this article, let's discuss internal link building. This way, you will know what it is and how to use it to promote all of your cleaning service site's content. If done right, your page authority will improve, and you will rank higher on search engines.
What are internal links, and what is internal link building?
Internal links are hyperlinks that point to other pages on the same domain.
Here is an example of an internal link from one page in Clean Arrival LLC's blog:
"booking page" is an anchor text. If you click the text, you will be redirected to the cleaning business site's booking page. The image below reflects that.
Internal link building, therefore, is about building internal links and spreading link equity. It's just like standard link building practices involving internal and external links.
The difference between internal and external link building? In internal link building, the focus is not on any kind of link. But it's solely on links pointing to pages within the same website.
Why are internal links important for SEO?
Internal links are important for SEO because they can significantly boost your search rankings. Their role is to assist search engines in indexing your webpages and understanding your site's architecture. What internal link building is trying to accomplish is improving the user experience.
To better understand internal link building's power, check out this case of a cleaning company named SMC Premier.
When SMC Premier approached an SEO agency, the cleaning service company relayed what it wanted:
Its website wasn't performing well. And it needed help to increase its organic search visibility.
So the SEO agency came to its rescue. The SEO agency created and developed an internal linking structure for the cleaners.
The result? SMC Premier experienced a 96% increase in organic traffic from the previous period. Below is a graph that can detail its progress.
The graph features blue and orange lines. The blue line represents the cleaning service site's increase in traffic since the beginning of time. Meanwhile, its orange counterpart represents the number of keywords the site ranks for since the beginning of time.
As you can see, SMC Premier's existing blog posts became more visible because of an internal link structure.
How to create a great internal link structure
A great internal link structure is like a pyramid.
The more important pages of your cleaning service site are at the top of this pyramid. And the less important ones are at a lower level.
Internal link building best practices
Here are some best practices:
Use dofollow links
From the front end, dofollow links look like any other link. But when you're creating an internal link structure, you have to double-check from the backend if you have a dofollow link.
The reason to check from the backend is that not all links are automatically dofollow links. They could be nofollow links.
Dofollow is an HTML attribute that allows search robots to follow a link. Meanwhile, instead of allowing robots to follow a link, a nofollow attribute keeps them from going to another site.
Here's what a dofollow link looks like:
<a href="https://cleaningcompanywebsite.com/page/">anchor text</a>
Now, here's what a nofollow link looks like:
<a href="https://cleaningcompanywebsite.com/page/" rel="nofollow">anchor text</a>
So if you use dofollow to link to an internal page, search robots will follow where that link goes. And what this does is pass on link juice and help your page earn a higher page rank.
Use keywords in anchor text
Google recommends it.
Want proof that this is effective? Check out the Maid Brigade case, a business that provides green house cleaning services in Georgia.
The situation kicked off when the cleaners approached a team of SEO experts to increase rankings in search results.
So the experts took over, and one of their solutions for the cleaning business site was to apply keyword-rich anchor texts as a part of an internal link building scheme.
Within six months, the cleaners experienced a 104% increase in first page rankings for MaidBrigade.com.
The image above reflects the difference in some ranking metrics after six months.
Link to important pages
Linking from one page to a new page on your site means you're sending link authority to that new page. The more link authority you send to a particular page, the higher its page rank gets.
So link to important pages or those that deserve a high page rank.
That's what SL Development, a digital marketing team, did.
Quick backstory:
A client was in the real estate business. And this client came forward to ask for help in generating traffic.
Later, the client worked on improving its internal link structure. One of the techniques applied was improving relevant pages and adding internal links to new neighborhood pages.
It worked! As you can see from the image below, organic search traffic went up by 33%.
Internal link building practices to avoid
Internal link building won't make sense and will work against your cleaning service site if you don't approach it the right way. Stuffing up your site with links, for one, is a tactic of a terrible internal linking strategy. If you insist otherwise, you will do more harm than good.
Use the same anchor text for different web pages
Don't want to mislead Google? Then use a unique anchor text for each web page.
Using the same anchor text to drive traffic to two different pages makes Google's job difficult. When the search engine disapproves of your internal linking strategy, it's like you're not even trying to get on its good side. And when you're not in good standing with Google, your rankings will suffer.
Remember, Google may be the only search engine that matters. Above Bing and Yahoo!, Google search has a 92.54% market share.
Want an example? Let's say a single client is requesting residential house cleaning services for their houses. The issue is that the client wants you to clean two houses in two distant locations — at the same time. You find this problematic, right? Then don't be surprised if Google does so, too.
Force links
Google and other search engines frown upon this practice. While it's smart to use keywords in your anchor text, you shouldn't force something that doesn't fit naturally.
Here's an example from Rosie's Cleaning Service, a cleaning service site that offers cleaning services in California:
Placing many links in your content is good. But adding a couple of internal links pointing to the top of your page is better. That's because if you add internal links on top, you are giving visitors something that they can click on immediately.
Do you insist on placing all your internal links at the bottom of your page? Well, good luck! You should know, though, your visitors are less likely to click on them because these people already read what you whipped up on one page.
So think about link placement. And why not add links at the top of your page? Doing so improves dwell time and reduces bounce rate.
Look at how Neva Home Cleaning, a housekeeping and apartment cleaning company in New York, does it:
As the image above shows, the upper section of the site is loaded with internal links.
Conclusion
If your cleaning service site's internal link structure gives visitors a headache, fix it. Your goal must be to design your site in a way that makes sense and is easy-to-use.
Remember, a poor internal link structure reflects badly on your brand and the services you offer. But it also negatively affects your ranking growth.