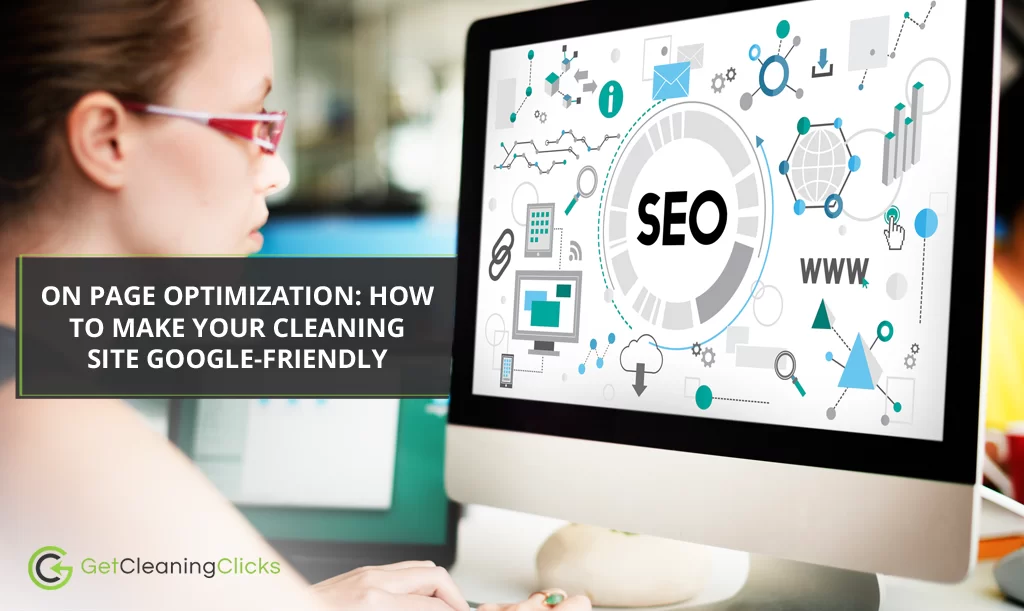 In this post, you will learn how to implement the best on-page optimization practices on your cleaning service website.
By following the tips below, you can rank higher on Google search, thus increasing your organic traffic.
This way, you can get more inquiries about your services and generate more sales!
On-Page Optimization: Introduction
Getting your page on top of search results is a daunting task.
For one, you are competing against other established cleaning services with possibly deeper pockets.
But here's the sobering truth:
You can't control what your competitors are doing.
What you can do for now is make your website as best as it can be.
And that all begins with on-page SEO.
What is On-Page SEO Optimization?
On-page optimization is the process of tweaking your website according to the ranking factors on a web page.
On-page SEO is half of what makes websites rank on the first position of search engines.
The other half is off-page SEO. It deals with building links from high-authority sites to boost your search engine rankings further.
But before implementing a link building campaign, you need to optimize your site for on-page SEO factors.
Think of on-page SEO as setting up the foundation of your home.
You can't clean your home knowing that it's built on shoddy land.
By fine-tuning your site according to on-page factors, your website should rank in Google search anytime soon.
How to Do On-page Optimization in SEO
Now that you know how on-page optimization can help your cleaning site rank higher on search results, it's time to put it into practice.
Below are things you must do to help boost your site's SEO performance:
Include the keyword in important elements
Keyword research is the most vital component of a successful SEO campaign.
The keywords you will use to optimize your site must be related to the cleaning services you're offering.
And to determine which keywords to use, you need SEO tools that will reveal to you the search volume and difficulty of each.
The goal is to find keywords that people often search for and have low competition.
By finding and optimizing your pages for these keywords, you can rank on your search engine of choice much easier.
When it comes to keyword research tools, you can try using Ubersuggest. It's a free tool that shows you the monthly search volume and difficulty score of each keyword.
However, paid tools like Ahrefs and Moz Pro possess better and more reliable data. Both also reveal to you how many organic clicks a keyword receives in a month.
Nowadays, featured snippets are taking away clicks from organically ranking web pages. Using this metric, you can focus on keywords that deliver the ROI no matter how many monthly searches it gets.
Once you have your keywords, you need to know where to place them on a web page.
Title tag
URL structure
Meta tags and meta description
To help you ensure that you don't miss out on these elements, use a tool like SEOPress or RankMath plugins for WordPress.
They alert you to the elements without your target keywords. This way, you can further optimize your site pages for Google search.
Produce high-quality content
You can't rank on top of organic search simply by placing keywords at the right places on your page.
Google will do its best to return web pages on search results with the most relevant content for your keyword.
Therefore, you need to strike a balance between creating content that Google and readers love.
Below, we'll talk about you create content designed for humans:
Fulfill user intent of the target keyword
When writing your content with a target keyword in mind, you need to know why users searched for it in the first place.
Below are examples of keywords related to your business:
Office cleaning services
Office cleaning services near me
For the first keyword, the user is probably looking for information about office cleaning services. They could also be looking for someone who can clean up offices.
In this case, a landing page about this specific service of yours should suffice.
At a quick glance, the second keyword is similar to the first one.
But make no mistake – they don't have the same intent.
It is specifically looking for services near the area where they are searching from.
In this case, "near me" can be anywhere!
So, if you have cleaning services in different locations, you should create pages on your site optimizing for the keyword "office cleaning services [location]"
Replace [location] with the actual locations of your shop.
For each page, create content encouraging people to hire your cleaning services.
Once you're done, you should have multiple pages targeting the same keyword but are in different locations.
If someone searches "office cleaning services near me" in Buffalo, New York, then your page "office cleaning services buffalo new york" should appear on search results.
Nailing user intent can be difficult if you don't have enough SEO knowledge yet. For more information, read this post at
Consider Content length
According to Backlinko, the top 10 pages ranking for a keyword have an average of 1,890 words (based on a million pages analyzed).
So, that doesn't mean all of your pages should have around 2,000 words each?
Not really.
What's more important is for your page to deliver value.
If you can say everything you need to say in 1,000 words or less, there's no need to add more words.
Also, using a tool like SurferSEO, you would see the average words of some keywords are indeed lower than 2,000:
Therefore, the number of words is a case-to-case basis. It all goes back to user intent and how your content answers the search query based on why the user entered it on Google.
Include images
Did you know that a blog post with images gets 94% more page views?
It shouldn't surprise you that visual content can help spike user engagement.
Here's another interesting fact:
55% of people read the post in less than 15 seconds.
So, within that time frame, you need to make an impression with visitors.
And what better way to do that then including images on your pages!
You can create a custom image from scratch using Canva. You can also borrow infographics from other pages provided that you link back to them.
Also, make sure to add alt text on all your images using variations of your target keyword. This helps search spiders crawl your images and index them on search results.
Use outbound and internal links
Your website should serve as a hub for visitors to learn not only about your cleaning services but also cleaning in general.
Creating pages for each keyword related to your services is a step towards that direction.
The next thing you need to do is to link your pages with each other.
Most of the time, site owners don't link out to other pages on their site. This is a great way to make visitors bounce away from your site, which is a bad thing.
By developing an internal linking strategy, you increase your topic relevance with your niche. As a result, you help increase the ranking of all your pages.
The same thing can be said of outbound links.
Unlike internal links, however, this link type drives visitors away from your site.
While it seems counterintuitive, outbound links help give your pages credence to your topic especially if you link out to authoritative sites.
As much as possible, however, you must limit the number of outbound links to retain visitors.
Improve load time
More than 22% of visitors leave websites that load more than five seconds.
From a user experience standpoint, this is not good.
You are losing almost ¾ of initial visitors and potential clients just because you can't get your site to load faster.
More importantly, Google now considers site speed as a ranking factor.
So, if you want to rank higher on organic search and retain your traffic, then you must identify what these bottlenecks are.
Using Google PageSpeed Insights is sufficient enough to help you determine the factors causing your page-load to slow down.
You can solve some of the issues using a caching tool like WP Rocket for WordPress.
However, if you don't know how to implement the correct changes, consider hiring a developer who can do the job for you.
Also, you may want to change your site's web hosting.
It serves as the bedrock of your online business.
Because no matter how beautiful your site looks, it won't load properly if you're not using the right web hosting platform.
Conclusion
On-page optimization is a huge part of increasing your cleaning site's online visibility.
At the same time, you level the playing field with the top cleaning businesses in your location.
Just by following the SEO factors for on-page optimization, you can also easily rank your site on the first page without building links to it.
You can even steal clients of your competitors by ranking for crucial keywords!
So, if you want to achieve these, you need to clean up your act and get cracking on on-page SEO.