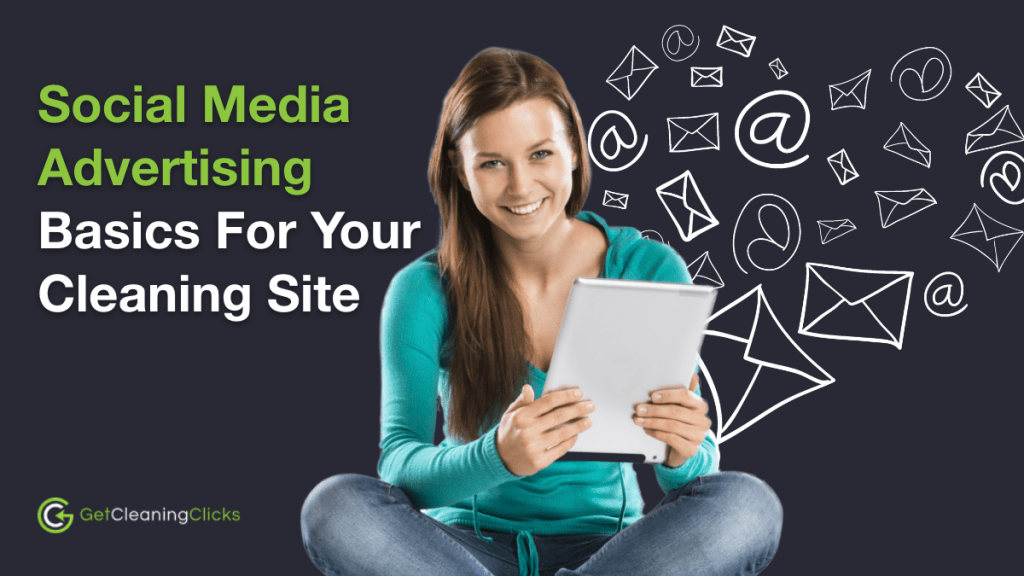 Want a quick way to reach a targeted audience for your cleaning site? Then get your hands on some social media advertising basics, which is what this post will discuss.
In this article we will walk you through the basics of social media advertising. This way, you can streamline your operations and switch to a real money-making business.
Why advertise on social media?
The number of people who are on social media is increasing. What you can see from the chart below is the increasing number of social media users from 2014 to 2019:
(Source)
And as of 2020, the numbers continue to grow. In fact, there are 3.48 billion users of social media today. So if you want the ads for your cleaning service business to reach these billions of users, social media is an excellent venue that could back you up.
That said, social media advertisements can widen your reach and improve how customers respond to you. Through social media, you can find out more about how these people behave based on their engagements, original posts, likes, and other activities.
How to advertise on social media
To be a rockstar at social media advertisements, start by heading over to social media networks. Here's how you can advertise on five of the most popular platforms:
Facebook
Facebook Ads are great for cleaning service sites.
The reason? They emphasize local SEO and give you more control over the traffic you get.
Just look at this cleaning business' ad, for example. Latinos Cleaning Services LLC is the name of this cleaning team located in Wenatchee, Washington.
This is one of the cleaning service's Facebook ads:
To advertise on Facebook, too, create a Facebook page for your cleaning service business and take it from there. It's 100% free!
You could hit Promote or Visit Ad Center.
Take it from Major Impact Media, a digital marketing agency. When a real estate brokerage in Minneapolis, Minnesota approached the agency to implement a consistent and effective lead generation campaign, it fired up a lead generation campaign on Facebook.
Major Impact Media shared that before the real estate brokerage came to the agency, a marketing consultant was tasked to do the work. Sadly, though, that consultant failed to deliver.
Fortunately, the odds of the brokerage flipped in the hands of the digital marketing agency. On the first day of a lead generation campaign, it already generated eight leads. And over 90 days, it generated 370 leads at $6.77 on average.
Instagram
Sign up for an Instagram account, connect it to your Facebook page, and switch to an Instagram business account.
Compared to an ordinary Instagram account, switching to an Instagram business account is more favorable to your cleaning service business because it can make your business stand out. It comes with analytics tools that can give you details about your target audience.
A fine example of a business that soared through Instagram advertising is Grove Collaborative. It's a company that offers green cleaning products. On Instagram, it managed to succeed by syncing its fast-paced growth with the use of Instagram stories.
Here is an image of one of its stories:
To create Instagram ads, too, start by going to your cleaning business' Ads Manager on Facebook.
On your Facebook dashboard, tap Create for a drop-down menu to appear.
There, select Ad.
Next, create your campaign by first specifying your marketing objective.
To proceed, let's say your objective is Reach. Once you choose a marketing objective, scroll down to configure other options for your ad account.
You can choose to Create an A/B Test. You can also configure the settings for Campaign Budget Optimization. And once you're done, click Set Up Ad Account.
Then enter basic account information such as your Account Country, Currency, and Time Zone. Then click Continue.
Now, configure the other options for your account, including selecting a Page and setting your Audience.
And once you also configure the Placements and Budget & Schedule sections, click Continue to proceed.
On the next page, you can begin creating your ad for Instagram. First, choose your preferred Format.
Below are sections that contain other options to help you create your ad. This includes the Media and Text & Links sections.
Now, focus on the Text & Links section. Enter the text that you want your ad to contain.
And in the middle, you can choose where you want your ad to show. There, choose Instagram.
It's also in this section where you get to preview how your ad will look like on Instagram.
Next, configure the Languages and Tracking sections.
Then scroll down to finish up by clicking Confirm. If you want to Review your ad before giving confirmation, you can also make it happen.
And once you enter your payment information in the window that will pop up, you're good to go. Your ad will then run on Instagram!
Twitter
Let's look at an ad from a cleaning company in Brooklyn, Amphibious Commercial Cleaning Services:
On Twitter, Amphibious Commercial Cleaning Services advertises what it does, as well as the areas it serves.
So to begin advertising on Twitter, go to your Twitter account's homepage and click the "…" icon to reveal more options.
Then choose Twitter Ads to kick things off.
An example is a popular retail business, Target. Its strategy involved getting Target shoppers to be the subject of a Nielsen Brand Effect Study on Twitter. Specifically, Target used the social network to learn how to interact with shoppers. Then, it wanted to find out how its interactions impacted its reputation.
Here's an image of one of its interactions:
The strategy played out well. And the endgame for the business was the knowledge that the majority of the survey's respondents is in line with Target. 58% are more loyal to the retailer and 62% are more likely to use it for service. It even enjoyed an 8% increase in shopping intent.
YouTube
YouTube operates as one of Google's subsidiaries. So, if you have an existing Google Ads account, you can link it to your YouTube account — and start advertising!
To do this, go to your Google Ads account. Then, as the image below shows, go to TOOLS & SETTINGS > SETUP.
There, choose Linked accounts.
Then go over the choices and select the YouTube section. Click DETAILS.
On the next screen, you will confirm that you want to link YouTube to Google Ads. So, click ADD CHANNEL.
You will then need to provide your YouTube channel's URL.
Let's say your YouTube channel is the one reflected in the image below. So, state that you own that channel. Then click GO TO YOUTUBE to begin the account-linking process.
An example in this department is an online retailer of different items for your home, Overstock. In the image below, you will see what the retail business' YouTube channel looks like.
On the video streaming platform, Overstock promotes its products by personalizing a recommendation based on a person's viewed products on its website.
An example is if a person looks at chairs on Overstock's website then goes over to Overstock's YouTube channel. So on YouTube, they will be served an ad about chairs.
This approach was a success. It helped Overstock gain a conversion increase of 80%!
Pinterest
To start letting Pinterest make waves for your cleaning business, get a Pinterest business account. Just go to the business page and click Sign up with an e-mail address and password.
An example of a brand that thrived with Pinterest Ads is STAINMASTER. What was solely a carpet supplier blossomed into a producer and supplier of carpet cleaning agents.
STAINMASTER won the hearts of the public through its strategically designed Pinterest posts.
The idea was to design posts to let the audience know that STAINMASTER understands them. And how the brand pulled it off was through posts with well-researched keywords.
This was one of them:
The result was 90% of referral traffic were from new visitors!
Conclusion
Remember, social media advertising will only work wonders with the right approach.
It's just like when you have a bunch of houses to clean. Each place is unique and, therefore, requires a unique strategy. However, regardless of having a unique approach, it's best to see how your audience responds to it.
I admit, when providing cleaning services to a home, you don't have that luxury. But when running ads, you can go for a trial run.
So, before you finalize your social media ad copies, let the A/B testing process come to your rescue. Pit two versions of the same ad against each other. Then find out which design gets better reception from your target audience.
The fact that you'll be running the ads on social media makes testing easier. After all, a significant benefit of social ads is the reward of instant feedback.