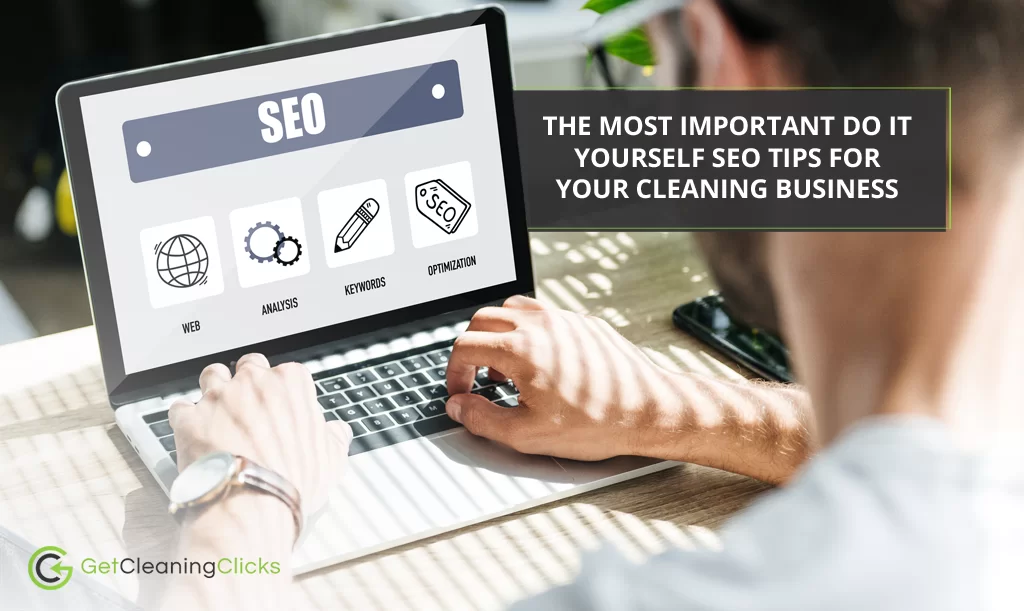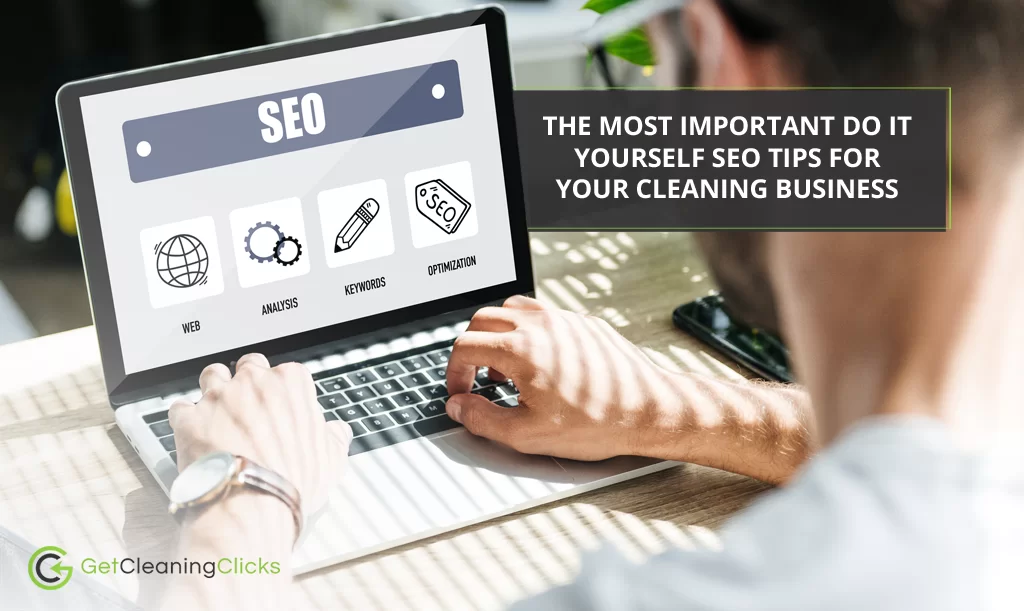 Like 61% of marketers, have you made SEO a priority for your cleaning business?
If you haven't yet, it's time to flip the switch.
SEO can do a plethora of wonders for your website such as improve organic rankings, generate more traffic, and drive sales. It can even help you dominate Google and other search engines!
Below are DIY (Do It Yourself) SEO tips for your cleaning business:


Identify your competitors

Fact:
71,780 Google searches are done per second.
Then again, considering Google dominates the search engine market with a share of 92.21%, this fact doesn't come off as a surprise, now does it?
A reason why Google is far ahead in its game is that it outsmarted its competitors. And if you want your cleaning service site to also come out on top, you need to gear up so you could crush the competition, too.
To know your competitors, a simple way is to go on Google and search for businesses that offer the same services. And to narrow down your search, look for these businesses in your area.
So, let's say you want to identify the competing businesses that provide house cleaning service in New Orleans. In this case, let your search phrase be:
"house cleaning service in new orleans"
After performing this search, I learned some names of cleaning services that also offer house cleaning services in New Orleans. And to show you how to handle the competition from this point, I will choose one of these competing businesses to scrutinize further.
My choice? Maid in NOLA.
Then to learn more about this competitor, go to Ubersuggest. There, enter their domain and hit SEARCH.
On the TRAFFIC ANALYZER section, you can see an overview of this particular competitor's domain. As you can see from the image below, you get useful insights such as organic keywords, organic monthly traffic, domain score, and backlinks.
You can also see their top pages.
Add to that a list of the top keywords that they use.
Choose a fast web host
Going with the first web hosting provider that offers a great deal seems like a smart and time-saving move. However, it's actually not.
That's because you're dismissing the other — and more important — qualities of what makes an excellent web host. Despite putting discounts and special promos on the table, some web hosts won't provide you with quality services.
For one, web hosts should be mindful of speed. Especially if you don't want to elicit a hateful response from your visitors, you need to choose a fast web host. After all, 46% of people consider waiting for a page to load as the most dislikable part about browsing the internet.
Other than gear you up with a fast website, an excellent web host also brings you these:
Better control of your content – A static HTML website can work flawlessly when hosted on ordinary web servers. But, if your cleaning service site uses web applications, you need an excellent web host
Top-performing website – A fully functional website? Satisfactory uptime? A web host should pave the way for all that
Reliable provider – Should technical issues arise, it's a plus to have a reliable web host that can save the day
Need help choosing the right web host that will push your cleaning site forward? Then, Matthew Woodward's discussion about Testing The 12 Fastest WordPress Hosting Providers can come to your rescue.


Use a responsive and fast web design
Did you know that a 100-millisecond delay can result in decreased conversion rates by 7%? This means, if your web page is 100-milliseconds late, you can say goodbye to 70 people in a customer base of 1,000 people.
And get this:
If your cleaning service site is not mobile-friendly, you're also doing the same — saying goodbye to potential customers. After all, 61% of searches are likely to contact a local business if they have a mobile-friendly website.
So, if you think that choosing a fast web host is all there is to a fast-performing site, you're mistaken. The problem could be you, too. That is if you didn't go with a responsive and fast website design.
If you don't have an impressive theme, make the change!
Here's a list of three responsive and fast WordPress themes:
Astra
The team behind Astra, Brainstorm Force, wants to make life easier for anyone creating websites. That's why Astra is not only fast and easy-to-use. But, it's also page builder-friendly!
GeneratePress
One second. That's how fast GeneratePress' demo site loads.
Not only is it a theme designed with speed in mind. But security and usability are part of the deal, too.
And because it's also fully customizable, you can create practically any kind of website with it.
OceanWP
A free and fast multipurpose theme? That's OceanWP.
What makes it a winner is that not only does it incorporate speed in your site. But it's also about user-friendliness.
OceanWP's free version comes with seven extensions. If you want more, 11 premium extensions are yours for the taking.


Content creation
"Content is king" is a saying that never seems to get old. And as far as online marketing goes, the juicier your content is, the higher your search rankings will be. That's because sites with engaging content (blogs) are indexed 434% more.
However, know this:
Publishing content and publishing content that rocks are two different sides of the coin. If you publish content that isn't SEO-friendly, you're defeating the purpose of getting on the good side of search engines. You're also not helping your cleaning service business earn higher rankings.
Looking for a surefire approach to having content that rocks? All you need is to have a content marketing strategy in place.
For an excellent content marketing strategy, observe the best practices. Like these:
Use facts
If you want to be among 42% of marketers who say that they are effective in content marketing, use facts!
An advantage of using facts is that they make your content informative and useful. Plus, they add authority and credibility to your brand.
Then again, if you're using facts, you need to update your content regularly.
The reason?
What was true years ago may no longer be true anymore. So, from time to time, you need to check and update your facts to maintain your content's status.
Think of it like the need to maintain the house you recently cleaned.
When a returning customer approaches you if you could provide your cleaning services again, you see where they're coming from, right?
Over time, their house gets messy again — no matter how well you cleaned it before. And unless you maintain it, it will be like that for a while.
Create content that people actually want
Blindly creating content? Nothing says that you don't have a strategy more than that!
So, cut it out and do some digging before you create content. A way to get around this is to learn the existing demand for the topic of the content you're about to make.
You can go to Google Trends and use a keyphrase to find how many searches it has had for a time. What you can do with this information is decide whether or not you should create content about a topic.
If many people are talking about it, take it as a "go" signal. But, if not, it's best to change your topic.
For example, let's look up "house cleaning tips".
And as you can see from the image below, there's a fair amount of searches for the keyphrase.
So, let's take it as a sign to go!
Include visuals
Did you know that 32% of marketers believe that visuals are the most important piece of content for their business? They sprinkle images, videos, and more to their content because they know it's good for business.
So, why not join them?
Creating visually appealing content is another way to spice things up. Not only do they hook visitors emotionally. But they also help you build trust.
For example, use images. After all, posts with images get 94% more views!
Besides, put yourself in the shoes of your audiences. Would you want to check out content that's difficult to look at?


Backlinks
Backlinks reign supreme, too. And luckily, there are many link building tactics that your cleaning service site can implement to soar in search engine rankings.
Then again, if it boils down to one link building tactic that can reward you with a towering presence in the local scene? That would be business directory submissions.
After all, business directories contain your business' NAP (name, address, and phone number) details. And because 97% of online searches are about the hunt for local business information, you hit the jackpot if your NAP details are up to date.
Popular business directories such as Whitepages and Yelp exist. Just go to these sites and add or update the entry for your cleaning service site.
Another way to find directories is to search for them on Google. Look for niche and location-specific business directories. Submitting to them is a more effective SEO approach.
Just follow this formula:
"YOUR NICHE" + "ONLINE DIRECTORIES IN" + "YOUR AREA"
Let's say you want to look for cleaning business online directories in Danbury. So, here's what your search query should look like:
And as you can see from the search results, I got my hands on relevant online directories. By then, just go to one of the results and submit your cleaning business' NAP details.
Conclusion
Optimizing your site to win the hearts of search engines can be overwhelming. If you're not much of an expert at both off-page and on-page SEO, it's a good idea to pass on the task to the right people:
A professional SEO team.
However, before leaving the task up to others, it's also a good idea to have a clear understanding of what SEO and the experts can do. That way, you can expect the best for your cleaning service site — realistically.