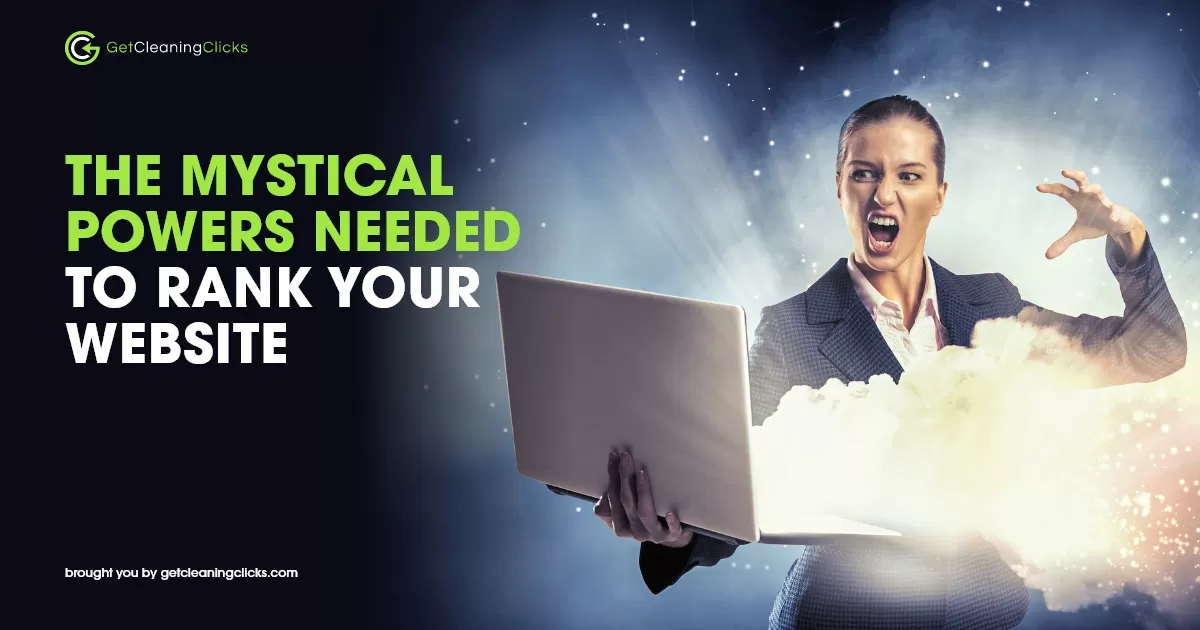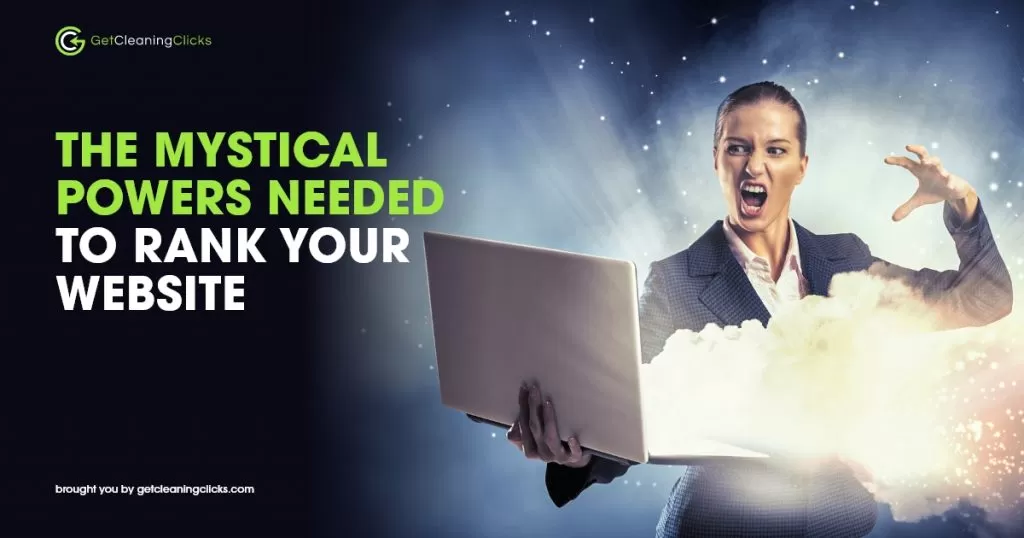 DIVE INTO THE MYSTICAL WORLD OF SEO, AND HOLD YOUR SEO COMPANY ACCOUNTABLE
Have you ever hired an SEO Expert and have no idea of what they are actually doing or if what they are doing is working, let alone is what they are doing a safe strategy for your long-term business goals?
I have several conversations a week with potential clients who say "I have someone who is doing SEO for my website and I have no idea what's actually being done".
To us, being open about what tasks are being performed to rank your site is something you deserve to know, your website is an asset and should be treated as one.
We don't expect you to understand our tasks or even care, but what we do want is for you to be comfortable answering a simple question as "what are we doing"?
For Some Business Owners when thinking about performing SEO it's like trying to learn how to pull a magic rabbit from a hat, or learning how to make your annoying Mother-in-Law who simply disappears in thin air and reappear at her summer cottage far away from you. Yes, virtually impossible and usually because you have better things to focus on like running your business.
Let me make this clear, SEO is not a Magic Trick. It does take skill and knowledge but there are NOT any mystical hidden components in the rules from the Google Gods, in fact, the basic fundamentals can be quite simple. We even offer pay-as-needed SEO services based on some of those factors for your budget concise business owners, or if you're a DIY SEO kind person or you can follow these tips on how to promote your own blog content from the guys at enticehq!
What's The Fuss All About?
Google Recently Confirmed an already obvious fact to the SEO's out there, that Content and Backlinks are the top ranking factors. Keep in mind, there are over 200 less important ranking factors that Google takes into consideration as well so don't get me wrong, there are a lot of things your Search Engine Optimization Specialist should be looking, from schema markup, NAP, and social metrics that list goes on and on, this article is just to give you a basic guide of what to look for.
Content – Google loves content when applied with the proper strategy, like having the properly formatted on-page SEO within your website, it is one of the two primary Ranking factors for Google. Content comes in all forms, it can be Images, PDFs, Blog Posts, Videos, and more. Neil Patel put together a list of 15 content examples here.
Backlinks –What are backlinks? Similar to Content, backlinks come in many different forms as in local citations, press releases that are typically non-follow but good for trust and anchor text dilution, Contextual Backlinks where a combination of words in a sentence are linked from a piece of content on another site pointing back to yours, thus transferring link juice from their site to yours, this can be the more powerful type of backlinks and are usually do-follow links from blog comments, niche directory, web 2.0 links and more…
Quality content can be harder to produce than backlinks depending on your SEO Companies resources so you will find some will use a little content, with a bunch of backlinks.
We prefer to make this a delicate blend of both and believe the fresh content is justifying that fact we are receiving the fresh backlinks, this is our long-term strategy for our client's business and has been proven to be effective months after we stop performing SEO seeing them being rewarded even after Google pushes a new search update.
What you can see from above without going into too many more details about strategy, is that your SEO Company should be performing at a minimum both of the tasks listed above; also note the difference in on-page vs off-page SEO, that the majority of the content-related SEO is considered On-Page, and receiving backlinks are considered Off-Page SEO.
The Question You May Have Now Is
What If They Are Only Performing One Of The Above?
Well, you will find most Search Engine Optimization Specialists will perform both on-page and off-page SEO, but I have seen some who just focus on either Content or others who just focus on Backlinks, and in some cases that strategy can rank a website in a lower competitive market, or for long-tail keywords.
You also have to remember you get what you pay for, if you're paying under 200 or 300 a month for multiple keywords unless you are best friends or married to your SEO, there isn't much they can do for you in either form. They may just purchase an exact match domain and for your service and toss a few links up only focusing on short-term goals.
Just try to put out a good piece of strategic content on your site and properly structure it for on-page and internal linking! You will find how much energy that takes, then try to do some self-promoting through blog outreach by getting a guest post from a high-quality blog or building and managing a bunch of PBN's.
It's hard work even when you have processes in place. Hard work can get expensive to perform.
Then maybe just maybe your SEO Company did nothing? It's scary to think someone would take your hard-earned money and possibly not perform either of those; unfortunately, this is also something I have run into when performing site audits for our clients, and what brought me to writing this article.
White Hat SEO Vs Black Hat
Now that you know what Google wants, let talk a little about the good and the bad because there is a difference. To be totally honest from our perspective, Google doesn't want your website to rank on the top of the first page, they just about give them away to review aggregates like Yelp and big money major brands who we always have to knock off the 1st position for our clients.
In our opinion, the fewer organic positions available on the first page the more you have to pay to be there and Google wants you to pay them for Advertising Placements through Pay Per Click Advertising because this is where they make all their money.
If Google didn't provide an organic value to its users I doubt its current market position of the whopping 80% off all search traffic may dwindle if that were the case so it a delicate balance that they are continually testing.
This is why PPC setup and Account Management Services are a large focus of our business, eventually, Google will win but to what extent no one knows. Don't get me wrong PPC has its place and works well for our clients, for now, this article is about SEO, we will cover PPC Advertising at a later date.
That being said, as an SEO we are fighting everyone for organic rankings. High positions on page 1 Google still holds a huge value for our clients, and should absolutely be part of your long-term Marketing Strategy.
Black Hat SEO
Some SEO Companies are completely BLACK hats, they use methods like SAPE LINKS or GSA for automated backlinks, this actually still works but you better know what you're doing because you can damage a website with a Google penalty fast if you do this incorrectly.
There are other things to look out for like improper anchor text especially since Google's last Penguin 4.0 update is extremely important to get right. Google real-time update tends to frown when you have 100 backlinks that all say "house cleaning city name" and will issue a penalty de-indexing your website and those can be hard to recover from if ever. Here is a more defined definition of Black Hat SEO < Scary stuff right there!
White Hat SEO
This is the magical fairy tale that Google wants you to believe if you put out high-quality content your website will receive natural backlinks, and rank organically on its own. Can this work? YEP! The question is, do you have the time and money and sometimes the luck that it takes for this to happen?
You would need a dedicated Marketing Department to do this on any scale, or get lucky enough where Major Media Outlets and News Magazines that are so excited about your content that they are willing to publish it for you but the bottom line is this takes works and sometimes a little luck.
A few White Hat links also blog comments, directory listings, true guest blog posts (non-paid & non-PBN), as well as citation listings to name a few outside the realm of Main Stream Media.
If You Ever Mixed The Colors White And Black Together, What Have You Found?
That's Right There Is Grey Hat SEO
This is where you find most SEO Agencies fall in line, If I were to take a guess, I would say probably 90% or more. A good example of a Grey Hat strategy would be using contextual links on Private Blog Networks also referred to as PBN's.
When done correctly a PBN is no different than a Guest Post on someone else's blog (White Hat) and is virtually impossible to tell the difference between them. What makes PBN's against Googles Webmaster Policy is their manipulation of links, you are not supposed to be able to control the links, and the PBN sites themselves actually violate that policy as well, with made-up Whois profiles when the domains are registered, and fake Social Identities for the bloggers who are to be thought of as the Blog's owner.
The mere fact that you purchase a backlink from a guest blogger is considered Black Hat in Google's eyes but viewed as While Hat in the SEO Community, so really what's the difference between that and a PBN?
Now That You Know What Your Seo Should Be Doing
How Can You Tell If Your SEO Working?
I'll go back to what we do as an example, each week we send our clients an email showing any changes in the rankings of the targeted keywords, and at the end of the month we send out a monthly update showing the tasks we performed and current ranking positions via email plus we offer a few other things like our live client dashboard that our clients can log into to see the results and much more at any time. For the non-technical clients, we send a Narrative version of their google analytics that explains in simple words how the traffic is performing. This to us shows complete transparency and that we are working hard for the results of your website. If they do not offer any reporting, be weary!
Here is some question you need to know.
What is the benchmark of your selected keywords?
You want to know where your rankings are prior to beginning any SEO and have some kind of tracking for them. We use several different tools and not all are 100% accurate but we found SERPLAB to be a great and accurate resource for tracking keywords.
How many keywords did you agree to focus on?
What did you agree to when you signed up, make sure you know what focus keywords your SEO is trying to rank your website for? Keep in mind when you rank for 1 keyword like "house cleaning Ann Arbor MI. you will rank for similar keywords as well as in "house cleaning near Ann Arbor" or home cleaning in Ann Arbor.
Do the keywords that are selected have enough search volume?
This to us is a crucial step when putting a campaign together, we use several different tools to find the right keywords that have enough volume to rank your website, including a competitive analysis using a tool called Ahrefs, SEMrush, and few others.
Local SEO Monthly Search Volume Metrics
Low Volume: 0 – 50
This is the easier keyword category to rank for because it's typically less competitive, but not always! In some cases, we see good results within 90 days when targeting this category for our clients.
Medium Volume: 51 – 100
A more competitive category, that at times can be just as hard to rank for as the large volume local keywords below depending on your market and the competition.
Large Volume: 101 – 300
This is what most people are looking for, they're keywords with higher volume and a more competitive market. Large volume keywords should be the focus of your long-term ranking strategy.
Megalodon Volume: 301+
This kind of keyword search volume is hard to find for Local SEO and is almost only found in the larger markets. Depending on your budget and current ranking position this may not be the best choice to focus on right out the gates, but when you do find one make sure it's added to your things to rank for a list.
The higher the monthly search volume the more competitive the market and the harder it is to rank your website, different strategies are needed to rank for different volumes, and sometimes that just means…drum-roll…… more content and more backlinks.
Are they performing both On-Page SEO and Off-Page SEO?
When you work with someone on a website there are changes a good developer will ask about your On-Page SEO and you will want to be able to answer if your SEO Company is performing any On-Page for your website, if not, I hope your web developer does. I won't dive into that subject just yet, but this is a scary place to be in when no one knows.
Know your timelines
I personally like to measure our true SEO Results quarterly while keeping a close eye on weekly and monthly fluctuations in the SERPS in between. Yes, We can rank websites, in fact, we do that all the time, however, we don't guarantee results, even though we probably could, just because the fact is that you truly never know what the future holds.
Conclusion
You can see how transparency helps our clients understand how we rank their websites, and what you need to look for while holding your SEO Company accountable. If you feel your company is not being transparent and you have that uneasy feeling, chances are you should go with your gut instinct and find a company to work with that is in line with your business's long-term goals.