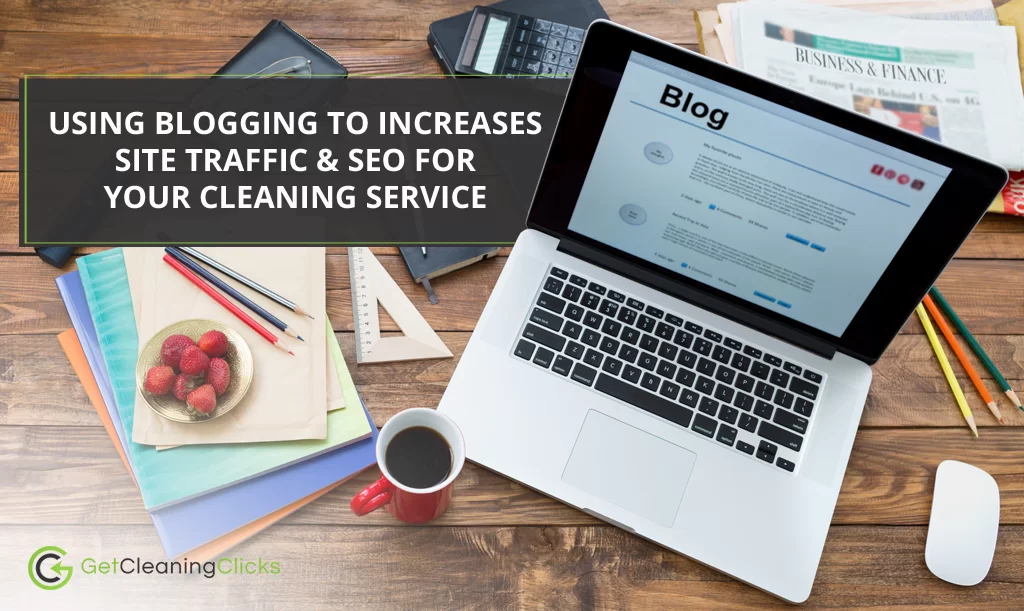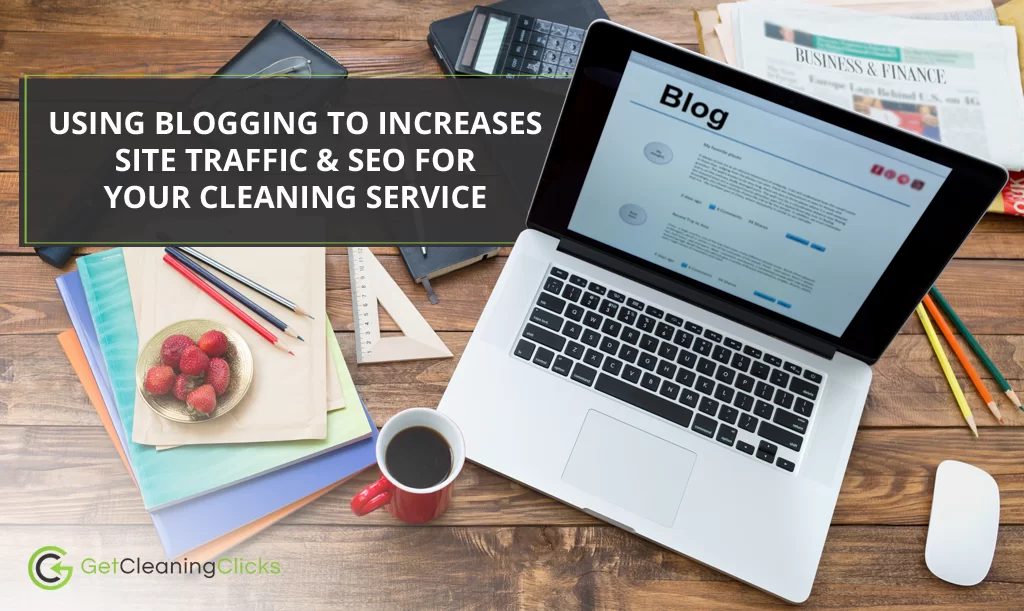 In this post, you will learn how blogging for SEO can help your cleaning service business.

You will also find out where you can set up your blog and how to write Google-friendly blog posts.

By following the tips here, you should see consistent and sustainable traffic over time.

Tags #howto #advancedseo
SEO for blogging: Introduction

If you want to rank on top of Google search, creating a site for your cleaning services is just not enough.

Aside from your landing pages, you must create pages optimized for search queries related to your cleaning services.
|
This is where SEO for blogging comes in!

Why blogging is important for SEO

The goal of search engines like Google is to provide users with the best pages related to the keyword.

So, if you can publish content that provides valuable information regarding the query, then you can help bring more eyes to your cleaning service website.

Below are the benefits of implementing SEO for blogging correctly:

Optimize for relevant keywords

Ideally, you want your site pages to rank on top of Google for the keywords "cleaning service."

But ranking on the first position gets tougher if you have competitors vying for the same spot.

A solution to this is by finding keywords related to "cleaning service."

For example, if you search for the keywords, you will see a section called People Also Ask:

It shows you questions relevant to "cleaning service" that people inquire about on Google.

If you scroll at the bottom of search engine results pages (SERPs), you will also see related searches:
Gathering these keywords, you can create blog posts answering the questions and providing information for each.

And by hitting on different keywords on your blog, you create a knowledge base of information about your cleaning service.

By providing in-depth answers to user queries about your cleaning service, Google can rank your page on top of SERPs!

Create useful content for your audience

Ranking on the first page of search engines involves creating content that your readers enjoy.

Because it's one thing to provide an answer to a question with your blog post.

It's another to present the answer in a way that resonates with your audience.

"Useful," in this case, requires you to show readers how something works instead of just telling them.

If a user searched for "types of cleaning services," identifying each type to them doesn't help them make an informed decision.

Instead, go the extra mile by presenting examples for each type, sharing case studies, and explaining which cleaning service type is perfect for whom.

Laying out the details in your blog post in relation to the keyword helps people get a better grasp of the subject.

If done right, they will stay longer to read your page, which could be a ranking factor. This way, your post can rank even higher on Google!

Help boost your landing pages

Blog posts can serve as supporting pages for the main pages on your site.
If you have a page on your site optimized for "housekeeping cleaning services," you can write questions people ask about the keyword and turn them into blog posts.
You can do this by searching the keyword on Google and scrolling down the People Also Ask section.
Create blog posts answering each question and link back to the landing page. You also need to link the blog posts to each other as you see fit.
What you're doing here is creating a virtual silo to help search engines identify the connection among the interlinked pages.
Here's an example of a virtual silo for the keyword "housekeeping cleaning services:"
Since you optimized all pages for similar keywords, you make it easier to rank your landing page on the first position of Google search.

Generate backlinks

If you create content that ranks high on Google search, there's a good chance that people will link back to it.
According to Advanced Web Study, almost 80% of total clicks come from the first page of SERPs. The first results, in particular, rake in over 55% of total clicks.
So, ranking within the top 10 pages on organic search for a keyword gives your site the most exposure on Google.
Now, let's say a writer wants to discuss deep cleaning, which is a type of cleaning service, in an article.
Instead of talking about it, s/he can just look for the best page about deep cleaning and link to it in the article. This way, readers can click on the link to learn more about it.
So, when the writer searches "deep cleaning services" on Google, s/he will most likely search the pages on the first page of SERPs.
And if the writer likes the content on your page, s/he may link back to your page in his/her article!


What is the best blogging platform for SEO?

Now that you know why SEO for blogging is perfect for your business, it's time to discuss how you can launch a blog for your cleaning service site.
Some websites let you publish blog posts out of the box. But if you built your site using HTML, you can sign up for these blogging platforms and start writing your post.

WordPress

WordPress is one of the most popular CMS with more than 77 million sites run using it.
The biggest reason for its popularity is the ability to download and implement plugins to maximize your blog content ROI.
For example, you can set up opt-in forms to show on the page and turn visitors into leads or subscribers for your business.
You can then send over newsletters or drip emails to convert them into customers.
SEO blogging is also easier on WordPress using plugins like Yoast and RankMath.
Using either lets you check how optimized your content is for the target keyword of your post.

Medium

Medium is a minimalist blogging platform that focuses on helping you publish great content.
It has a built-in audience which makes reaching out to your audience much more convenient.
From Medium, you can reach out to your Facebook friends and Twitter followers and connect them with your blog.
The platform also has a native engagement dashboard showing you how many people visited your page over time.

Blogger

If you have a Google account, then creating a blog on Blogger only takes a few clicks of a button.
Once set up, choose a template that matches your branding, edit it as you see fit, and start writing your content!
The advantage of Blogger is setting up display ads on it using Google Adsense.
By generating lots of blog traffic, you not only can generate leads for your cleaning services but also monetize your blog from the clicks on your ads.


How to write SEO friendly blog posts

After choosing your blogging platforms, it's time to write SEO content on your cleaning service blog.
Below are ways to get you started:
Optimize content for 1-2 long-tail keywords

I showed earlier the importance of finding a target keyword for each of your blog posts.
In particular, I discussed how the People Also Ask section as a good source of blog topics.
The questions found there are perfect examples of long-tail keywords.
This keyword type has at least four (4) words and a clear user search intent (more on this later).
To help qualify your long-tail keywords, you can use a free tool like Ubersuggest to see how many people are searching for them.
You can also see how easy it is to rank an organic search for a keyword. The lower the score, the easier it is!

Write content according to keyword intent

When writing your blog post with a keyword or two in mind, you need to know first why people searched for the query.
By determining the user intent of a keyword, you can create content that satisfies their needs.
So, when somebody searches for "how long does it take to deep clean a house" on Google, you know that the user is looking for the duration of time.
Also, compare what the top pages ranking for this keyword are saying in their blog post and include them in yours.
The fact that they are ranking on the first page of Google search means that they possess the right information in their content.

Use keyword on key elements of your blog post

Mentioning the target keywords in your content is an SEO tactic as old as time.
However, you need to diligently place the keywords in the right elements of your post.
Keyword stuffing may have worked before, but it won't get your page anywhere now.
For starters, mention your keyword once in these parts of the blog post:
Title
Meta description
URL
H1
Body


Mention the keyword once on all elements. But you can mention it more than once in the body but only if necessary.

Use alt text on images

As sophisticated as Google is, it is still unable to properly process and rank images on organic search.
But one way for Google to "read" images is to include alt text for all your images.
Mentioning your keywords once in the alt tags of one of your blog post images should be fine. For the others, you can use related keywords to diversify your alt tags and avoid over-optimization.

Link to relevant internal pages

If some of your blog posts contain information that you need to discuss in your post, you can just link to them instead.
Internal linking lets you save time from writing that section in your content. At the same time, you spread out traffic to your blog posts.
If you link to enough internal pages, you can build a virtual silo to help boost your landing page.

Conclusion
SEO for blogging is vital to the success of your cleaning business.
Simply put, if you want people to find your cleaning services on Google, then you must produce content relevant to your target keyword.
This way, you can rank in the first position of search and generate more traffic than you can imagine.
If you're interested, contact us here for a free strategy session.