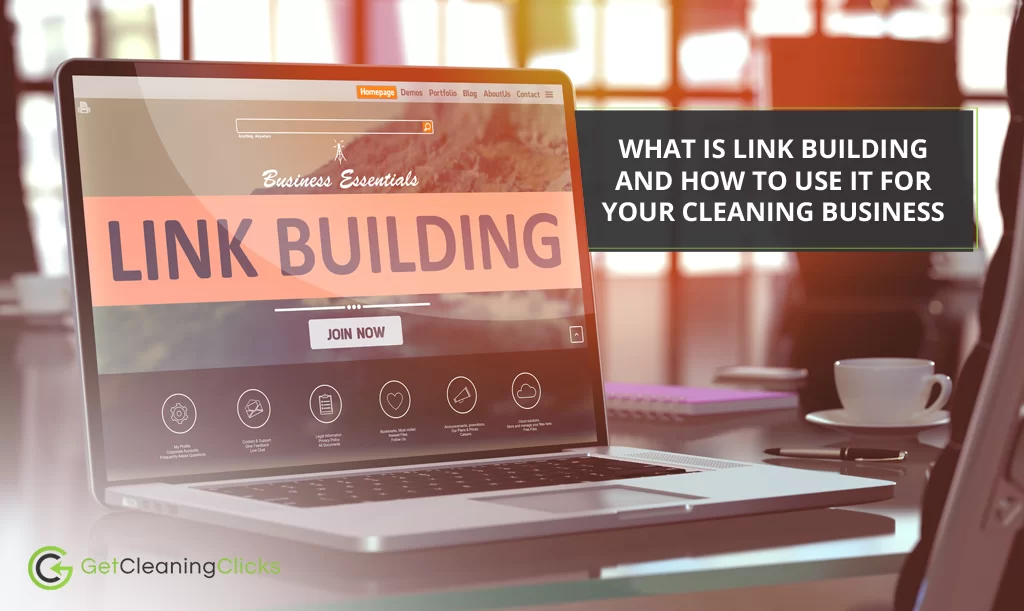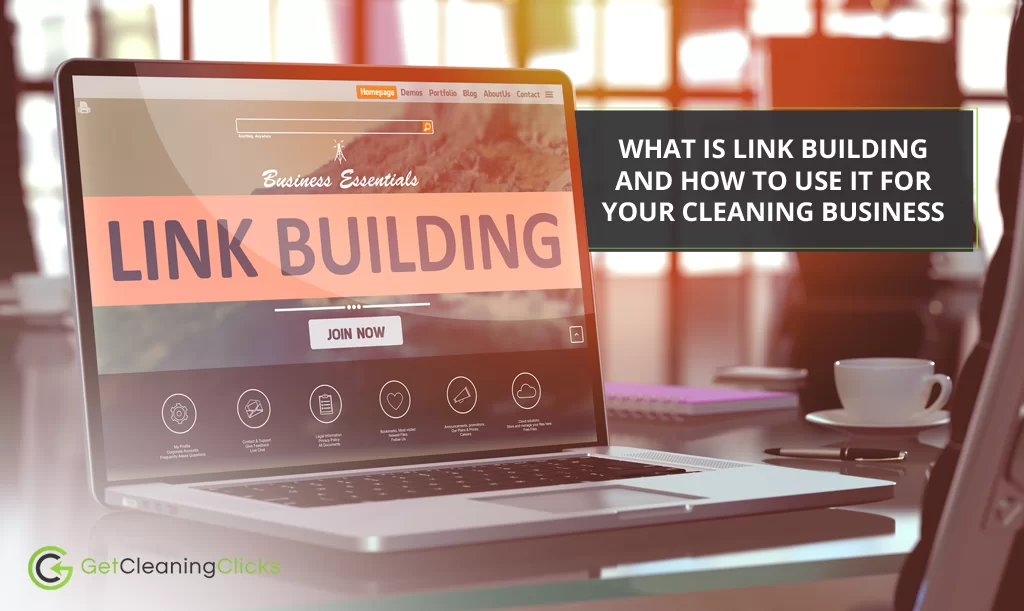 Want your cleaning business to reach new heights?
If so, you need to step up your game and implement effective SEO strategies.
One of those strategies is link building, which is what we'll get into in this article.
This way, you'll know how to make your cleaning service site stand out. And because link building can help you increase your site's visibility, traffic, and search rankings, you will also generate more income.
What Is Link Building?
Link building is the process of getting links from other sites. In this process, you want those sites to feature links that direct their visitors to your own site.
Here's how a link looks like from a reader's point of view:
But it only looks like a common word because of the anchor text — or the visible text that contains the link. When you strip it down and view it from the backend, this is how a link looks like:
The idea behind the process may seem simple.
But guess what? Link building isn't just about getting your hands-on links. There's more to the process than meets the eye.
In fact, 65% of marketers agree with me on this:
Link building is the most challenging SEO tactic.
Sure, the idea is to find the right linking partners. But first, you need to know what makes a quality link, find and familiarize yourself with your target audience, learn about competitors, and more.
Besides, I'm sure you understand how it's not smart to fast track your way into something when you're offering cleaning services, for example.
Wanting to do an excellent job may be the goal. But if you do it hurriedly, chances are, you won't pull it off.
Why Does The Quality of Links Matter?
When building links, you need to be mindful of your backlink profile. Your backlink profile refers to an overview of all the sites that link to you.
The reason? Google always puts more weight on those sites that feature quality backlinks. In this case, it's still going to be quality over quantity.
You know a link is of quality if:
It comes from a reliable source – A quality link signifies trust. So, if an untrustworthy website links to you, it makes you unreliable, too
It's relevant – Like a cleaning service business, it's best practice to get links from sites that discuss cleaning or other related topics
It makes sense – Like it needs to be relevant, a quality link also needs to fit a piece of content naturally. It has to offer further useful information about a relevant topic
Plus, a quality link is also earned. It's like an award. If a site owner likes your content, they will award you by linking to your website.
So, don't just reel in whatever links you can get your hands on. Or take part in a link scheme.
Instead, be cautious about the kind of links you get. If you don't pay attention to the quality of your links, you will have no clue about their impact on your site.
If they are of the low-quality kind, you need to let them go. Remember, while some of them can add value to your site, the others can do more harm than good.
Why Is Link Building Important To SEO?
Link building is essential because search engines love them. To a search engine, getting another site to link to your own website means that the site has given you their approval. It's like a vote of confidence.
Plus, let's face it. Change is constant to Google and other search engines. Rules, regulations, and ranking factors go through seasons.
However, regardless of the changes throughout the years, link building retains its importance as a factor in how search engines determine which sites to rank for particular keywords.
As the chart above shows, one of the top-ranking factors is the quality of linking sites and pages. That's because the quality of links signifies that a website is authoritative, worthy of citation, and a quality resource.
How To Use Link Building Strategies For Your Cleaning Business
Elevating your cleaning service site with the help of link building is a doable task. The catch is, the process is not a quick fix where you only have one thing to worry about.
You need to understand that running a successful link building campaign takes effort and time.
Think of it as a residential cleaning assignment. Having cleaned one piece of furniture in someone's home doesn't mean you're done with the whole assignment. It just means you have one thing off your plate before you attend to other tasks.
So, as you keep that in mind, here are some things you need to do consistently for a successful campaign:
Create amazing content
Content remains a top player. For sites to link to you, you need to be an A+ in this department: Create compelling content.
Here are some types of content that usually become hits:
Infographics – They add visual appeal. They're also easily shareable and linkable
Case studies – Featuring real-world examples makes content more understandable
Videos – This type will make your content more memorable. After all, 95% of people retain messages if they watch them on video
Bless 'Er House has a cool infographic about an in-depth cleaning checklist that homeowners can follower:
The page has 32 referring domains from decent quality sites based on their Domain Rating.
For a niche that's not as interesting, this is a good haul of backlinks. And it goes to show how a good piece of content can go a long way.
Submit guest posts
Submitting a guest post to a well-established site could grant you an opportunity to link back to your own site. In most cases, site owners allow you a link on your byline or author bio.
The idea is to write a very informative guest post that showcases your expertise about the topic.
When the site owner approves and publishes your post, you not only acquire a backlink from the site, but you can also funnel referral traffic from the post if the visitors click on your website!
Looking at the image above, Hannah Biggs shows the exact process of how she landed that guest blogging opportunity in this post.
The process can be tricky because you have to choose the best site to submit your guest post using different SEO metrics.
You can achieve this using different tools like Moz or Ahrefs to see how much traffic a site is getting and how formidable its link profile is.
Here's an example of what you can see using Ahrefs' Site Explorer:
From there, you can pitch your guest post using their contact form. Or you need to send them a cold email stating why they should accept your guest post.
The challenge is getting them to approve your guest post. To do this, you need to be an expert in your industry and have sample works to show them the kind of writing you can produce.
Guest blogging can be tedious, but you can't deny the results it can bring to your business from an SEO perspective.
Because bottom line, having higher keyword rankings can result in higher revenue.
Using guest blogging, Syed Irfan Ajmal increased its revenue by 24% to generate $200,000 a month for their automobile website.
Use broken linkbuilding
The idea is to keep an eye out on sites that contain links to competitor sites. If broken, missing, or there's something wrong with the backlinks that direct to your competitors' sites, you can make your move.
You can offer a link to your cleaning service site. Alongside, provide other useful information.
Here's an idea on how to pull out a broken link building campaign:
Identify resource pages related to your industry.
A resource page contains links to relevant content from other sites about the topic.
See if the page has broken links in them. You can do this using a tool like Check My Links.
This Chrome Extension will scan all links on the page and mark those that lead to a 404 page.
Reach out to the owner of the resource page informing them of the broken link. Then ask them to also include your post on the page as a valuable resource.
The reason why broken link building is successful is because it hinges on the principle of reciprocity.
Since you informed them of a broken link that is hurting the quality of their page, they will most likely return the favor of linking back to your suggestion.
Participate in roundups
Speaking of fantastic content, joining roundup posts is another effective way of building links.
Here's an example of a roundup post about home cleaning tips. The author asks participants to answer a set of questions that s/he will feature in the post.
The main idea of roundup posts is to pool together advice from the most authoritative people in the niche regarding the question. This way, the content gives value to people looking for ways to solve the problem the post is answering.
To join in roundup posts like this, however, you need the author to reach out to you. This only happens if you have developed enough clout and recognition in your industry.
If not yet, you can reach out to authors of content like this. Inform them that they can reach out to you if they're planning on another roundup post next time.
Monitor your links
Spending your resources to chase after new links is not all there is to linkbuilding. That's because even after you get other sites to link to you, the spot you have isn't set in stone.
Over time, something could happen that might cause your site's link to get left behind. The site owner could migrate to another web host and drop your link. Or they could update their existing post (that contains the link to your site).
If this case occurs, rest assured that you're not at fault. You just have to know the deal.
Backlink checkers like Monitor Backlinks and SEMrush can help you out here. They can track your links and provide you with other relevant information such as keyword ranking and in-depth backlink reports.
Final Thoughts
Link building may be challenging and time-consuming. But it's one of the most effective ways of letting your cleaning business soar.
So, if you want to drum up your site's value, it's the process you'd need to get into.
While it has been said many times already, you could use a reminder: Any SEO strategy without link building is incomplete.