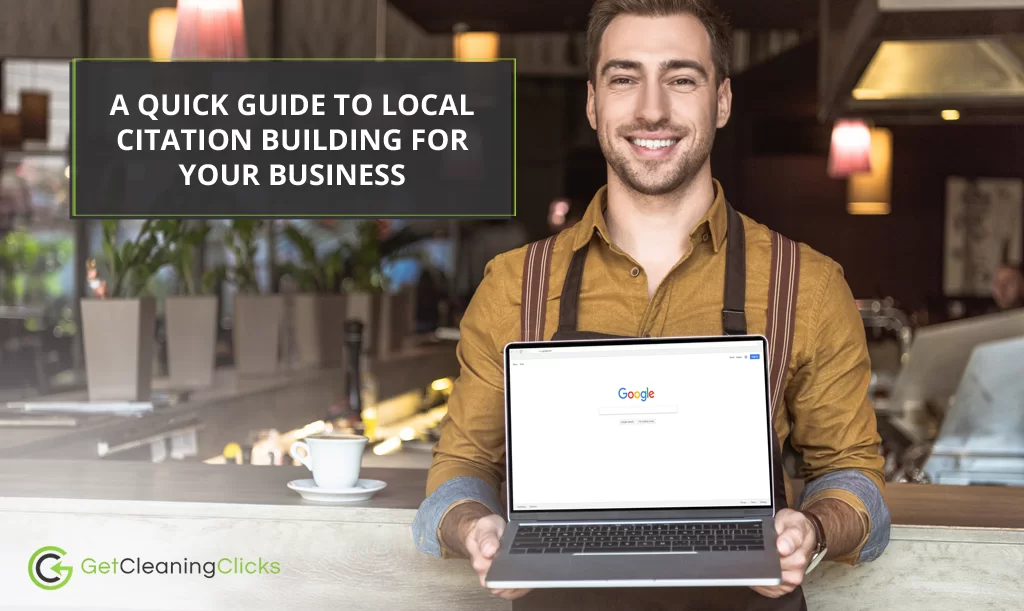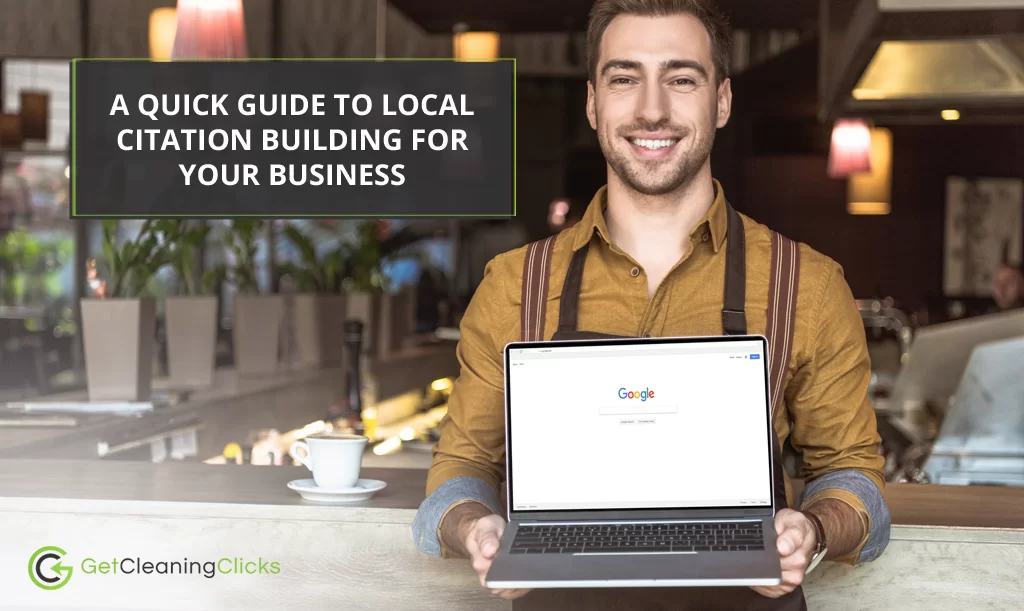 Have you updated your cleaning service website's information on business listings?
If you haven't, well, you should get around to it. After all, 97% of people learn more about local companies on the internet.
So, if people are looking for cleaning services in the local area and your contact information is up to date, you can expect them to reach out to you. Don't worry; I'll fill you in on how to make it happen.
In this article, let's discuss everything you need to know about local citations and local citation building. This way, you can positively influence your local search rankings.
What is local citation building?
Local citation building is the process of placing personally identifiable information (PII) of your business on third-party sites. Under your PII is your business' NAP, which refers to your business' name, address, and phone number.
For example, let's look at what happens when I search for "residential cleaning services in boise."
The search returned a list of relevant businesses, along with these businesses' names, addresses, and phone numbers. And if you want to visit these businesses' websites, you will also find a link that will get you there.
That said, a local citation works like a link. Like links, it also generates traffic.
However, unlike links, a local citation doesn't represent a "vote of approval" from a third-party website. Instead, it's a reference. It aims to validate that your business exists according to the given contact information.
If you provide incorrect information, not only will potential customers give up in reaching out to you. But they will also get discouraged at engaging in business with you.
Proof:
93% of consumers get frustrated over an incorrect listing. And the same source can back me up when I say that 63% of them will then call it quits with your business.
What are the types of citations?
Citations come in two types:
Structured and unstructured citations.
Structured citations
You know those citations that you see in local business directories? Those are structured citations. Here's an example of a structured citation on a Facebook page.
(Source)
An advantage of this type is that you have complete control over them. All you need to do is to submit your cleaning business' details to directories and update the information as necessary.
Unstructured citations
If your business' contact information shows up on websites that are not business directories, you can call that type of citation as unstructured. Below, you will see an example of an unstructured citation:
(Source)
Does citation building work?
The short and straightforward answer:
Yes. Local citation works.
Let's check out three businesses that turned to local citations to help them go up.
D&I Auto Body Shop
While it has been in town since 1992, the D&I Auto Body Shop was not providing services as much as it wanted.
It was confident that its services were of the highest quality. And without a doubt, it was a rockstar in its department.
The problem was the auto body shop didn't get the attention that it needed. It was in a town with lots of cars that could use auto repairs, car restoration, and other services. However, people ignored the business.
So, it approached an SEO agency to remedy the situation. And what the agency did was implement on-site optimization and link building techniques, which included a local citation initiative. From April 2013 to April 2014, it observed the numbers:
A 309% increase in search traffic!
Buffalo Wild Wings
Then there's Buffalo Wild Wings. It's an American restaurant franchise with more than 1,200 stores worldwide.
It all started when the company was looking to expand and invest in TV advertising. Because it was on TV, it sparked people's interests.
However, a problem came when people went online to search for a Buffalo Wild Wings restaurant near them. Unfortunately, no information was waiting. And it meant that the people who were hooked because of its awesome TV ad couldn't have the casual dining experience that they wanted.
Luckily, when the folks behind Buffalo Wild Wings learned about this, they initiated a fix. By then, they understood that people wanted local information.
As the chart below shows, consumers search for a variety of local information.
So they rummaged through more than 500 directories and submitted correct business information. And as a result, Buffalo Wild Wings ranked #1 in local searches, which helped the company garner 132,000 more leads.
Belgian Waffle and Pancake House
Belgian Waffle and Pancake House knew that Branson was a hotspot for hungry tourists.
And although its location can help it reel in fortune, it also wasn't kidding itself:
In Branson, the competition was tight. And unless the Waffle House amped up its game, its competitors are going to rise above.
So that's what it did. It leveled up its game by streamlining its marketing campaigns. It did many things, such as using online videos and investing in online display ads.
Most importantly, it geared up with Directory Optimization. It went through more than 50 online directories and made sure that everyone featured accurate information, especially the business' name, address, and phone.
The result was impressive. Not only did the company land on the first page of Google for high competition keywords. But it also reached over 400,000 potential customers.
How to build local citations
When building local citations, quality matters. So, instead of merely focusing on how to build citations, you should focus on how to build great citations.
Below are ways on how you can get around to it.
Submit to relevant local directories
More than 60% of local SEO experts say that your best bets are niche and industry listings. So, submit citations to local directories that are relevant to your business.
Because you're running a cleaning service business, the directory that you should check out is a cleaning service directory. To look for relevant listings on Google, one thing you can do is key in the following on the search engine:
"[your niche]" + "online directories"
So, if I were to look for relevant directories for my cleaning services site, the image below shows you what my search looks like. It also shows you an example of a relevant listing that I found.
(Source)
And if you think attracting highly targeted traffic is all there is to submit to niche directories, you're not giving it enough credit. It can also send long-term customers your way and help your website rank well on relevant keywords.
Plus, you will also be doing these niche and industry directories a favor. After all, contributing a relevant item on a website helps search engine algorithms determine what a directory is all about.
Use data aggregators
Foursquare is an example of a data aggregator. It works by collecting data about local businesses then distributing this data to a network of search engines.
Those that can get their hands on a data aggregator's collected data are local search engines, mapping services, mobile apps, and third-party directories.
Are you wondering about the difference between submitting to local directories and using local aggregators? Well, yes, there is. And it depends on how you want your business information to get out there.
If you want a fast approach, data aggregators might just let you down. So, in this case, it's best to let local niche directories do their magic.
However, if you're not focused on speed and you don't mind a slow distribution of your business' data, then leave it up to these data aggregators. The focus of these data aggregators is getting your information out to the broadest network of sites.
Create a Google My Business account
Fact: 56% of actions on Google My Business listings are site visits. It means the majority of activity on GMB triggers people to check out a website. If not visit a site, direction requests, and calls take its place.
So, if your cleaning service site does not have a GMB yet, then it's high time you should claim your account. And 4 Senses House Cleaning, a business that provides house cleaning services in Madison, WI can back me up on that.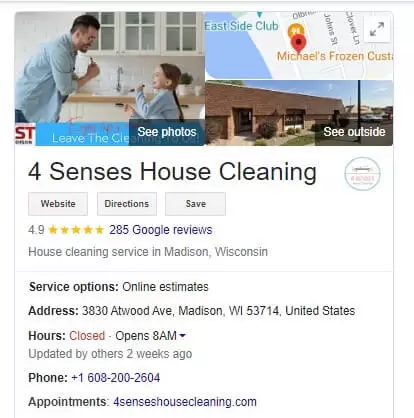 The cleaning service company knew that the local competition was tight. So, it turned to us for help!
For local SEO, we set up its GMB profile with keyword-rich descriptions and listed all the services its client provides on GMB.
The result was impressive! Whenever you search for relevant keywords for Love My Maids, its GMB listing shows up on local search.
Conclusion
Indeed, building local citations is not an easy way of making your cleaning business visible in the local scene. It will take up hours of your time, as well as other resources.
But let's get the matter straight:
All things rewarding don't come easy.
And no matter how you look at it, you can't deny that local citation building works. As long as you do it right, you can effectively bring in more customers and earn higher profits for your cleaning business.