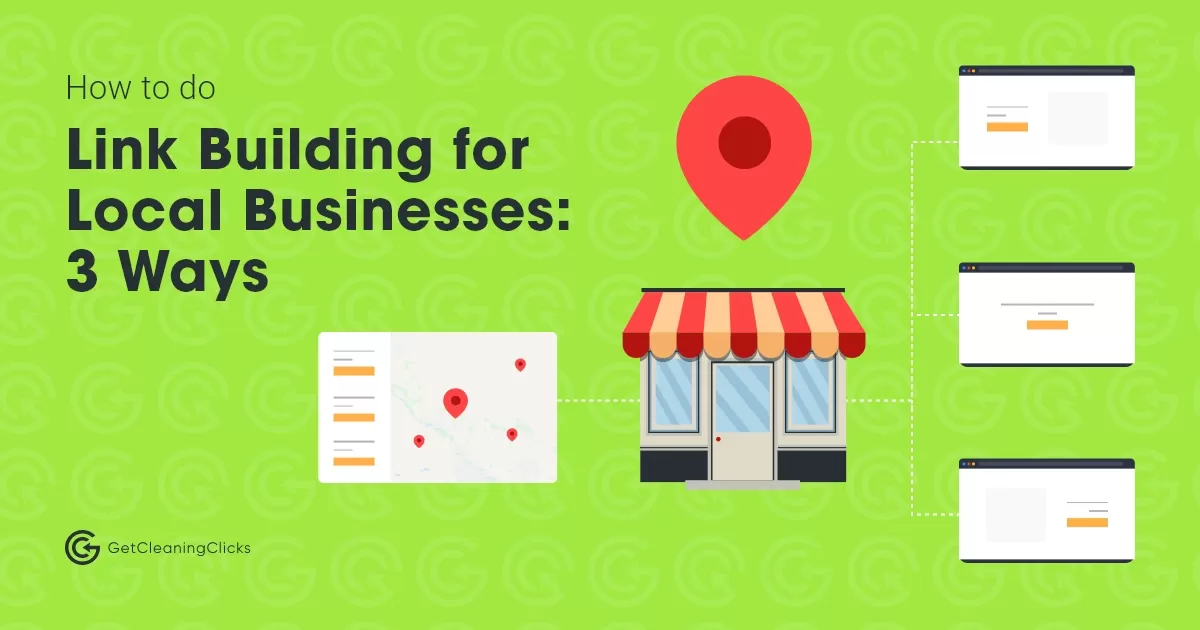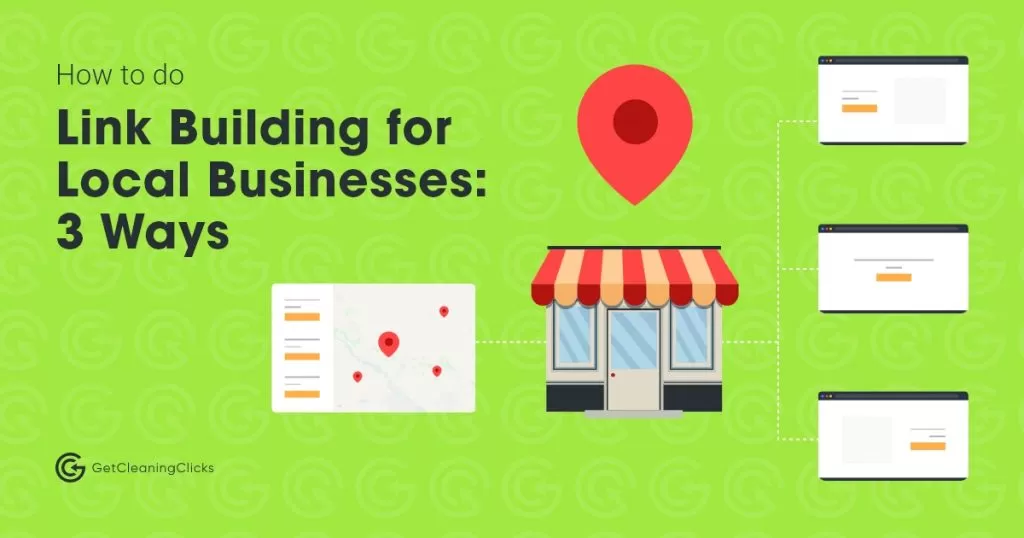 Is your link building campaign going well? 
It's good if it is. But because you're rummaging through the web for ways on how to do link building for local businesses, chances are, you need help.
Don't fret, though, because this post can present you with a list of effective ways to build links for local businesses.
If you do everything right, your cleaning service business can get the most out of link building, help it stand out in the local scene, and more.
Why Do You Need Effective Ways on Link Building for Local Businesses?

A major reason to run an effective link building campaign is that link building makes your site more valuable. As long as you're not breaking any rules, it can help your cleaning business soar. 
What you should remember:
Google hates anything dishonest – Taking part in artificial link building practices is like digging your own grave. Any SEO expert would recommend avoiding link farms and backlink exchanges. 
Don't pursue link opportunities that offer monetary compensation – Don't buy links or sell links.
Big brands will crush you – Big brands have thousands — if not more — at their disposal. As a small business, to make it and thrive, you need to work extra hard.


Link Building for Local Businesses: 3 Ways
72% of local businesses prioritize link building. And considering that's more than the majority, do it, too!
Here are three ways to build links:
1. Establish Yourself as a Professional in the Local Scene
Partnering with other local businesses is a way to do it. And partnerships with local entities are yours for the taking. To know of these opportunities, read newspapers, magazines, and other media outlets.
Can't find entities who need partnerships? Then here's what you can do:
Be Active at a Local Fair
Better yet, host a fair. That way, you can mingle with like-minded businesses. You can also familiarize more people with your business and invite them to visit your site.
What you can do for promotion at fairs:
Set up a booth – Contact the event organizer to allot a space for your business. Then have your cleaners accommodate anyone who comes to you.
Provide materials – Assemble a street team. And let it distribute fliers about your business, free samples, and other promotional materials.
Take part in auctions – If possible, be a donor. Donate something relevant to an auction's theme and to your business.
Contact Local Businesses
Look for relevant local businesses. A simple way to do this is to get on Google and search for something like this:
[number] + [business] + in [area]
For an example, refer to the image below. In the image, let's say we're looking for real estate agencies in Boise, Idaho.
If you're in a similar niche in a similar area, searching for real estate agencies as partners may work. They're not direct competitors, and real estate agencies may require cleaning services.
5 Real Estate Agencies in Boise
Then reach out to these businesses. In your message, inform them of your intent to establish a partnership. And disclose your agenda of building links.
Contact Local Influencers
The same idea above applies. But in place of businesses, go for individuals with influential power.
Even if they don't offer opportunities for partnerships, don't cross off the idea of reaching out to them. Win them over and tell them why a partnership with you will benefit both parties.
Here are tips on how to get on their good side:
Personalize the outreach process – Address them with their first names or rare facts about them. And craft unique messages to every influencer.
Be persuasive and honest – Convince them to work with you and don't hide the link building component of your proposed partnership.
Offer a preview – Give them a clear picture of what will happen if you work together. Because you're the one reaching out, emphasize points that can benefit them.


2. Offer Scholarships
Scholarship link building can help you earn powerful backlinks (a .edu backlink). Many students need financial aid. And schools will link to your content if you offer to help their students.
Here's a step-by-step process on what to do:
Step 1 – Create and Publish the Scholarship
Determine what you want your scholarship to be about. For example, offer scholarships to students who can create excellent written content.
What you need to remember:
Define your goals – Be clear on the scholarship's aim. Common pre-defined goals include brand awareness and wider reach.
Create a unique web page – Set up a page that will explain the entirety of your scholarship. Ideally, this should be a high-converting landing page and optimize your content for search.
Include legal information – Include an accessible document that addresses the submission requirements. Add this to your landing page.
Step 2 – Build and Use Email Lists
Look for schools that you can contact.
First, include all local schools that you can find. Then narrow the list down to include only the best contenders.
Here are tips on what to do next:
Draft a proposal – Present your aim to offer a scholarship. Discuss your agenda, what your scholarship aims to achieve, and more.
Reach out – Polish your draft and send it. Be concise and open communication lines from your end.
Follow up – If a week goes by without responses to your outreach message, hit them back up.
Step 3 – Choose a Scholar
After reaching out to schools, they should inform their students about the scholarship. They will link back to your page, too.
Interested students will then reach out to you.
What to remember when choosing a scholar:
Select deserving scholars – Award scholarships to qualified students. Focus on those who can deliver extraordinary work.
Weed out negative applicants – Do a basic background check to see if they model exemplary behavior. It would be in your best interest to affiliate yourself with a respectable name.
Determine if they followed requirements – Check if they followed requirements. And award scholarships to those who respect your business enough to follow guidelines.


3. Use Popular Link Building Tactics
The reason they're popular? They work.
Here are popular tactics that you could use:
Build Local Citations
Your business' name, address, and phone number are important details for customers. So place them on local online directories and third-party sites.
Here are tips for success:
List your business correctly – Review the information you provide to avoid pissing off people. Most customers get frustrated when they encounter businesses with the wrong information.
Submit to relevant directories – Links from relevant directories are more valuable. They're less likely to get ignored by the people browsing through these directories, too.
Prioritize certain sites – For example, create and customize your Google My Business account and Facebook page.
Submit Guest Posts
Pursue guest posting opportunities on relevant sites with high authority.
There are plenty of ways to find these opportunities. One way to go about this is to use this search string:
[key phrase] + "write for us"
For example, let's use "professional cleaning" as the key phrase. So the search would look like this:
Once you find a relevant website, create your guest post. And to increase the chances of having your post approved, submit unique content. It also needs to be purposeful and engaging.
Engage in Broken Link Building
Look for relevant websites that contain broken links or links to 404 pages. Then inform the webmaster about it and propose to replace it with a working link.
Broken link building works well because you are solving a webmaster's problem. And it may even be a problem they aren't aware of.
Like the image below reflects, broken link building is only fairly difficult, costs low, and has a low penalty risk. Plus, it's popular, effective, and rates high in link value.
A simple way to find broken links? Use a free tool like Check My Links.
It's a free chrome extension. To use the tool, install it, and navigate to a website where you want to find broken links.
Then launch the tool (by clicking on the browser icon) to discover the status of links on the site. The information you can get includes the numbers of valid links, valid redirecting links, warnings, and invalid links.
Focus on invalid links. The tool would highlight any invalid links in red.
Conclusion: What Link Building for Local Businesses Can Do For You
Working towards becoming the top provider of cleaning services in your area? Link building is the way to go.
Link building for local businesses can help you establish a presence in your area. And like any approach to promote a local business, the way it works is conditional: It will work if you work.
That's why you need to stay consistent and don't doubt your efforts along the way. Soon enough, you'll get the results you want to achieve.