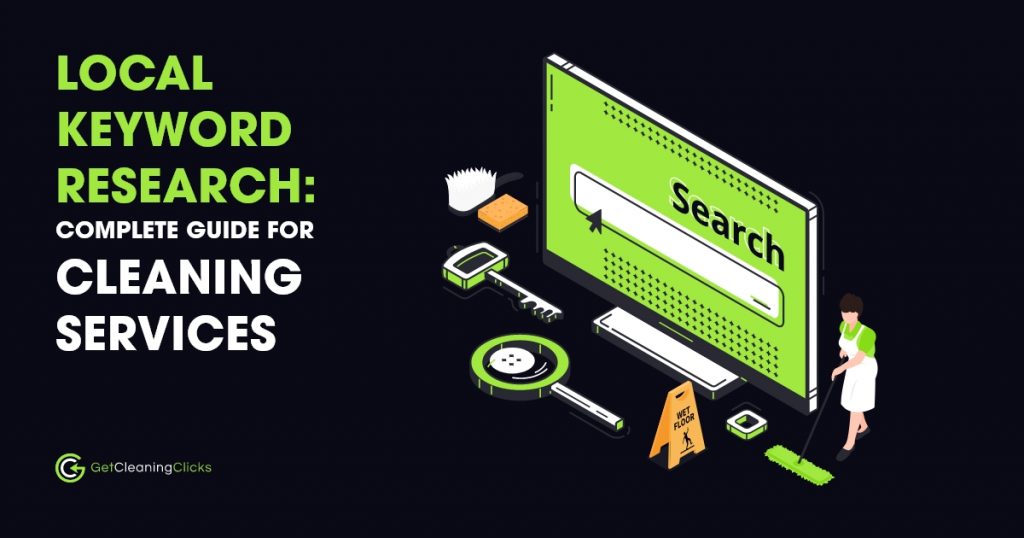 Becoming a go-to provider of cleaning services in your local area isn't an effortless task. You need to persuade people to think your cleaning service business is better than your competitor's.
However, while challenging, you can make it happen. Thanks to local keyword research!
In this post, you'll learn how to conduct local keyword research for your cleaning services to reach the top of the SERPs.
We'll deliver into the nitty-gritty of local keyword research — from why it is important to how you can look for keywords using various methods and tools.
What is local keyword research?
Local keyword research consists of finding terms that people enter on search engines. And if we're looking at matters from a local perspective, one of the main reasons people use search engines is to look for local businesses.
For example, these people are looking for cleaning services in Hoboken. So, they will enter a search term like "cleaning services in Hoboken" on Google.
Now, if you optimized your website for the said search term, your cleaning service business will come up in the SERPs and be among the top results.
In the image below, you'll see that we made it happen for one of our clients — a cleaning services provider in Hoboken, Maid in Hoboken.
As the case above reveals, local keyword research can significantly improve your search rankings. It can help you target the most effective search terms that can further your business.
Like local citation building, keyword research is an integral part of a local SEO strategy. If it can't get you to the number one spot, it can help you get a deserving position on the first page. So, to do wonders for your cleaning service site, leverage the power of local keyword research.
Why is keyword research important?
Of course, you don't want your cleaning service business to get lost in the thousands of search results. And, for that to happen, you need to look for the most effective keywords.
To be specific, here's what keyword research can do for you:
Find good keywords
The more times people enter a particular keyword in the search results, the higher the demand. However, high demand leads to more competition.
Practical advice? Stay away from highly competitive keywords. Especially if your cleaning service is a new fish in town, don't bump into more established cleaning businesses.
The fact is, they are more seasoned in the industry — probably with a better reputation and more resources. And they could easily outperform you.
So, what you can do is find good keywords. These are keywords with high search volume and low competition.
To determine a keyword's search volume and level of competition, use a tool like Google Keyword Planner. Just sign to your existing Google Ads account (or create a new one).
Select Discover new keywords.
Then enter your keyword on the appropriate field and click GET RESULTS to proceed.
And because we're conducting a local keyword research, be mindful of the location you set. In this case, I selected "Hoboken, New Jersey, United States" as the target location.
For example, let's go with the search term "cleaners near me." After I provided it to the tool, GKP revealed its Avg. monthly searches, which is about 10-100. Add to that its level of Competition, which is low.
Understand SEO difficulty
Targeting keywords with high volume and low competition won't matter, though, if you don't know the difficulty of what lies ahead. Some keywords — regardless of being good keywords — turn out to be bad keywords.
The reason? They're challenging to incorporate naturally in your content.
So, enter the KD (keyword difficulty) or SEO difficulty.
The KD is a score (out of 100) assigned to a search term that assesses how easy or difficult it is to rank on search engines. How this score is tallied boils down to integral SEO factors such as a page's content and searcher's intent.
To get the KD, Neil Patel's Ubersuggest is a free tool you can use. Just go to its website and enter your keyword.
To help you visualize the instruction, I'll run the search term "kirkland house cleaning" on Ubersuggest.
Here's the result:
According to the tool, the KD (or SEO difficulty as it's labeled) score for "kirkland house cleaning" is 17. And out of a scale of 100, a score of 17 is easy to rank for.
Discover great ideas
Great ideas are yours for the taking if you do a little digging. An upside to stumbling upon keyword ideas is that it can help you produce great content. And, if you're looking to build a solid long-term content strategy for your cleaning business, not running out of ideas is the key.
Fortunately, lots of tools can give you keyword ideas. And, if you're resourceful, you can easily scoop these ideas almost everywhere.
Do you want hundreds of these keyword ideas returned to you based on your main keyword, though? Then, use Keyword Tool, a popular alternative to Google's Keyword Planner.
To demonstrate the tool's power of hunting for ideas, let's take it out for a spin. And let's search for the ideas that it can give from the generic keyword "cleaning."
The image above reflects the result. Just seconds after I conducted the search, Keyword Tool found 563 unique keywords for me.
Evaluate the competition
To come out on top, you must also know what your competitors are up to. So, ask questions like "What are their top-performing keywords?" and "What keywords do they use for their top pages?".
SpyFu, for one, is a tool that can make it happen for you. It can also reveal your competitor's exclusive keywords, organic and paid keywords, and more.
To use it, simply go to its website and provide your competitor's domain. Then hit enter to begin your search.
To show you an example, here are some images that display useful keyword-related information using SpyFu. This returned after I provided a competitor's website:
What to do next?
Researching keywords will only work in your favor if you go through it properly – from start to finish. So, keep these things in mind to make the most out of the process:
Use the best keywords for your cleaning business
With keyword research, you can get your hands on lots of good keywords. Now, narrow down your list. And select the best of the best — or the most effective keywords for your cleaning business.
For an extra set of hands in this department, what you can do is:
Choose conversational keywords – Use and identify keywords that sound natural. For example, "What is the nearest cleaning service business?"
Stay relevant – Don't optimize for "green cleaning" if the service is outside of your specialty. Instead, optimize for keywords that are related to your brand's advocacy.
Use your main goal as the basis – Optimize for "affordable cleaning," for example, if you aim to offer affordable cleaning services
Additional tips for the keyword research process
Examples of location qualifiers are "near me" and "in San Francisco."
Using these location qualifiers is an excellent tip for a successful keyword research process. It works because location qualifiers are what people tend to use for performing local searches.
For instance, they're looking for cleaners in Washington. And, when they go to Google to search for what they're looking for, they'll use exactly those search terms — "cleaners in Washington."
Apart from using location qualifiers, here are some notes to think about:
Check on-site search – Find out what people are looking for when using your website's search feature. Then create content using a relevant keyword.
Consider a keyword's seasonality – Some keywords are massive hits only at specific times. So, focus on using specific keywords during specific dates.
Use variations – Using similar terms can make how you incorporate keywords interesting. For example, go with "cleaning company" if you're trying to rank for "cleaning business."
Use the best tools
Both free and paid keyword research tools are everywhere on the internet. To help you unearth the most effective keywords, don't go with just any tool. Instead, make sure to go with the best ones.
When on the hunt for keyword research tools, here are factors to consider:
Present multiple data – Choose tools that offer numerous details in one search. For instance, get search volume, competition, and keyword opportunities from the same tool.
Cite trustworthy data – Use tools that extract data from reliable sources like Google's search engines
Focus on value – Using free keyword research tools is fine. Remember, though, that premium keyword tools can offer more detailed insights.
The next steps after keyword optimization
Reading Keyword Optimization: Everything You Need To Know and deciding on the best keywords to use is not the end of the line.
Sure, with the right keywords, you can see an increase in the traffic that your cleaning business generates. And with lots of incoming traffic, you'll see an increase in sales, too!
Then again, you won't be able to reap the benefits of the keyword research process if you refuse to do your end of the bargain.
So after you research for the best keywords, here's what you can do:
Modify existing pages – Fix quality and add keywords to your website's old pages
Use keywords as anchor texts – Referencing quality resources adds more value to your post. So, instead of using ordinary words to highlight a resource, use keywords.
Don't overuse keywords – Be mindful of keyword density. Avoid creating spammy content and keyword stuffing.