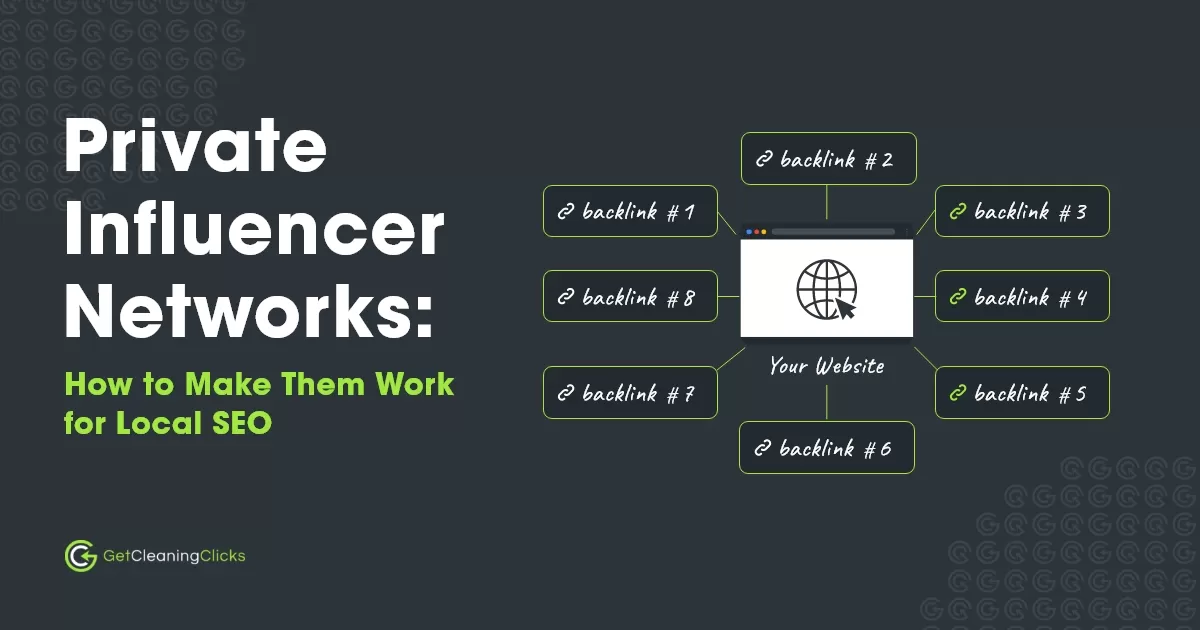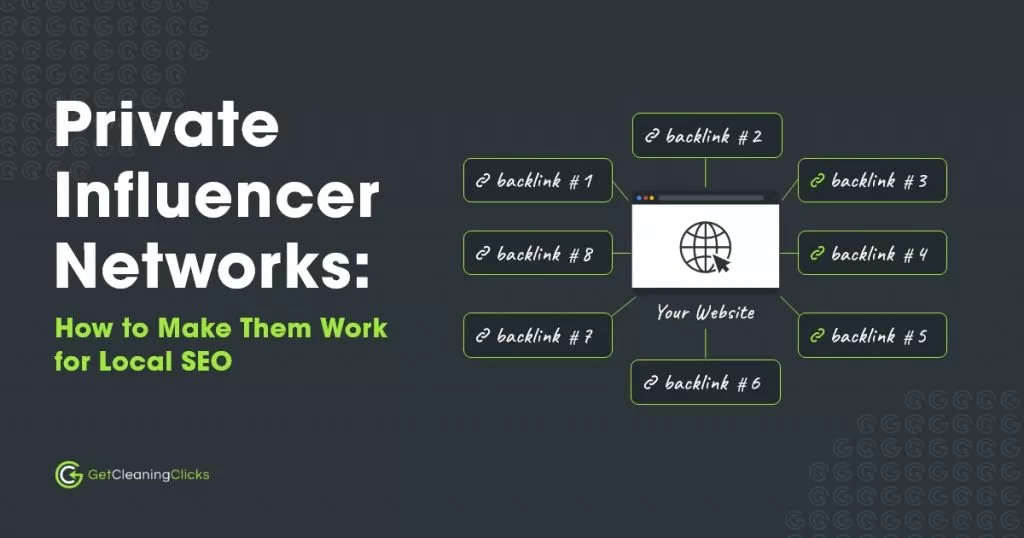 Looking for an uncommon yet ethical way to boost traffic and improve brand presence for your cleaning service business?
Then let's talk about PINs or Private Influencer Networks.
In this post, we'll discuss what PINs are, their benefits, and more. We'll also discuss how to start your own network.
This way, you can amplify your SEO efforts and maximize the benefits of owning a cleaning service business website.

What are Private Influencer Networks?
PINs or private influencer networks are networks of content creators who help build each other up.
The word PIN is a play on PBN or Private Blog Network, a known term that has been around for years. It describes a network of websites whose primary purpose is to link out to each other.
Below is a chart that shows how PBNs work:
Here are more facts about PINs:
Fast-growing approach to marketing – It's a unique touch on influencer marketing, an industry growing at a rapid pace. Predictions say the industry of influencer marketing will reach $15 billion come 2022.
Better than influencer marketing – It's more effective than standard influencer marketing. The primary advantage it holds is that the influencers conduct marketing in private.
They're the future of link building – Without a network of content creators, you can get outdated in the ever-evolving process of link building. So for a futuristic and effective link building campaign, be part of PINs.


How Do Private Influencer Networks Work?
Thanks to each other, the members of Private Influencer Networks generate more income.
Once you join a network, here's what you should do:
Ask for Help
Draft a message to the network of influencers to ask for help. Don't be vague about the help you're looking for.

For example, if you want to request an article, relay that message.
What you should remember:
Be well-mannered – Be polite and approachable when you reach out. Remember, the members of private influencer networks aren't likely to respond to rude requests.
Elaborate on why you need help – Provide details. The more understandable and relatable your requests are, the better.
Thank them in advance – Let the members know you appreciate them reading your request. This makes you more amiable and thus raises the chances of more influencers helping you.


Edit your Request and Send
Anyone in the network can help you. To get the most value, however, know that some members are better qualified to make the assist.
How you can maximize the help of private influencer networks:
Be specific with your request – Explain the ideal piece of content you want. This should include the influencers' style and what niches you want help from.
Specify the number of followers – If you believe you can benefit only from influencers with a high follower count, be open about it.
Specify influencers – If you want specific influencers to promote your business, include this intent in your message.


Respond or Follow up
After posting your request, people will message you with their intention to help you. By then, get back to them.
How you can handle this effectively:
Answer questions – Address their concerns. And always prepare to discuss content ideas.
Offer to provide tools – Ask them what tools would be helpful to them. For instance, provide them a link to Google Trends if they need help with research for trending topics.
Follow up – If nobody in the group responded to your call before, give it time. After some time, review your message and send it again.


Tips on Staying in Private Influencer Networks
Belonging in private influencer networks is a privilege. You can get thrown out of the network if you don't do your end of the bargain.
Here are tips on how to stay in these networks:
Be Active
Pull your weight and do what's expected of you. Make the most of the value you can give to others.
How you can do that are:
Follow the rules – Read guidelines and be a team player. The idea is to assist everyone in the network and following rules is how you can do that.
Attend meetings – Meetings are where members discuss the agenda. Use a calendar to help you keep track of these events.
Be in touch – Provide your contact details. And reach out to those in your network when opportunity knocks.


Reciprocate
A fundamental rule is to give as much as you receive. If you can provide more help as a member of your private influencer network, the better.
For one, if you expect an influencer to give you great and search-friendly content, create great and search-friendly content, too.
Because content remains king, always be mindful of the quality of content you produce. Below is a chart that reflects the importance of content.
Besides, if you create content that's engaging and filled with unique information, nature will run its course.
You won't only be getting on the good side of the content creators in your network. Readers will also soon discover it and link to it on their own.
Don't Compete with Other Members
The major reason content creators in private influencer networks succeed is they don't look at each other as competitors. And thus, they don't outsmart and outperform one another.
Here's what you should do:
Help them outperform the actual competition – Find out who their competitors are. Then offer resources and tools.
Offer progressive advice – Inform them of what they can do to grow their business.
Suggest a request – As you help them outperform their competitors, propose they tailor their request to the network of influencers.


How to Start a Private Influencer Network for Your Cleaning Service Website
Not only is starting your own private influencer network doable. It's also ethical and effective.
1. List content creators who are on a similar journey
It could be a blogger or video content creator who also wants to succeed in local SEO. It could also be a service provider in a unique area.
Here's what you need to remember:
You can start small – The network could be as few as two people or it could reach up to 100 people. Either way works as long as you can commit to each other.
Know a member's value – Only invite a member who can add value to your network of content creators.
Don't invite direct competitors – Don't reach out to a cleaning service business. Instead, go with a name in home improvement, minimalist living, or in a similar niche.


2. Set a common goal
Meet at a platform like Facebook to discuss the goal of your private influencer network.
Here are examples of goals that influencers can help you with:
Increase content's reach – Influencers can market your name and content to their audiences. They can even help you reach a highly specific audience.
Attract audiences – The number of times influencers mention you is proportional to the interested parties they send your way. These influencers can discuss what your business is about, why customers could use your services, and more.
Boost brand authenticity – Private influencers promote you without most people's direct knowledge—the more chances of this boosting the authenticity of your brand.


3. Work towards the goal
Be strict — yet flexible — about it. Tweak the original plan if needed.
Don't forget that time changes things. And you need to adapt.
What to remember:
Keep hustling – Having an influencer promote your cleaning business is like earning a powerful backlink. If you keep working towards working with your network, the more powerful you become.
Encourage other members to keep hustling – Don't allow other members to lose interest in the network. Remind them of how strong the network can be if you all work.
Update your approaches – If not you, assign someone in your network to study the latest methods in content creation. And have them invite everyone to try these alternative methods.


Final thoughts
Think of these private influencer networks as a reliable power source that's easily accessible to you — and not just anybody. A winning part about them is that your competitors will not know you can outperform them.
So if your cleaning business needs help from other content creators, why not join one of these private influencer networks? From then on, always remember that there are people on standby to amplify your reach.