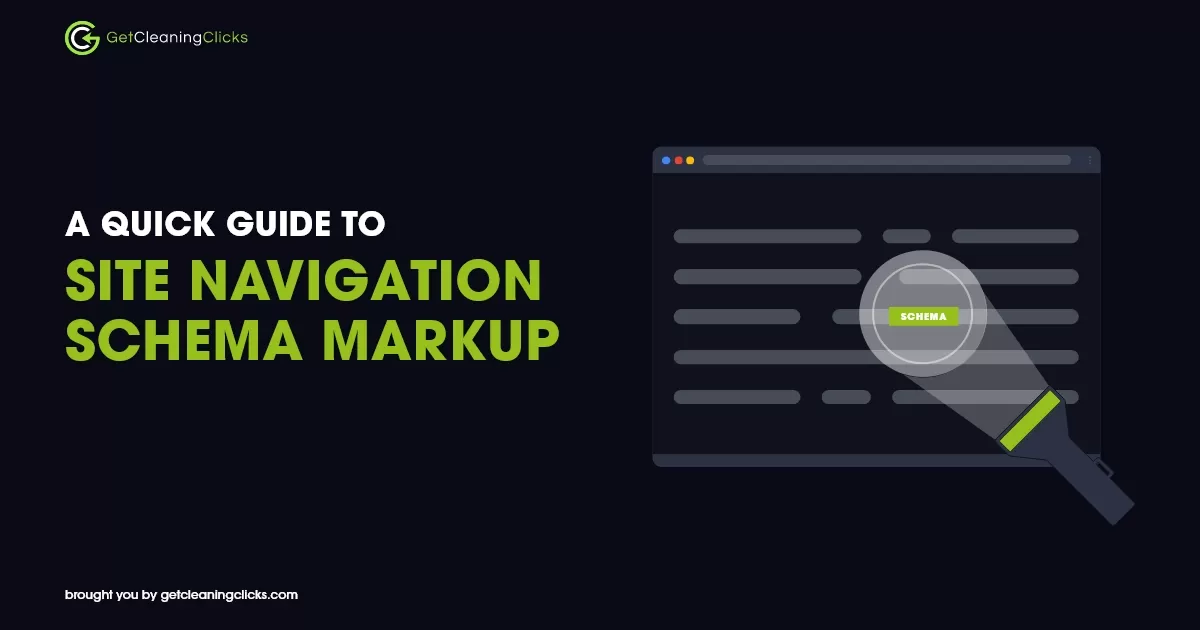 Want to tweak your website navigation and appear better in search results?
Then use site navigation schema markup!
Like any schema markup, it will help Google understand your cleaning service website better. And the result of getting on Google's good side: better visibility, increased clicks, and more. And if you use it well, your cleaning services will generate more income and be a top player in the local SEO scene.
What is site navigation schema markup?
Site navigation schema markup (or SiteNavigationElement) is a schema markup filed under WebPageElement. If you expand Thing then CreativeWork in Schema.org, you can find your way to this schema markup.
According to the website, it refers to "a navigation element of the page."
The definition may be generic. However, its purpose is clear.
It helps make a better navigation system. So both search engines and users can experience your site better.
Benefits of Site Navigation Schema Markup
Adding site navigation schema markup can gear up your website for better SEO.
A closer look at the benefits:
Improve Website Navigation Design
With site navigation schema markup, search engines can better understand how to get from one section of your website to the next.
Here are reasons your site's navigation design is important:
Increase in dwell time – If users can easily navigate your site, the longer they stay. And the longer they stay, the higher the chances of converting them into customers.
Reduction in bounce rate – Site navigation makes your site likable and understandable. If users can't understand your site, they'll jump to another destination.
Better responsiveness to call for action – Users that like your site are more responsive to your content. This includes your CTAs (Call-to-Action buttons).
Outstanding Result on Search
Implementing site navigation schema markup lets you stand out on the search results. It makes your website more appealing to users.
To show you an example, let's check out what Google shows after searching for a popular furniture retailer's site. This was the result after we entered "ikea" on the search engine.
Compared to websites of other furniture retailers, it's clear your website stands out.
For example, these are some websites of furniture retailers in Missouri:
Increase Clicks for Site Pages
If you add site navigation schema markup to your site, it will reflect on the search results. The search results will present certain pages of your website.
And from there, users can access a specific link or web page on your site.
Let's follow up on the case above and use IKEA.com as an example.
In the image above, you can see four separate links to corresponding pages within IKEA's website: Products, Furniture. IKEA Canada, and IKEA Japan. Clicking on one of these links will direct you to that page on IKEA's website.
Site Navigation Schema Markup Example
IKEA is an example of a site that implemented site navigation schema markup.
Another example is The Home Depot.
Notice that, like IKEA's website, it features a search bar too. That's because apart from site navigation schema markup, it also implemented website schema markup.
This introduces us to an indirect benefit of site navigation schema markup. It can also influence organic sitelinks.
Rather than find pages using the search bar, users can go to them directly. That is, if the site marked up these pages.
Wrapping up
Adding a site navigation schema markup to your cleaning service site can improve the user experience. And streamlining the user experience should be one of your priorities as a business.
Next to site navigation schema markup, add other schema markups. And get around to DIY (Do It Yourself) SEO tips, too. The better you design your website for user experience, the higher your position will be on search engines.