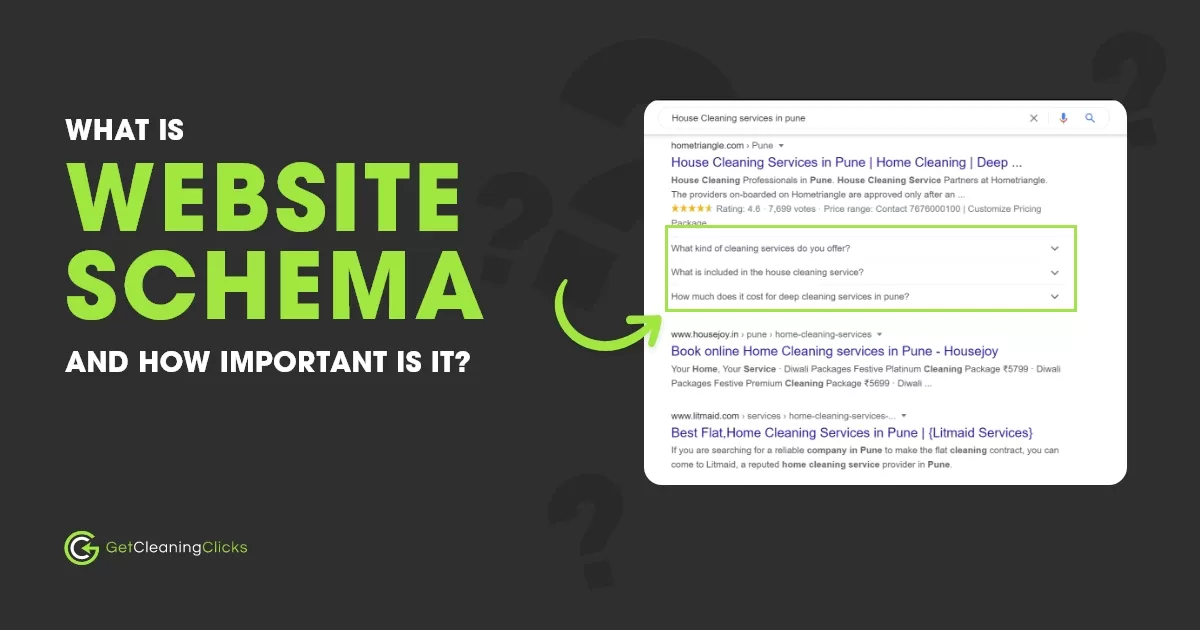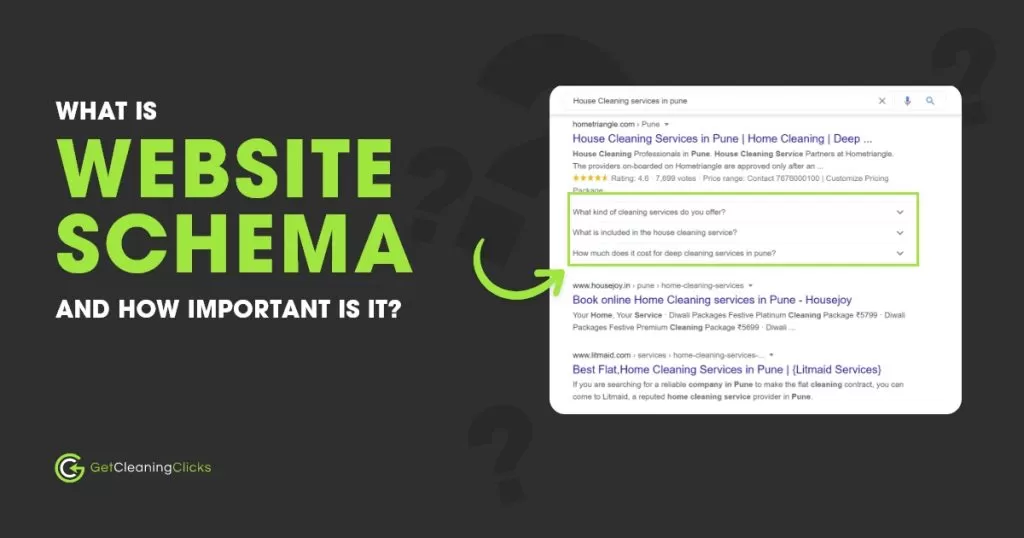 If you optimize your content using popular SEO tools, you will encounter an option that will help you add a website schema markup.
But what is website schema? And how important is it?
These things are what you're about to find out.
In this article, we'll understand what is website schema and its importance. This way, you can use it to experience increased visibility, clicks, and more for your cleaning service website.
What is Website Schema?
Website (also stylized as WebSite in schema.org) schema is code that Google and other search engines can understand. It's like rich snippets or enhanced search results. And like rich snippets, the aim of schema is to help these search engines present more informative search results to users.
For another way of answering your question about what is website schema, refer to the image below. It shows your website schema in action. To be specific, it shows you the search engine results for "house cleaning services in pune".
In the image, the first result shows you a website that implements website schema. And the result that follows shows you a website that doesn't implement website schema.
What is Website Schema: Importance in SEO
Website schema can boost your SEO. And it does so in the following ways:
Interprets your site's data for search engines – Schema structures data. It tells search engines what your site's data means after it got indexed.
Improves user experience – Website schema is for users and, therefore, focuses on users. Its design allows users to get a closer look at what your website is about, star rating, price range, and more.
Makes you outshine competitors – Again, refer to the image above where one website clearly outshines the next one. So, if your competitors don't show schema and provide the information that users want, these people will go to your website.
3 Formats of Website Schema
Website schema is useful for providing quality search results. And before you add it to your website, it's best to understand the different formats. Doing so helps you choose the proper format for a more effective marketing campaign and what Google (or your preferred search engine) recommends.
Here are the three formats you should know about:
1. JSON-LD
Google recommends using this JavaScript-based way. That's because it adds information as a script.
And as a script, the information is simpler to debug and easier-to-read next to HTML.
2. Microdata
It's directly embedded within HTML tags. They inform search engines what different objects mean.
This way, search engines can create rich snippets for search engine results pages.
3. RDFa
This is the basis for Facebook's Open Graph Protocol. And it's an HTML5 extension.
How to Add Website Schema Manually
Now that you have a quick understanding of the different schema markup formats, you may start adding these structured data to your website. And fortunately, adding website schema is simple.
Below is a 4-step process that can help you.
For this walkthrough, let's add website schema to this blog's article about On-Page Optimization: How To Make Your Cleaning Site Google-Friendly.
There, specify a data type appropriate for your source.
Provide the source's URL or the HTML code below it, too. And click Start Tagging.
In the image below, I followed the instructions. I also selected Articles as a data type because the source is an article.

Step 2 – Provide information for your source
On the right panel of your new destination, fill in the blanks under My Data Items. The details you input are going to be the markup data that will appear.
Unfortunately, you cannot edit this directly or by typing information. Instead, you need to click then tag the elements from your source on the left.
For example, and as the image below reflects, click the name of the article. Then tag it under Name.
Once finished, click CREATE HTML.
Step 3 – Copy code
You'll land on a new web page.
There, highlight the HTML code on the screen to copy it to your clipboard. You may also click Download. Either approach will get you the code.
Once you're set, click Finish.
Step 4 – Paste code to your content management system
Go to your website's Theme Editor and edit your header.php file.
Find the <head> tag and paste your html code to it. Once you're good, click Update File.
How to Add Website Schema Using SEO Tools
You may also use SEO tools to pull this off. Optimization tools like Textmetrics, for instance, allow you to add website schema easily.
This time, you can add or edit information directly.
As you will notice from the image below, all you need to do is hit the Schema section, select a schema type, and provide information.
If you prefer tools that focus on website schema, you have options, too. Examples are Schema Pro and Schema App Structured Data.
Final Thoughts
By now, you should be aware of what you need to know about what is website schema. And always remember to implement it as one of the most important DIY SEO tips for your cleaning business.
Yes, despite the reluctance of many site owners to use schema.
Next to most effective SEO tactics, adding website schema to help them might be relatively new. With how the latest trends favor easy and instant access to information, though, it's almost impossible not to see it that the promise that website schema holds is here to stay.