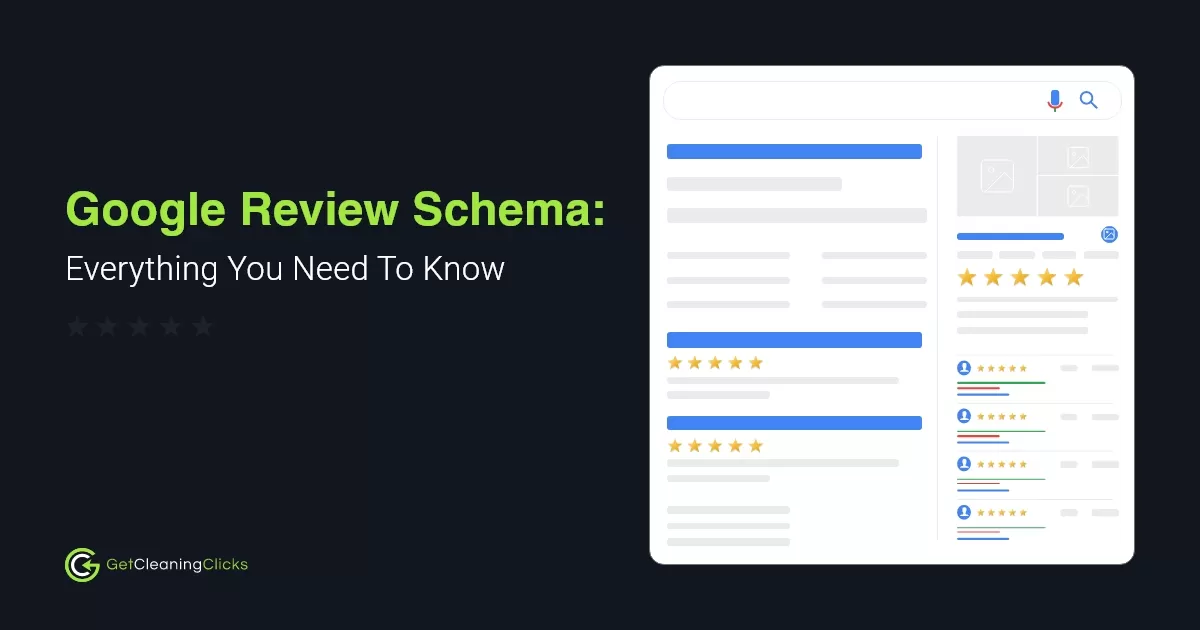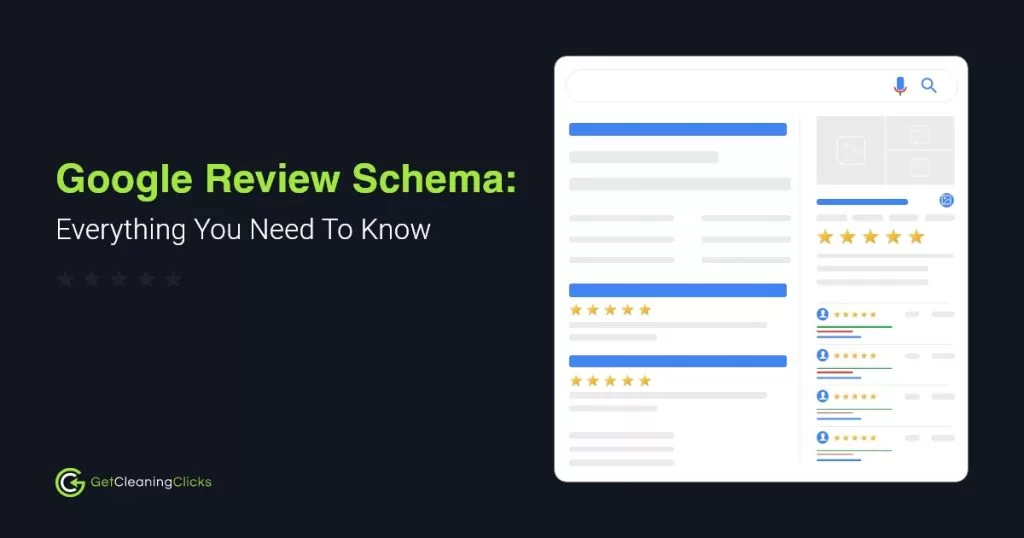 In this post, we'll discuss another type of structured data: Google review schema.
Here, you'll learn what Google review schema is, why it's important, and how to use it. If you dive deep into these lessons, you'll know how to use Google review schema to your advantage.
By then, you can increase the trustworthiness of your brand. You can also boost traffic and generate more sales for your cleaning service website.
What is Google review schema?
Google review schema is a schema markup type that lets you display the average rating and reviews of your cleaning business' website. You can see the marked-up data after keying in a search term on the SERPs (search engine results pages).
Let's check out an example. The image below shows the review schema that came up as the result of the search term "Maid in Hoboken," a cleaning service in New Jersey.
Now, let's scroll down to the Reviews section. And this is where you see three of the customer reviews Google gathered from customers about Maid in Hoboken.
Why is Google review schema important?
Google review schema is important because they display reviews and share what people think about your business. With excellent online reputation management, these reviews can improve your SEO efforts.
They can:
Increase online visibility – They allow people to know about your business from the SERPs. A quick Google search for your cleaning service company can provide useful business information.
Improve trust – They show transparency and provide unbiased views of your service. People appreciate this more and, therefore, allows your brand to establish trust.
Improve customer loyalty – With an increased trust rating comes the reward of loyal customers.


Because they are user-generated and real reviews from real customers, they increase your website's value. None of these reviews are from people paid to promote your business.
To elaborate on this point, let's refer to the Google review schema result about Maid in Hoboken. Out of the three reviews featured in the image, two reviews lean towards recommending the business to other people.
Now, focus on the second review. Unlike the other reviews, it leans towards a negative experience with the business. Based on the reviewer's sentiment, you can say the business has an unsatisfied customer.
To know if the case is an isolated incident, check out the other reviews about the business. And to do that, click View all Google reviews.
Adding Google review schema markup
Go to schema.org to identify and add the properties required for Google review schema.
Remember that Google doesn't support reviews for all content types.
These are the ones it supports:
Book
Course
Event
How-to
Local business
Movie
Product
Recipe
Software app


How to use Google review schema effectively

Identify the supported content types. Then follow the step-by-step guide below:
Step 1 – Edit content to meet guidelines
Create content that qualifies as a rich result. Follow certain guidelines to make that happen:
General guidelines – Don't mark up unpleasant content. This includes reviews that promote violence and hatred.
Technical guidelines – Make the content available for people from the marked up web page. The goal is to make it obvious to users that the web page contains review content.
Webmaster guidelines – Don't mark up misleading content to avoid deceiving people. Don't use cloaking or sneaky redirects, too.


Copy the URL of the webpage you're going to use for Google review schema. Then paste it to the correct field on Rich Results Test.
Then click the TEST URL to determine if that page supports rich results.
Analyze the results of the Rich Results Test. If a page does not support rich results, change the content to meet guidelines.
If a page is eligible for rich results, move on to the next step.
Step 3 – Notify Google
Ask Google to re-crawl your page. After you implement changes, let Google reflect the changes to your site, too.
Listed below are crawl request methods that can get things done faster:
Submit a sitemap – Use an XML sitemap generator to generate and upload a sitemap.
Use URL Inspection Tool – There, enter a domain, sub-domain, or URL. This will determine how Google sees a page.
Edit robots.txt file – Check if a page is accessible to Google. If not, unblock it.


Tips on the effective use of Google review schema
Don't find it problematic if you can't see results right away once you add Google review schema to your website. Instead, wait for the re-crawling and re-indexation processes to finish.
Here are more tips:
Don't embed third-party widgets
Third-party review widgets like elfsight Google Reviews can help organize reviews. They can also make your site more appealing.
But for your business site to be search-friendly, remove them from your page. Google frowns upon this practice. The search engine considers it as a manipulative of the linking process.
Choose an effective way of adding reviews
There are many ways to use the review schema. Go with a way you believe is best for your cleaning service site.
Here are your options:
Use a simple review – Potential customers on mobile prefer simple reviews.
Nest into another schema type – Combine reviews with another schema type. If done well, nested reviews make a review more impactful.
Use aggregate ratings – Salvage negative reviews about your business this way. If you have more positive reviews than negative ones, that is.


Follow rules
For one, be mindful of aggregate ratings. Use them on a service page and not on your site's homepage.
Here are more rules to remember:
Relevancy matters – Don't mark up irrelevant pages to the reviews.
Use unique reviews – Don't "steal" reviews sites you used for local citation building. The same goes with reviews from Yelp, Google My Business listings, or other third-party sites.
Users can add reviews – Design your site for people — not for search engines.


Conclusion
According to the numbers, almost 90% of consumers read reviews to assess a local business. They'll also visit its site, look for social media accounts, and more.

This shows people are ready to pay for a product and service they know won't screw them over.

If they can't find anything about the quality of your service, they'll move on to another business.

So for your cleaning service business to get more customers, share information.

To do that, use Google review schema and encourage your customers to share reviews.