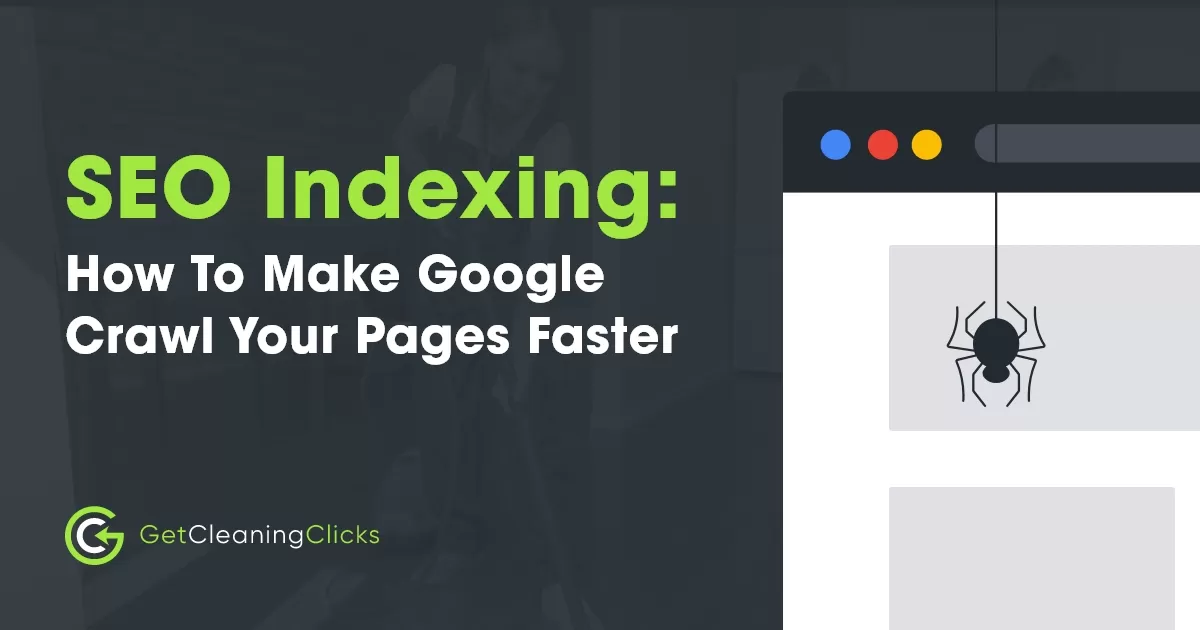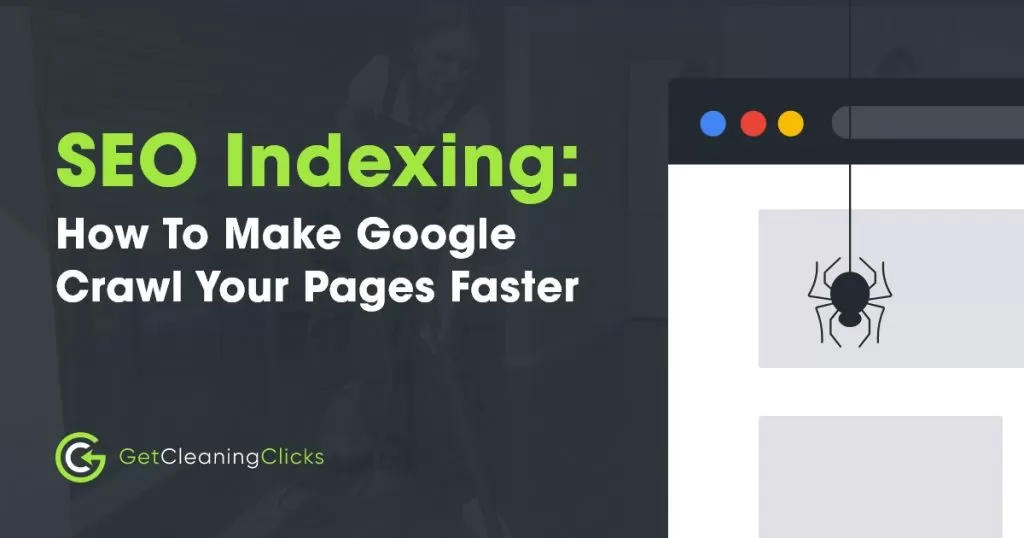 Is your cleaning service business website operating under the radar?
If so, you need to change this. If Google and other search engines can't find you, people won't find you online either.
So in this article, let's learn about SEO indexing.
If the lesson goes well, you can use it to make Google crawl your pages faster and increase your website's online visibility. Then you can see your site's traffic, sales, and more go up.
What is SEO indexing?
SEO indexing refers to the storing and organizing of content that search engines find. If these search engines like what they find, they will add your site's web pages to their index or database.
To understand SEO indexing, it's best to familiarize yourself with crawling and ranking, too. That's because crawling, SEO indexing, and ranking make up the primary functions of a search engine.
Here's a quick look into how search engines work:
1. A search engine crawls a web page on your site.
2. The search engine determines if it should add that page to its index.
3. Once the search engine adds that page to its index, you'll see that same page come up on search results after a searcher enters a key term.
Want to see an example of an indexed page?
An indexed page is basically any result of a search.
Let's refer to the image below. It shows you Google search results or its indexed pages for the key term: "house cleaning services eastside seattle".
Google adds lots of web pages to its index. As long as a page is valuable and free of SEO indexing issues, Google will add it to its database.
Want to find out the exact number of the pages in its index?
Then enter a key term on the search engine and see how many results that key term can show.
Let's use the same key term "house cleaning services eastside seattle" on Google, for instance. As the image below reflects, about 5,330,000 pages are part of Google's index. And this means Google can show searchers about 5,300,000 results!
Are search engines indexing your site's pages?
If search engines added your site's pages to their index, you can tell by an increase in organic traffic.
To be 100% certain of this, why not look it up on Google? Use the "site:" operator followed by your domain.
For example, let's check if this site's pages are in Google's index. So, let's go to Google and enter the following in the search bar:
site:getcleaningclicks.com
Refer to the image below. After getting the results of the search, we can confirm that, indeed, the pages of this site are in Google's index. The results also show about 93 of its pages are in the index.
Should you resolve SEO indexing issues?
If search engines haven't indexed your site's pages, yes, resolve the issue. That's because SEO indexing also gives you the opportunity to gauge your cleaning service website from an outsider's perspective.
Think of it as Google's way of telling you to review your site and its content.
How to diagnose your site and its pages
To know if your site's pages are indexable, a simple way is to use a tool like Merkle's Fetch & Render.
What the tool does is help you see your site or a page from a search engine's point-of-view. And from there, you can find out if it's indexable.
To show you how it works, let's go over the images below.
The first one shows you where you can input information about your URL and the user agent you prefer. Once you're done, click Fetch.
Now, the next image below shows you what happened after I clicked Fetch. And as you can see, the site and its pages are indexable.
SEO indexing success story
If Google doesn't index the pages of your site, it's not the end of the world. It simply means you need to fix their current state. Look at this as the situation's silver lining.
Take it from this staffing agency named Aquent. Its site wasn't getting indexed — and its website wasn't getting the traffic it deserved.
It knew a fundamental design flaw was the culprit.
So, it approached SEO experts for help. What the experts did was make Aquent's site and its pages indexable. Specifically, they added crawlable links and applied other website fixes.
And this was the result:
Google indexing increased by 890%!
Want to live out a success story involving issues with SEO indexing, too?
What to do with common SEO indexing issues
Then review your site and resolve any common SEO indexing issue. To help you out, prioritize these matters:
Create and submit sitemap – No sitemap means Google might not know your site exists yet. So, submit a sitemap properly.
Fix orphan pages – Orphan pages don't link to other internal pages — vice versa. They negatively affect your site's natural linking structure.
Poor content – Search engines dislike "spammy" sites. So always offer value when producing content.
Ways to get search engines to index your site
Covered the bases mentioned above yet still don't see your cleaning service site's pages in search results?
Then implement these do-it-yourself SEO tips:
1. Edit robots.txt file
Go to your site's robots.txt file. You can do so at:
yoursite.com/robots.txt
There, locate the disallow tag, along with the specific pages of your site, that it triggers.
Below, you'll find an example. It's from the robots.txt file of this site.
What the disallow tag does is "disallow" or prevent search engines from crawling a portion of your site. Specifically, it prevents search engines from crawling the page you specified in the disallow tag.
In the case above, search engines can't crawl /pricing-page-major/ and /pricing-page-medium/.
The solution? Remove the disallow tag.
To do that, download a plugin that lets you edit the robots.txt file from the backend. If you're using WordPress, you can use Yoast.
Download the plugin — install and activate it. Then proceed with these steps:
Go to SEO, then open Tools.
Launch File editor.
Edit.
Remove disallows, that is, if you don't want web crawlers to find such pages. And click Save changes to robots.txt once done.
2. Customize your sitemap
Another reason you can't find a page on the Google search results pages is your sitemap might not allow it. To rectify this, edit your site's SEO settings from the backend once again.
And once again, Yoast is useful for this.
Follow these steps:
Go to SEO.
Open Search Appearance.
Select a tab and choose Yes when asked to show a page in search results.
For example, let's select the Taxonomies tab. Here, you can choose to show the Categories page in search results.
3. Edit meta tags (fix index/noindex and follow/nofollow tags)
You can also call these robots meta directives. They provide specific instructions and tell crawlers how to crawl your site.
Want search engines to index and follow links from individual posts? Then turn to your meta tags, specifically the index and follow tags.
For this example, let's use the same plugin. Then follow these steps:
Launch an existing post or add a new one.
Configure the Advanced section when you create a post.
To be specific, choose Yes when you encounter close-ended questions (as shown in the image below).
The first question prompts you if you want to allow search engines to show your post in search results. It's a reference to the index and noindex meta tags.
The second question brings your attention to whether you want search engines to follow links on your post. It's a reference to the follow and nofollow meta tags.
4. Maximize your site's crawl budget
Wasting server resources means you're wasting your site's crawl budget. And doing so can delay the SEO indexing of your site's pages.
Here's Google's take on crawl budget:
So, to avoid delays, these are actions you can take:
Prioritize your best pages – Search engines like high-quality pages. So, point search engines to them instead of your low-quality content.
Manage site structure – Internal links point search engines to other posts and pages of your site. If your internal linking setup is messy, the longer it will take for crawlers to work through it.
Use RSS – These are among visited places by spiders. So, create an RSS feed for a section of your site then submit it to Google's FeedBurner.
5. Make your site mobile-friendly
Search engines might also have a challenging time indexing your site's pages if they aren't mobile-friendly. With the mobile-first index, you won't find pages that don't have mobile-friendly versions in the mobile index.
So, here's what you can do:
Improve site speed – Remove large media. If not, use a compression tool to reduce file sizes.
Minify specific on-page elements – This is in relation to site speed. When you minify JavaScript, HTML, and CSS files, you'll be removing inessential parts of a source code.
Make responsive theme and layout – Choose a design that adjusts for PC and mobile users.
Will you remain in the index forever?
It's great if Google and other search engines added your site's pages to their index. However, staying in the index is conditional.
So, no, your site's pages won't remain in the index forever. They can get de-indexed if you begin to load them up with questionable content.
To avoid getting de-indexed, continue with the same practices that can get your site's pages indexed.
Here's what you should also avoid:
Unrelated keywords – Google checks for the relevancy of keywords. So, don't start using odd keywords — or else, you'll get flagged for keyword stuffing.
Irrelevant links – Build links the right way, too. Don't use irrelevant anchor texts that lead to irrelevant resources.
Automated content creation tools – Using machine-made content is a black hat tactic.
Final thoughts
There is no secret technique that can instantly get your cleaning service website to the top of search results. You can create interesting content, use image SEO, and more. However, success in this line of work doesn't happen overnight.
Getting a respectable ranking takes time — work and energy, too. Only if you're willing to invest time, work, and energy in the task, can you make it happen.
Want to start on the right foot? Then start with SEO indexing. Remember, if your website and its pages aren't in a search engine's index, you can't go forward.