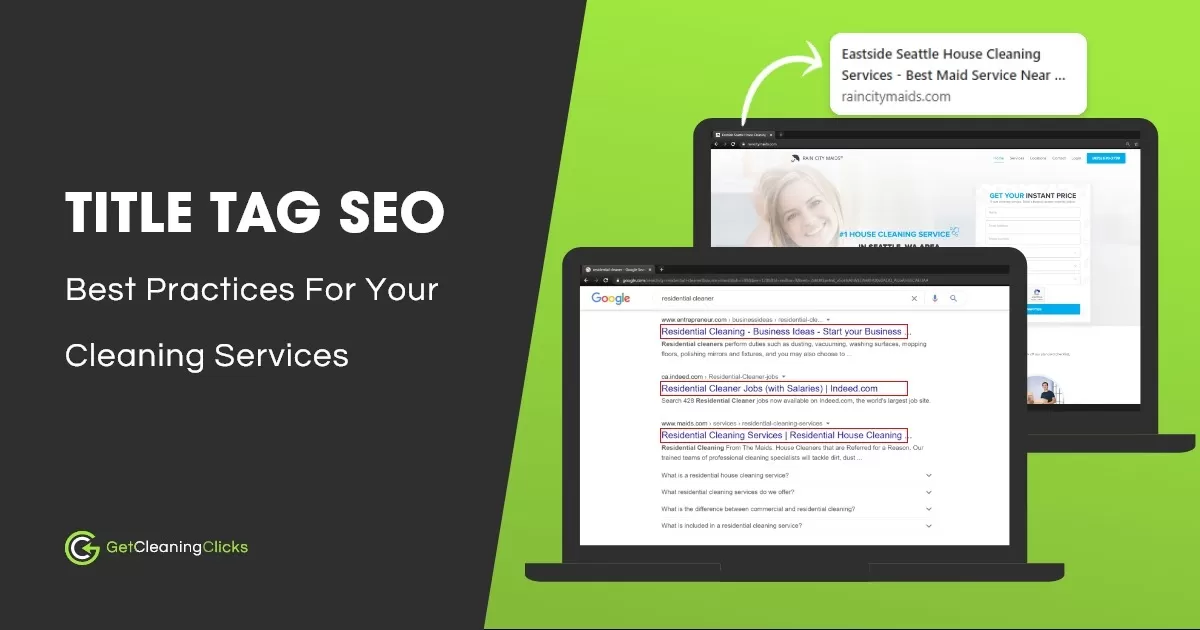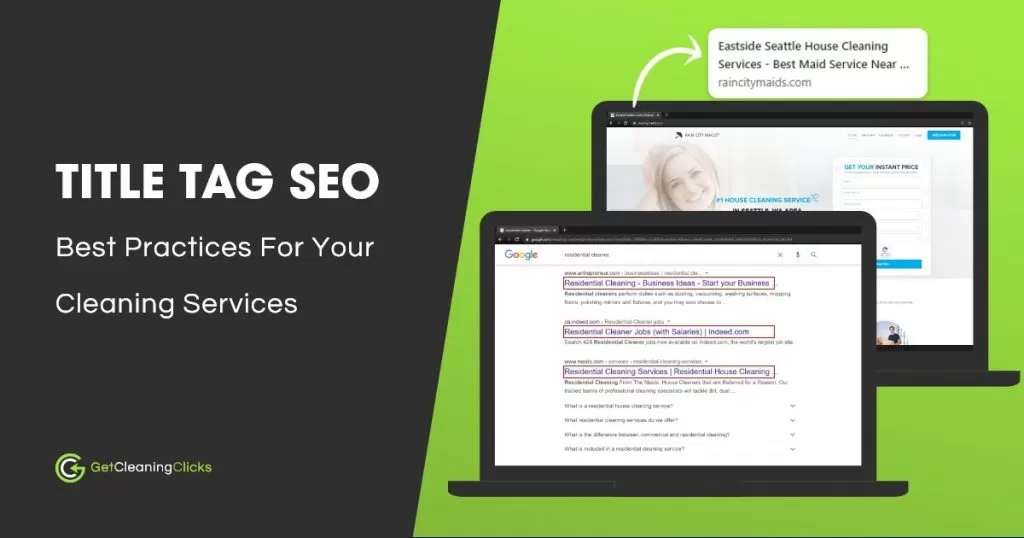 In this post, let's talk about title tag SEO.
The reason? Title tag optimization is an overlooked aspect that can improve your cleaning service SEO strategy and trust me, even cleaning companies who pay someone to do this get it wrong!
If you optimize your title tags for your cleaning service site, you'll see a significant improvement in search rankings. You'll drive traffic to your site, generate clicks, and increase sales.
What is title tag SEO?
Title tag SEO is optimizing title tags for search engines.
Here's a refresher on title tags:
Title tags are elements that specify the title of a web page.
Their purpose? Inform a search user what the page is about.
So if you're optimizing title tags for search engines, you're telling a searcher where they're about to go.
Here's an example, from Rain City Maids' website:
The page's title is Eastside Seattle House Cleaning Services – Best Maid Service Near Me | Rain City Maids.
Title tags are HTML elements. To see them from the backend, right-click on a web page and choose View Page Source.
Here's the backend view of the title tag taken from the same source above:
What makes title tag SEO important
Title tag SEO is important because title tags come with a purpose. They're not only helpful to the visitors of your cleaning service site. They make the lives of search engines easier, too.
Think these titles only appear on your web page or in your browser tab? Nope!
You can also find them on the SERP (Search Engine Results Page) after a page gets indexed. There, you can click on them.
Let's check out a bunch of title tags after I searched for "residential cleaner" on Google.
And because you can find them as clickable items on the results page, title tags need optimization.
How? Craft them in such a way that they'll serve as excellent headlines.
Take note, if your headline is terrible, you're doomed. If it's not catchy or relevant to what people are looking for, the majority won't bother with them.
However, if these titles are capable of enticing people to click, you've done a great job.
Title tag SEO best practices
A secret to writing effective title tags is to use the power of words. Because the idea is to entice people to click on a title, why not trigger their urge to click with keywords?
So, instead of using any word in your titles, always be wise with your word choices.
For example, if the purpose of your web page is to answer questions, using words like "what", "why", and "how" is good.
Here are more tips:
Use SEO keywords
Don't overdo it, though. Stuffing SEO keywords into titles creates a bad user experience.
Think using keyword variations is a workaround? Think again!
Let's say this is what you plan on writing:
Best cleaner near me | Cleaning services me
Well, it won't work. For the most part, it's apparent that it's a bunch of keywords that don't make sense when put together.
If you insist otherwise, here's what can happen:
Google will penalize you – Even if you use variations of your keywords, Google can understand.
Leaves a negative impression – If you want to build your cleaning business' online reputation, you'll get downvotes with this practice. It sends a signal that your site is all about getting clicks.
Make searchers unhappy – You didn't even spend time to create good titles. So, why should searchers spend time on checking out your services?
Write for customers
Yes, you want to get — and stay — on the good side of Google and other search engines.
However, not thinking of your customers defeats that purpose. These search engines, after all, will give you plus points if you can provide a satisfying user experience.
And if you don't keep people in mind when writing your titles, you can't deliver a satisfying user experience.
Here's how you can write title tags that can win customers over:
Include positive details – This instills confidence and assures them that your cleaning services are what they need. So, include words like "best" and "trustworthy".
Be available for your customers – Provide your cleaning business' physical location and contact number. And if you're a local business, engage in local citation building.
Be mindful of readability – Make sure your title is easy-to-understand. Fortunately, many SEO tools and grammar checkers can help you out with this.
Assign unique titles to every page
You will get in trouble if Google crawls your site and finds you have different pages with the same titles.
So, circumvent this by providing unique titles. Doing so will help search engines identify a specific page on your cleaning service site.
It leads to less confusion and better site navigation. And it improves user experience.
So for these reasons, it can ramp up your site's CTRs (Click-Through Rates).
Here's how you can make unique titles:
Check for duplicate titles and content – Two pages that are about apartment cleaning services? Then rewrite one and go with a different angle.
Use the titles to reflect a specific page's purpose – Again, let's say a page is about apartment cleaning services. So, display these words (apartment cleaning services).
Use a specific service name – Create separate pages for each type of cleaning service. Then create a title based on a specific service.
Leverage your brand
Got a strong brand?
With a strong brand, you already have an established customer base. And customer recognition can take you places!
To go about this, take a couple of keywords. And aim for something like this:
main keyword – secondary keyword | brand name
What your brand can do for you:
Gives a competitive edge – With an existing reputation, more people already know about your cleaning services. And the more people who can recognize you, the more clicks are coming your way.
Allows effortless introduction of new services – It's easier to launch new services if your brand is known for services in the same category. If you're known as home cleaners, launching Airbnb cleaning services is less challenging for you.
Attracts existing customers – Compared to unfamiliar names, people are more likely to click titles from brands they know.
Don't write lengthy titles
Keep the length around 55 characters. And be mindful of the specific characters you include.
Some letters, numbers, and symbols are longer than others.
For example, if your title contains letters like "w" or "m", it will take up space. Compared to titles without those letters, it will occupy more space.
The reason? Google may cut off your titles if they're too long. Instead of displaying your entire title, it will replace some parts with an ellipsis (…).
To help you understand the point, let's check out the image below. It shows the titles on the results page after I searched for "home cleaning services texas".

Don't go with default or generic titles
Put yourself in another person's shoes. Now, answer this:
"Would you click on a title that underwent no customization?"
With that said, "Untitled" and "Page" are examples of bad titles.
Search engines frown upon them because they don't provide any information to describe a specific page.
Here are other kinds of titles that you shouldn't create:
Short titles – "Cleaning service" is an example. It doesn't promise anything or provide sufficient information.
Inaccurate statements in your content – If you say you offer cleaning services in Washington in your title, make sure your content can back it up. Worse than getting zero information is getting the wrong information.
Vague and incomplete claims – A title like "Cleaning" invites miscommunication. People and search engines will leave if your title doesn't offer useful information.
Conclusion
Have existing titles that need revisions? Then go through each one and modify them all.
Sure, it can take up a lot of your time. Don't worry, though, because your invested resource won't go to waste.
Soon enough, your cleaning service site will reflect the hard work you put into it. And soon enough, you will reap the rewards of your hard work.