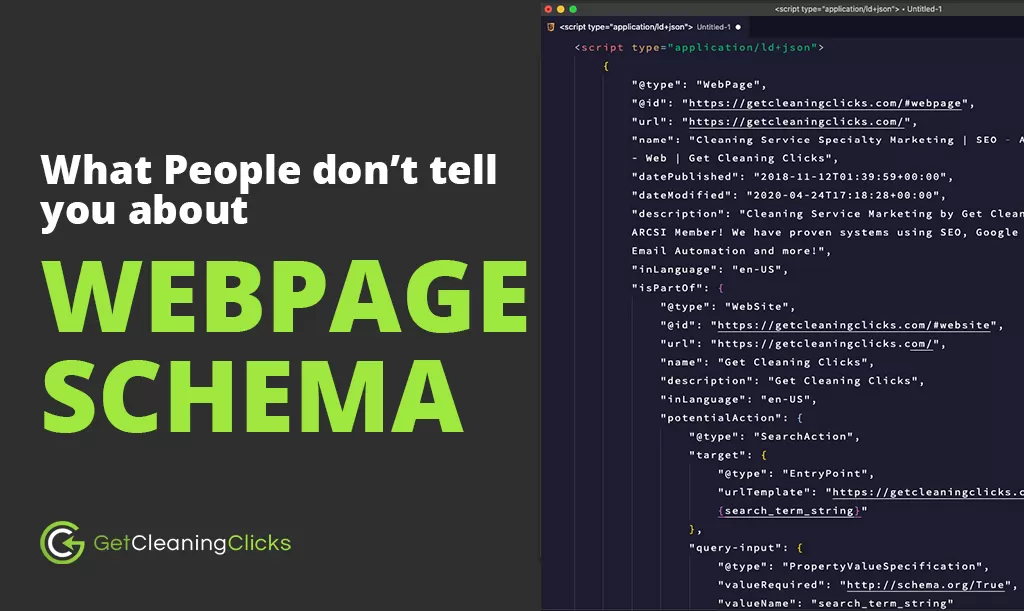 Want to know everything about webpage schema?
With this schema type and approach of presenting structured data, you can help Google and other search engines. For you, they will present rich results and highlight specific web pages users can find on your cleaning service website.
So, buckle up because, in this post, we'll dig into webpage schema. We'll talk about what it is, how it differs from website schema, and more.
We'll also talk about what people don't tell you about it!
What is webpage schema?
Webpage (also stylized as WebPage) schema is a markup code that specifies a web page. It comes with different properties. And all of these properties reflect web pages that a website contains.
Here is an image of a cleaning business website that features webpage schema on search results:
The website featured in the image is No More Chores, a company that offers professional house cleaning services in Toronto. To be specific, it shows how No More Chores' website appears on search results.
And as you can see, No More Chores' website implements webpage schema. We can say this because it highlights different web pages on the search results. The web pages it marked up are Services, About, Contact, Book Now, Move-In/Move-Out Cleaning, and Blog.
If users click on one of these optimized titles under the website name, it would lead them directly to the relevant web page on No More Chores' website.
For example, they would click on the Services title. What will happen then is they will access No More Chores' Services page.
Why should you care about webpage schema?
Webpage schema can make your site more functional from the search results page.
Sure, the subject of webpage schema can be challenging. This is because it processes URLs — including an entire website — and every URL it processes is a "web page".
However, if webpage schema is used correctly, it can include a website name and a search box within search results.
An excellent example is the search result for Moz.
Webpage vs. website schema
Webpage schema is different from website schema. Webpage schema represents a web page. And website schema represents a website.
If you go to Schema.org, you'll see the definition of Webpage schema as:
Now, here's the definition of website schema:
How webpage schema can help you
Webpage schema is like other schema markup types. And like the other markup types, webpage schema can elevate the website for your cleaning service business.
Here are ways on how it does the job.
Outstanding search results
If you use webpage schema, your website will be more appealing on search results. Hands down, this will help you outperform your competitors.
Want an example?
Let's compare and once more, feature an image of how No More Chores' website appears on search results.
Now, refer to the image below for cleaning companies that don't implement webpage schema:
If you pit them against each other, the outstanding result is No More Chore' website!
Boost in traffic
With an outstanding appearance on search results, a boost in traffic is incoming.
Check out the case of InLinks, a company that provides an entity-based semantic SEO tool. We'll follow the company as it performed a controlled experiment involving webpage schema. Involved were 24 SEO professionals, too.
Its experiment began when it asked the participants to implement webpage schema on their sites. And for over 4 weeks, it tracked the results.
Its findings?
It discovered that 2x as many websites gained (as well as lost) in search rankings after implementing schema. It also discovered that pages with existing rich content benefit the most from the deal.
Higher search position
You'll also rank higher in search due to your ability to outperform the competition and a boost in traffic.
Beyond that, you can get search engines to notice your site is filled with excellent content.
Here are the tips:
Edit low-quality pages – Strategize what to blog about. And if possible, markup pages that show the best of your business.
Display webpage with NAP – This refers to your business' name, address, and phone number.
Markup "standard" business pages – The goal is to make business information more visible. Feature your business' About, Services, and Contact pages.
Conclusion
Using webpage schema and other schema markup types is a way of taking website control up a notch. True enough, you can't dictate how people receive your cleaning service site.
Maybe they'll like your services and other offers. Or maybe they won't. Either way, this matter is out of your hands.
What you're free to do, however, is present rich — if possible, the best — search results. And fortunately, you can nail this by adding schema markup to your website.