In this post, let's shed some light on directory link submission.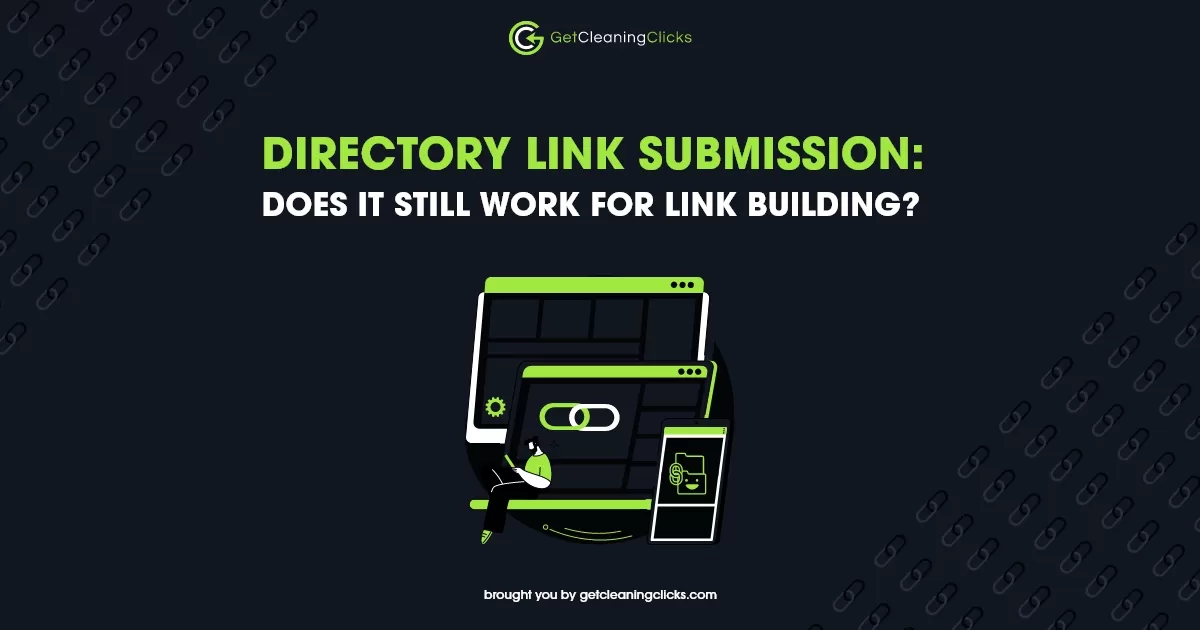 Presenting your cleaning service website to directory submission sites is great. It can boost traffic to it and help people find it better. 
Are you doing it for the sake of elevating your link building efforts, though?
If so, you need to know the real deal:
Does directory link submission still work for link building?
Let's find out.
What is directory link submission?
Directory link submission is the practice of submitting a link to your business' website to online directories. Along with a link, you also include other useful details about it.
To show you an example of a submission in a directory, let's hit Google. There, we'll search for online directories that accept website listings of cleaning service businesses.
So we'll go with the search term "online directories for cleaning service business". And here is an image of the results:
Now, let's look at an image of a random cleaning service business and its listing details inside one of those directories. As expected, it contains a link to its website.
Why is directory link submission important in SEO?
Directory link submission is important because it's an off-page SEO factor.
To review, off-page optimization refers to the activities you do away from your site. The goal of it is to improve how search engines and users see your website.
Like positive reviews and proper local citation building, it carries weight. Specifically, it carries over 50% of the ranking weight.
Types of directory link submission sites
There are different directory link submission sites. And in this section, let's talk about the three types of online directories where you can submit your cleaning service website:
1. Free (or regular web listings)
Here are facts about these directories:
They're free to use – Both business owners and searchers can rummage through the directory.
Great option for new small to mid-sized businesses – Want free advertising? These directories are helpful for companies that could use exposure.
Usually, no administrators – This means nobody to regulate how entries appear. If the businesses filed under these directories are of quality, no one knows.
The image below will show you an example of an online directory that offers free listings. It's Cleaning Services Directory — the same directory that features San Jose Cleaning Services.
And here's what its free plan includes:
2. Paid (or featured web listings)
Here are facts about these directories:
You need to pay a membership fee to have your business listed here – As long as you keep up with the payment, your listing stays for a predetermined period.
To get your listing approved, you need to play by the rules – And paid online directories go by strict rules. Your website needs high DR (domain rating) for one.
Administrators are present – They also might not approve the submissions that aren't up to standards.
Below is another image from Cleaning Services Directory. This time, it will show you the cost and what's included in its paid (featured) plan:
If you compare both plans from Cleaning Services Directory, you'll notice the paid plan includes more features.
3. Reciprocal required directories
Here are facts about these directories:
Reciprocal links are part of the deal – Think of this arrangement as a "You link to me and I'll link to you" deal. To get the green light, you need to submit a reciprocal link (post a link on your website that points to the directory).
Reciprocal linking was a popular and effective link building tactic – Around the 2000s, when webmasters didn't abuse it. When they began selling links, Google called out the practice.
Reciprocal linking goes against Google's Webmaster Guidelines – They manipulate search results. They can get you penalized.
Below is an example of a site that contains a reciprocal required directories list:
How to submit your website to directory submission sites
Let's be clear. Yes, the idea of using directory submission sites for this case is to ramp up your link building efforts. However, for it to work, you need to submit a proper listing to directory submission sites.
For the examples below, we'll use images from Cleaning Services Directory. Let's walk through the process step-by-step.
1. Locate the Submit New Listing button
Or something else to that effect.
This will bring up a webpage where you'll select your plan. And this is where you'll specify the plan or type of listing you want.
2. Click Continue
Read through what the Free and Featured plans cover. Then choose the plan you want. And move on to the next section.
If you haven't submitted a listing to this directory before, you need to sign up for an account.

A requirement during this stage is your email address. You need to provide the one you actively use. That is where the webmaster will contact you regarding your listing.
Some directories also require you to confirm your email address. Or else your listing won't go live.
3. Add business details
Be as descriptive as possible.
Pro tip? Imagine yourself as someone looking for a cleaning service business. Then ask yourself what information you want to see.
General information
Provide the title, description, and excerpt for your cleaning service business website. Also, include its location, tags (keywords), and category.
Contact information
Now, provide contact information about your business. The information you present here is important. It's the information potential customers will see under your cleaning service business name.
This includes the zip/postcode, phone number, fax, and email address.
When people browse online directories and see a business they want to approach, this information is what they're looking for. If you've provided incorrect details, they won't be able to reach out to you.
Map
Specify your business address.
You can type it on the provided field. You can also enter coordinates (latitude and longitude).
The purpose of this? Allow your potential customers to visit your physical location. With a map of your business address, they won't need to contact you or ask around for directions.
The map is a helpful resource. However, you have the option to hide it.
4. Click Submit Listing
Review the information you gave. And once you're satisfied with the information you provided, scroll down to submit your listing.
What is PR (Page Rank) and why is it important?
Now that you know how to submit a listing for your cleaning service website, it's time to ponder on this question:
Can you submit a listing to any directory?
Technically, yes. You can submit a listing to any online directory. However, you shouldn't.
Before passing your website to online directories, be mindful of a directory's PR first.
Below is a chart taken from Ahrefs to describe how PR works.
To explain it in words, here are facts about it:
Helps with link analysis – Google and other search engines use PR to determine a website's position in the search results pages.
PR score is 0-10 – Google assigns this score to every website.
Indicates trust and signifies importance – The higher a site's PR is, the more trustworthy and important it is.
Tips to succeed with directory link submissions
Submitting your cleaning service business website to online directories is easy. And as long as you stick to the instructions, you won't get lost along the way.
Here are tips that will help you succeed:
Submit to "good" directories
A bad online link directory is not on the good side of Google and other search engines. In simple terms, Google banned it.
For your SEO efforts to not go to waste, avoid these directories. They won't do anything positive to your website. Worse, they could harm your rankings.
So how can you tell if a directory is not banned by Google? Enter site:domain on Google.
Like this:
If you can find something about it, it's not banned.
No results? Then don't submit your website to it.
Submit to industry-specific and local directories
Submit your website to a cleaning service directory in New Orleans, for example. If you operate in New Orleans, that is.
In the industry of SEO, specificity is often better. So tap into directories where you belong — in your category and area.
Here's why:
Meets Google's relevance criteria – Google and other search engines like relevance. They'll give your website a higher rank.
Increases chances of getting noticed – These directories narrow down results to fewer listings (like the image above shows). Compared to being on page 10 of a directory, this increases your odds of getting noticed.
Helps your target audiences find you – Want clicks from people who are hunting down local cleaners — or your potential customers? Specific, local directories can make it happen for you.
Submit a listing strategically
Submitting your cleaning service business to directories may be simple. And most of the time, it only takes minutes.
However, do you want to avoid getting your listing rejected?
Then don't use this practice without a strategy.
Here are some techniques:
Use keywords – Keywords in the title usually become anchor text. Search engines like descriptive anchor texts.
Be descriptive – Use keywords in the description section, too. Don't forget to include them naturally, though.
Follow guidelines – Using keywords in the title, for one, is smart. However, not all directories allow it.
No to mass submissions
It gives you a bad rap. It paints a picture you're doing something unnatural.
So don't submit listings to many online directories on the same day. Search engines frown upon the practice. It looks like you're using automation tools.
You're probably not using tools or doing something wrong. However, Google will assume otherwise.
The solution?
Stagger your submissions. Wait three months (at least) before you submit to another directory.
Manage your listings
The good news is, you already exist in some online directories. And claiming your business' listing in these places is a way of managing it.
Sure, it's nice to have the webmasters of these directories list down your business. What's a bummer, however, is the possibility of misinformation.
So instead of leaving it up to directories to provide information for you, why not take control? Provide the correct information, upload photos, and give updates.
Here are more ways to get this done:
Use data aggregators – Publishers like TripAdvisor use data aggregators to collect information. So help them out and offer your business' information.
Optimize your website – The business information you submit to listings should be in line with what's on your website.
Encourage user-generated content – Invite followers to share reviews and other user-generated content. This helps verify your business and can positively affect your search rankings.
Pay for a featured spot
Sure, signing up for featured web listings requires cash. However, for the exposure you get, the cost should be the least of your concern.
The idea is to sign up and pay for the services of an established directory.
Rushing to list your business in the first directory you encounter? It defeats the purpose of using paid listings — and maximizing them.
Raise these questions first:
How frequently does Google crawl the directory? – Use tools to check the crawl rate of the web page where your listing will be. Search engines won't put a significant value on links from pages that weren't crawled for at least 45 days.
How many people regularly check the directory? – Hundreds, thousands, or millions of monthly visits to directories = great. It's a sign that those number of visitors could stumble upon your listing.
Are the websites in it thriving? – Find out the situation of the listed websites in a directory. If those websites are benefitting from the listing, chances are your site will do so, too.
List of directory submission sites
Finding online directory submission sites can be as simple as a quick search on Google.
For example, let your search terms be "100 directory submission sites". And there you have it!
In this article, though, we compiled a directory submission sites list for you. The list includes free and paid directories that welcome links to different categories of websites. It also includes directories exclusive to cleaning service websites.
Here it is:
Free and paid directory submission sites
It's free to submit a listing for your cleaning service business in this high PR (6) directory. It accommodates all sorts of websites such as credit cards and matrimony.
This website link directory is where users can find links sorted by category. Other than Business, categories include Education and Travel.
The goal is to boost a website's marketing and advertising. And if you want that for your cleaning business, submit a listing to this directory.
To enhance the user experience, it's all about quality websites here. Your cleaning service website will fit in its Business & Economy category.
This is a free web directory that aims to increase a listed website's exposure — and therefore profitability. Here, an editor reviews submissions before the listings go live.
Cleaning directory submission sites list
It provides platinum listings of cleaning businesses. To advertise in this directory, visit its website and request a media kit.
In this directory, cleaning businesses can create a free listing. They can also check out a blog that features many cleaning tips.
It's a paid directory submission site that lists cleaning companies for a monthly membership of $19.95. Here, searchers can find categorized leaning professionals by telephone and area code.
You can see different kinds of cleaning service businesses listed here. Submitting your website is free.
It also offers cleaning solutions in downtown San Diego. It works as a referral agency and provides a listing for commercial and residential cleaning companies.
The bottom line
Does your cleaning service business have a blog?
If you don't have a blog, create one. It's another effective way of promoting your cleaning business. Plus, blogging can improve site traffic and SEO.
And once the blog's ready, leverage it using directory link submission. Find blog directories and submit your cleaning website's blog to those sites.